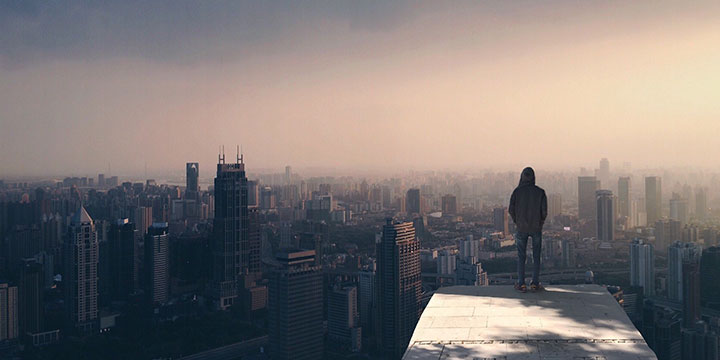 Here are some being alone quotes that will hook you with their relatable and wise messages on love, life, and self-reflection.
Being alone in this crazy ride we call life can be tough. It's easy to give up and feel demotivated to continue further when there's no one to hold your hand and fight with you.
But, the state of being alone doesn't have to lead to this, nor does it mean you'll have to be lonely for the rest of your life.
If you're currently alone, then take this time to reflect on yourself. People can improve tremendously during this period if they just realize their potential for growth.
Moreover, be patient; God will place people who will love us unconditionally at the right time.
Read through this list we've created if you need help finding the positive sides to being alone.
Note down the quotes that tug at your heartstrings, and look back on them whenever you need another push.
Start here.
And don't forget to check out these solitude quotes and relax quotes.
Best Being Alone Quotes
1. "Sometimes, you need to be alone. Not to be lonely, but to enjoy your free time being yourself." – Anonymous
2. "I used to think the worst thing in life was to end up all alone, it's not. The worst thing in life is to end up with people that make you feel all alone." – Robin Williams
3. "We're born alone, we live alone, we die alone. Only through our love and friendship can we create the illusion for the moment that we're not alone." – Orson Welles
4. "Being alone with your feelings is the worst because you have nowhere to run. They're here, dancing in your mind, and all you can do is handle." – Aisha Sherly
5. "What a lovely surprise to finally discover how unlonely being alone can be." – Ellen Burstyn 
6. "There are some places in life where you can only go alone. Embrace the beauty of your solo journey." – Mandy Hale
7. "If you want to be happy, learn to be alone without being lonely. Learn that being alone does not mean being unhappy. The world is full of plenty of interesting and enjoyable things to do and people who can enrich your life." – Michael Josephson
8. "Being alone has nothing to do with how many people are around." – Richard Yates 
9. "Loneliness does not come from being alone, but from being unable to communicate the things that seem important to you." – Anonymous
10. "Being alone doesn't necessarily mean loneliness. People are great! But being alone is wonderful. I prefer the silence of alone, and the sounds of nature." – Jayson Zabate
Inspirational Quotes About Being Alone
11. "Standing alone doesn't mean I am alone. It means I'm strong enough to handle things all by myself." – Anonymous
12. "The sun is alone too. And he's still shining." – Anonymous
13. "Some steps need to be taken alone. It's the only way to really figure out where you need to go and who you need to be." – Mandy Hale
14. "Your life will get better when you realize it's better to be alone than to chase people who don't really care about you." – Thema Davis
15. "Learn to be alone and to like it. There is nothing more empowering or freeing than learning to like your own company." – Mandy Hale
16. "Truth is, I'm generally happiest when it's just me. It's okay to be madly in love with yourself." – Richelle E. Goodrich
17. "I restore myself when I'm alone." – Marilyn Monroe
Also read: Inspirational Quotes, Positive Quotes
Being Alone Quotes to Give You Strength
18. "And in the end, all I learned was how to be strong—alone." – Anonymous
19. "It's easy to stand with the crowd; it takes courage to stand alone." – Anonymous
20. "The hardest walk you can make is alone. But it's the walk that will make you stronger." – Anonymous
21. "I think it's good for a person to spend time alone. It gives them an opportunity to discover who they are and to figure out why they are always alone." – Amy Sedaris
22. "In order to be open to creativity, one must have the capacity for constructive use of solitude. One must overcome the fear of being alone." – Rollo May
23. "Nothing else so destroys the power to stand alone as the habit of leaning upon others. If you lean, you will never be strong or original. Stand alone or bury your ambition to be somebody in the world." – Orison Swett Marden
24. "Alone had always felt like an actual place to me, as if it weren't a state of being, but rather a room where I could retreat to be who I really was." – Cheryl Strayed 
Heart Touching Quotes on Being Alone
25. "Sometimes you just need a break. In a beautiful place. Alone. To figure everything out." – Anonymous
26. "Don't feel alone, because there is always someone out there who loves you more than you can imagine." – Anurag Prakash Ray 
27. "Being alone has a power that very few people can handle." – Steven Aitchison
28. "The worst part of holding the memories is not the pain. It's the loneliness of it. Memories need to be shared." – Lois Lowry
29. "Loneliness is my least favorite thing about life. The thing that I'm most worried about is just being alone without anybody to care for or someone who will care for me." – Anne Hathaway
30. "Being alone on the moors is scary; as the rain clouds settle in, it makes you realize your place in nature." – Dave Davies
31. "Don't go away. I don't want to be alone. I can't stand being alone." – Arnold Rothstein
32. "But she wasn't around, and that's the thing when your parents die; you feel like instead of going into every fight with backup, you are going into every fight alone." – Mitch Albom
Also read: Meditation Quotes, Balance Quotes
Being Alone Quotes for Everyone Who Wants to Be in a Relationship
33. "I always joke about being alone forever but I really do believe there isn't someone out there for me." – Pavan
34. "Until you get comfortable with being alone, you'll never know if you're choosing someone out of love or loneliness." – Mandy Hale
35. "There are worse things than feeling alone. Things like being with someone and still feeling alone." – Anonymous
36. "And if you couldn't be loved, the next best thing was to be let alone." – L.M. Montgomery
37. "The trouble is not that I am single and likely to stay single, but that I am lonely and likely to stay lonely." – Charlotte Brontë
38. "Sometimes I feel like I just want to be alone. But what I actually want is someone to just hold me and tell me everything will be okay." – Anonymous
Also read: Inner Peace Quotes, Introvert Quotes
Short Being Alone Quotes
39. "Standing alone is better than standing with people who don't value you." – Anonymous
40. "When the people you love are gone, you're alone." – Keanu Reeves
41. "Loneliness is sad, aloneness is blissful." – Osho
42. "Being alone is more painful than getting hurt." – Eiichiro Oda
43. "You cannot be lonely if you like the person you are alone with." – Wayne Dyer 
44. "Being alone is very difficult." – Yoko Ono
45. "To be alone is to be different and to be different is to be alone." – Suzanne Gordon
46. "Laugh and the world laughs with you, snore and you sleep alone." – Anthony Burgess
47. "And then I think that maybe I was designed to be alone." – Anonymous
48. "To live alone is the fate of all great souls." – Arthur Schopenhauer
49. "I don't want to be alone, I want to be left alone." – Audrey Hepburn 
Relatable Being Alone Quotes
50. "No, I may not be physically alone. But mentally there is no one in sight." – Anonymous
51. "Sometimes life is too hard to be alone and sometimes life is too good to be alone." – Elizabeth Gilbert
52. "You can't be strong all the time. Sometimes you just need to be alone and let your tears out." – Anonymous
53. "I love to be alone. I never found a companion that was so companionable as solitude." – Henry David Thoreau
54. "Lonely is not being alone, it's the feeling that no one cares." – Swatantra Saxena
55. "I like to be alone. But I hate being lonely." – Anonymous
56. "As I get older, I'm more and more comfortable being alone." – Sienna Miller
57. "Pain is when you're slowly dying on the inside and you're way too weak to speak about it. So you keep silent and suffer, alone." – Anonymous
58. "I'm falling apart right in front of your eyes but you don't even see me." – Anonymous
59. "Nobody knows about the little meltdowns I have when I'm alone. They only know about the smiles and laughs I show them." – Anonymous
60. "Some people can't stand being alone. I love solitude and silence. But when I come out of it, I'm a regular talking machine. It's all or nothing for me." – Celine Dion
Being Alone Quotes on Its Pros and Cons
61. "I think it's very healthy to spend time alone. You need to know how to be alone. You need to know how to be alone and not be defined by another person." – Anonymous
62. "I enjoy being alone, my soul is at peace in the silence." – Anonymous
63. "Being alone and actually sitting with our own thoughts can lead to such growth and realizations that are rare in our everyday busy lives." – Kourtney Kardashian
64. "I like being alone. I have control over my own shit. Therefore, in order to win me over, your presence has to feel better than my solitude. You're not competing with another person, you're competing with my comfort zones." – Horacio Jones
65. "When you learn how to be alone you'll discover the difference between alone and lonely." – L.J. Vanier
66. "The best part about being alone is that you really don't have to answer to anybody. You do what you want." – Justin Timberlake
67. "Being alone when one's belief is firm, is not to be alone." – Berthold Auerbach 
Being Alone Quotes to Comfort You
68. "You may feel lost and alone. But God knows where you are and has a good plan for your future." – Anonymous
69. "Sometimes it's better to be alone. Nobody can hurt you." – Tinku Razoria
70. "Life could be wonderful if people would leave you alone." – Charlie Chaplin
71. "It is far better to be alone than to be in bad company." – George Washington
72. "As for now, I'm gonna hear the saddest songs and sit alone and wonder." – Anonymous
73. "It's better to be unhappy alone than unhappy with someone—so far." – Marilyn Monroe 
74. "Loneliness is an emotion and being alone can be a choice." – Anonymous
Being Alone Quotes That You Need to Read Today
75. "Never fuck with someone who is not afraid to be alone. You will lose every single time." – Anonymous
76. "The great virtue of being alone is that your mind can go its own way." – Andy Rooney 
77. "Walking with a friend in the dark is better than walking alone in the light." – Helen Keller
78. "When you have nobody you can make a cup of tea for, when nobody needs you, that's when I think life is over." – Audrey Hepburn
79. "We need quiet time to examine our lives openly and honestly—spending quiet time alone gives your mind an opportunity to renew itself and create order." – Susan L. Taylor
80. "I had already found that it was not good to be alone, and so made companionship with what there was around me, sometimes with the universe and sometimes with my own insignificant self, but my books were always my friends, let fail all else." – Joshua Slocum
Interesting Being Alone Quotes
81. "If you are never alone, you cannot know yourself." – Paulo Coelho
82. "There are two kinds of luxuries—being alone and being with someone who understands." – Nitya Prakash
83. "You are never alone. You are eternally connected with everyone." – Amit Ray
84. "Like it or not, there are times when you need to be alone; times when you need to be lonely; times when you need to need other people." – Alan Bradley
85. "When we truly realize that we are all alone is when we need others the most." – Ronald Anthony 
86. "The saddest thing is when you are feeling real down. You look around and realize that there is no shoulder for you." – Anonymous
Profound Being Alone Quotes to Think About
87. "Being solitary is being alone well—being alone luxuriously immersed in doings of your own choice, aware of the fullness of your own presence rather than of the absence of others. Because solitude is an achievement." – Alice Koller 
88. "Never say you are alone for you are not alone, your God and your genius are within." – Anonymous
89. "She was drowning but nobody saw her struggle." – Anonymous
90. "What should young people do with their lives today? Many things, obviously. But the most daring thing is to create stable communities in which the terrible disease of loneliness can be cured." – Kurt Vonnegut
91. "I'm tired of being alone and fighting my battles alone." – Mercedes Lackey
More Being Alone Quotes
92. "Nobody likes being alone that much. I don't go out of my way to make friends, that's all. It just leads to disappointment." – Haruki Murakami 
93. "All men's misfortunes spring from their hatred of being alone." – Jean De La Bruyère 
94. "My favorite hobby is being alone. I like to be alone. I also like dancing, fishing, playing poker sometimes and vegetable gardening—corn, tomatoes, cucumbers, I have a big garden every year." – Emanuel Steward
95. "Most women would not be happy being me. People say, 'But you're alone.' But I don't feel alone. I feel very un-alone." – Stevie Nicks
96. "A man can be himself only so long as he is alone; and if he does not love solitude, he will not love freedom; for it is only when he is alone that he is really free." – Arthur Schopenhauer 
97. "He is never less at leisure than when at leisure, nor less alone than when he is alone." – Cicero 
98. "Being alone with fear can rapidly turn into panic. Being alone with frustration can rapidly turn into anger. Being alone with disappointment can rapidly turn into discouragement and, even worse, despair." – Mark Goulston 
99. "When I'm alone, I think of so many things. But, when I have a chance to tell you, I go speechless." – Anonymous
100. "All alone! Whether you like it or not, alone is something you'll be quite a lot!" – Dr. Seuss 
What Are Your Thoughts on Being Alone and the Things That Come With It?
Solitude is often taken as a sign of loneliness. But, being alone doesn't always mean one is unhappy or empty. Yes, having companions in life is great, but time alone with yourself can be highly beneficial for you, too.
By having time to spend with yourself, you can make your interests, passions, and personal development a priority. Don't just wait idly for someone to come. Instead, focus on improving and loving yourself, and one day, the right people will fall into your life.
Self-introspection is also a good way of spending your time alone. By doing so, we discover our own voice and get more in tune with our beliefs. 
Of course, being alone also has its downsides. But, remember not to dwell too much on the negatives and be more optimistic about life. Everything that happens in life happens for a reason, so try to find the good in whatever situation you're in.
How do you feel about being alone? Were these being alone quotes helpful in any way for you? We'd love to hear from you, so share your thoughts in the comments section below.
Read Next: