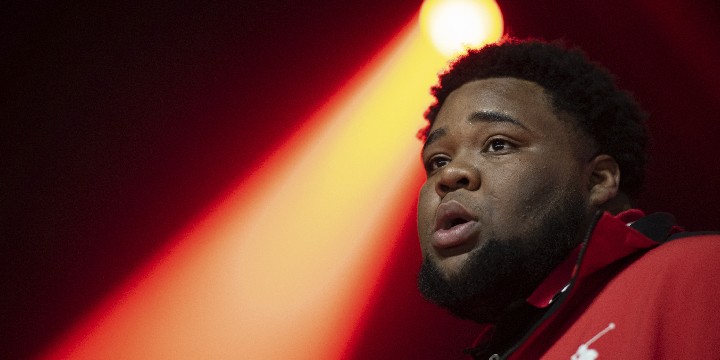 Check out this collection of Rod Wave quotes on love, dreams, and hard work that hits too close to home.
Rod Wave is an American rapper and singer of the R&B and hip hop genre. He is famous for his songs Heart on Ice and Rags2Riches and his albums Ghetto Gospel, Pray 4 Love, and SoulFly. 
Most of his work came from his personal experiences that everyone can relate to.
We're sure that the lyrics of his songs will fire your passion to keep reaching your goals. Read our collection below to witness the magic of his words.
Let's get started.
And don't forget to check out these YoungBoy Never Broke Again quotes and Lil Durk quotes.
Best Rod Wave Quotes
1. "Dreams come true. You gotta chase it."
2. "Life is too short to tolerate stuff that doesn't make you happy."
3. "My darkest times taught me to shine."
4. "First, it hurts, then it changes you."
5. "Before you get one win, you gotta take a thousand losses."
6. "What's the point of life if you can't enjoy it?"
7. "It takes a strong, strong heart to heal a broken soul."
8. "Before it gets better, it's going to get worse."
9. "You want to be happy? You got to let sh*t go and let sh*t be what it is."
10. "The wider my eyes open, the smaller the world gets."
11. "Just 'cause they couldn't do it doesn't mean you can't."
12. "I remember everything, the shine and the struggle. I remember all the pain, all the grind, all the hustle."
13. "Just know it's going to get tough, it's going to get rough, but when you've had enough, you can't give up."
14. "We all wasted the best version of ourselves with someone who didn't give a f*ck." 
15. "Music saved my life."
Also read: Kevin Gates Quotes, Lil Uzi Vert Quotes
Inspirational Rod Wave Quotes
16. "Don't let nobody who gave up on their dreams talk you out of yours."
17. "You only live one time. Don't spend it doing something you hate. Chase your dream, kid."
18. "Nobody told me the road would be easy. I can't believe I made it this far. My whole life, I've been working so hard."
19. "The only thing guaranteed is death, and the most valuable thing we have is time."
20. "Nobody perfect. Just admit you were wrong and get it right this time."
21. "Sometimes, it's too late to make amends."
22. "An apology without change is just manipulation."
23. "I'm obsessed with becoming a better person and getting my life together."
24. "It's okay to start over. Let someone else love you the right way."
25. "Straight from the bottom, and now we way, way up."
26. "I'm in with the struggle. I'm in with the hustle. I'm in with the problems."
27. "I used to put my headphones in and forget about the whole world. I make music for people like me."
28. "Even if that sh*t is eating you up inside, you gotta keep it going and move on."
29. "Get some money, travel, see the world. You'll feel way better."
30. "No such thing as a life that's better than yours."
Also read: Juice WRLD Quotes, Polo G Quotes
Meaningful Rod Wave Quotes on Life
31. "I done been here so many times you'd think I know how to handle it by now." 
32. "It's like people focus on looking happy more than being happy."
33. "You a leader to them people and them young n*gg*s is watching. Them young n*gg*s believe in you. Don't let them down. Be cautious."
34. "Seen so many faces, been so many places, caught some cases."
35. "Truth hurt. Sometimes, I sit back and accept the lies."
36. "It's hard to get me some peace with all the sh*t that I be battling. So many ups and downs, sometimes, I feel like I can't balance it."
37. "I feel like I'm in this world alone, but this is the life I chose."
38. "Be scared to find out what's what. The ones that let you down be the ones you love so much."
39. "If you're looking for someone perfect on earth, you'll never find them."
40. "Heart been broken so many times, I don't know what to believe. Mama said it's my fault I wear my heart on my sleeves."
41. "Got me on my knees. I'm asking God what's my purpose."
42. "I know it's hard dealing with a heart that you didn't break."
43. "Anybody can want you. It's different when someone actually values you."
44. "God bless the child that can hold his own."
45. "This world cold boy. It's crazy how we find that out. Some of us never bounce back."
Also read: Quando Rondo Quotes, Tupac Quotes
Rod Wave Quotes That Will Teach You a Lot About How the World Works
46. "You can break something in two seconds. Sh*t going to take forever to fix."
47. "I'm moving on in life, so don't ask me about no old sh*t."
48. "Ain't no telling who all 'round for what reasons, like what's they true intentions."
49. "Hope you don't think 'cause I got change, that's what made me change. It's just this life got so strange, I had to switch lanes."
50. "You are looking for a rich n*gg* and not a real n*gg*. That's why you are falling short."
51. "It's hard to keep your eye on the prize when you come out the trenches where n*gg*s they don't survive."
52. "Can't make everybody happy. They feel like I'm doing them dirt."
53. "My soul ain't for this generation."
54. "If they don't got a story these days, they'll make one."
55. "Somehow, I keep on all my friends, I came to the conclusion it's not them."
56. "I woke up this morning with tomorrow on my brain. Today could be the day I fall a victim to the game."
57. "We met for a reason, either you're a blessing or a lesson."
58. "Where I'm from, it's an eye for an eye, nothing else. Ain't no love, it ain't no help. Every man for they self."
59. "Only reason I keep going 'cause I know you n*gg*s hate it and my real fans."
60. "Distance is my new response."
Also read: XXXTentacion Quotes, King Von Quotes
Sweet Rod Wave Quotes on Love
61. "You may not be her first, her last, or her only. She's loved before. She may love again, but if she loves you now, what else matters."
62. "I need someone I can run to. Thugs need love too."
63. "I know that I hurt you. I was a child trying to be a man."
64. "If I cross some hills and I disappeared, would you be here? Would you still write me?"
65. "I don't want no more love. I feel it's poison."
66. "I give my heart to whoever, they take it, and they ran."
67. "I've been looking for the right kind of love."
68. "I got one more piece of my heart left, and I've been saving it for you."
69. "If your heart really all mine, why I gotta fight for it."
70. "Remember when I first confessed my love, and I cried? I remembered when I asked you bout that n*gg*, and you lied."
71. "Tell me how do I find love if I never seen it."
72. "You said you love me, but you are leaving me. I guess love ain't what it seems to be."
73. "I think I need your love. I don't need no one selfish. Wonder if I give this girl my heart, could she help it?"
74. "I don't need another broken heart or sleepless night. God bless, guide me right."
75. "If loving me is hard. I apologize."
Also read: J. Cole Quotes, Mac Miller Quotes
Sorrowful Rod Wave Quotes to Accompany You in Loneliness
76. "I've been feeling pain for so long, I done become numb."
77. "Ain't no love in this sh*t for real. They only love what you can do for them."
78. "Who can you trust in this cold, cold world? Better get a blanket."
79. "I get lost in my thoughts."
80. "So much pain built up deep inside. I try to control it, but the anger build up deep inside."
81. "Death gotta be easy 'cause life is f*ck*ng hard."
82. "Late night, I ain't sleeping, I'm up thinking."
83. "Do I want to deal with the pain that tomorrow brings? Might grab a gun." 
84. "I got issues back home, and I got pain running deep."
85. "No matter what I do, can't keep nobody happy."
86. "Sometimes, it feels like nobody understands me."
87. "Could you feel me if I told you that it's hard to trust. I been hurt before, I done heard these words before."
88. "Hurt me to my heart the way I love ended. I blame you. You the reason I don't trust bitches."
89. "I just hate feelings and getting attached. I just hate feelings and dealing with that. Love is a drug, and I've been attacked."
90. "Me and my heart out of been touch all these years 'cause everything I touch with my heart, it disappears."
More Rod Wave Quotes That You Can Relate To
91. "I'm starting to think I think too much. But my mama, she think I don't think enough."
92. "Either way, I hope you love it. Thank you for everything."
93. "I got skills in other things, but rich off rapping pain. So much that came with all this fame, but I remain the same."
94. "If you think you know anything about me, what you heard just know you way off."
95. "Make every time feel like the first time. Out of my presence but still on my mind."
96. "I've been so scared of love, got commitment issues, but somehow, someway, I fell in love with you."
97. "I've been thinking about our love and how much I miss your touch. I miss being around you, hearing your laugh, and holding your hand."
98. "My heart and brain be thinking three different things."
99. "They turn they back, and they leave you. They gone be back when they need you."
100. "I need that pure Codeine in. I ain't been sleeping. They told me to slow it down. You been speeding."
Did Rod Wave Motivate You to Keep On Working for Your Goals in Life?
In reaching our dreams, we will encounter many obstacles that will set us back and test our perseverance. It might get more challenging, and we can lose hope on our way, but the passion inside us will fuel our determination to keep going.
Rod Wave opened up a lot about the struggles he faced to get where he is now. He is a reminder that no matter how hard life gets, never give up.
If you keep on hustling for your goals and believe in yourself, you will eventually reach success. Use the lessons you learned in this collection to have the strength in conquering life and dreams.
Which Rod Wave quote is your favorite and why? Comment your answers below! 
Read Next: