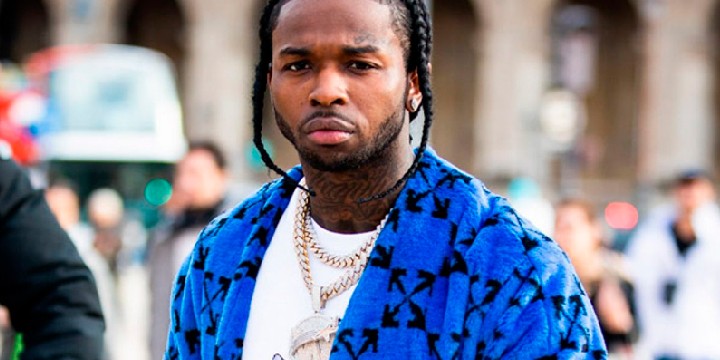 These Pop Smoke quotes will inspire you to keep fighting and aim high no matter what dreams you have. 
Pop Smoke was a rapper famous for the Brooklyn drill genre. He released music that hugely influenced music and art.
Even after his death, Pop Smoke's songs continue to be relevant in redefining hip hop music. His quotes only prove his tenacity and fearlessness in reaching success. Read the entire collection below to be inspired and motivated in life.
Start here.
And don't forget to check out these Juice WRLD quotes and XXXtentacion quotes.
Best Pop Smoke Quotes
1. "I did some wrong, but I'm always right."
2. "I don't get mad. I get money."
3. "Nobody innocent. If you ain't dead, better lay down."
4. "You only as real as the people you surround yourself with."
5. "Sometimes, you gotta be selfish when you tryna build an empire."
6. "I make rap. Rap don't make me."
7. "I'm up in all the stores. When it rains, it pours."
8. "Be in control of your own sh*t and your creations."
9. "Don't let my heart turn cold. Have mercy on many men."
10. "Don't let nobody ever tell you that you can't do nothing. Whatever you wanna do, just do it. Don't look back. Shoot for the stars, aim for the moon."
11. "You cannot say Pop and forget the Smoke."
12. "One in the head, ten in the clip. Baby, baby, don't trip. Just lower your tone 'cause you could get hit."
13. "I'm rich, but I'm riding. I'm low on exotic."
14. "We rich. We came from the bottom."
15. "I'm the underground king."
Also read: Lil Peep Quotes, Lil Uzi Vert Quotes
Inspirational Pop Smoke Quotes
16. "This my life, no faking."
17. "Through the storm, baby, we can make it through."
18. "They say, 'Fly girls have more fun.' So what? So you should enjoy yourself."
19. "I know how to shoot, and I know how to fight."
20. "Get money and stay aggressive. Baby, it's your world."
21. "Look at my status. No, I'm not bragging. I'm not average."
22. "You get what you please."
23. "I'm top tier, yeah. I ain't never kept it Nancy, but like Jamie Foxx, I'mma always keep you fancy."
24. "I said, 'I feel invincible.'"
25. "We living life. Don't panic. She love the life. Don't panic." 
26. "Stay in your place. Wait for your turn. Respect ain't given, n*gg*. It's earned."
27. "I'm the king of New York, Melo. Black hair by the Regis and pello. Ask around, n*gg*s know me."
28. "Dior on my body, sneakers got no creases. They limited, baby. Tell me if you've seen them."
29. "Ain't nobody ever gave me sh*t with this big chip. I had to get paid."
30. "I'm everywhere that the dollar be, dollar be. I don't owe no apology. I'm gettin' the money. You know my philosophy."
Also read: Travis Scott Quotes, Lil Durk Quotes
Romantic Pop Smoke Quotes That'll Melt Your Heart
31. "You know, I never found love until I looked between your eyes."
32. "Close my eyes while I sleep. Hope you be there when I wake."
33. "You got my heart beating so fast to words I can't pronounce, and I be getting the chills every time I feel your touch."
34. "You always treat me right. For a fact, you never left through all the trials and tribulations. Always had my best."
35. "Let me take you to the candy shop. Show you all I got. I put the diamonds on your chain to match your diamond ring."
36. "You don't gotta worry about nothing as long as you with me."
37. "My whole life has changed since you came in. I knew back then. You were that special one."
38. "'Cause you the baddest b*tch I ever seen walk on the land."
39. "I had to apply the pressure 'cause you my hidden treasure. I think I'm falling in love."
40. "I get you everything that you want and you need. From Chanel to Celine, it's for you to decide."
41. "She said, 'What you know about love?' I got what you need."
42. "I think you are something special. I'll take you on a shopping spree."
43. "What you like? What you wear? Say the name, say the price, put them diamonds on your ear shining like a chandelier."
44. "I won't kiss and tell, just buy you Chanel. Always roll you up, put H's on your belt."
45. "I be looking at the top, and girl, it's only us."
Also read: Tupac Quotes, Polo G Quotes
Pop Smoke Quotes That Will Bring Out the Badass Inside You
46. "If I tell you once, won't tell you twice. I'm real discreet like a thief in the night."
47. "Keep your eyes on nigs that always talk bad about other nigs."
48. "I make it rain on whoever. I make it rain that woo weather."
49. "When I walk in the spot, 30 on me. Buy out the club, n*gg*s know that I'm paid."
50. "Why would I waste my time on a shorty that don't got me on the front of her mind?"
51. "You talk out your mouth. You better invest in a vest." 
52. "Remember when I came home from corrections? All the bad b*tch*s in my direction."
53. "I'm giving nothing but the energy I give her. Perky and Hennessy. I give two shots to the enemy. Hope he remembers me."
54. "I got that cash-out feeling. I got that touchdown feeling."
55. "She likes the way that I dance. She likes the way that I move. She likes the way that I rock. She likes the way that I woo."
56. "I ain't a pretty boy, but I ain't ugly, and I'll take your b*tch in a second. If she a real one, then I'll protect it."
57. "Ride around through my city."
58. "Fresh as f*ck, no stylist."
59. "Look, I be all up in the stores, young n*gg*. I can buy you what you want."
60. "Had to move these b*tch*s up 'cause they were in the way. I wouldn't want them to get shot by an enemy."
Also read: Quando Rondo Quotes
Cool Pop Smoke Quotes
61. "I ride for my brothers and only my brothers, you understand."
62. "You say you're looking for me. You got it right where you want."
63. "My diamonds dancing. Paint her face like Marilyn Manson."
64. "Never thought this pain, ah, last so many years."
65. "Baby, you should enjoy yourself. Bossed up, need no help, look."
66. "Clean it up. I'll have somebody take care of you. Watch him get hit while I'm sitting and staring."
67. "Pop all my Percs and sleep in my drawers. You talking too much, baby. Pour up a four."
68. "They told me the price. I said, 'F*ck it.' I spend it all with no budget. If it ain't a hundred, I ain't budging."
69. "I can take you out everywhere, f*ck a jet fare."
70. "Fly and discreet, a demon in the sheets."
71. "Let me tell you why the opp n*gg*s hate me. 'Cause all the opp n*gg*s know I be flexing."
72. "Said I'm never lacking. Always pistol-packing with them automatics, we gon' send him to heaven."
73. "I drop a slip or two and get a light pack, and I don't care if you losing. Still, fight back."
74. "N*gg*s act tough then call the police. I don't make friends, yeah. I make bands. Want some Ray-Bans? 'Cause I'm an OG."
75. "I'd rather have my money green like kiwi."
Pop Smoke Quotes to Motivate You to Be Unstoppable 
76. "Welcome to the party is just me like. You do what I do. Like you shot a n*gg*? Welcome to the party. Oh, you get b*tch*s? Welcome to the party. That's just what it means."
77. "Especially when you get designer, and I wine and dine, and the Bentley came with the wings like a number nine, yeah. Come through, just us two."
78. "So, you got the job doing what? Bro, I get paid to snitch now, n*gg*. It's really classified. I can't really talk about this sh*t."
79. "If I'm on the island, I'm snatching the cell. Brody got locked, denied his bail. Until he free, I'm raising hell."
80. "She said I could come with her if it gets hot up in the streets."
81. "Free all my rilla n*gg*s, all my villain n*gg*s, all my killer n*gg*s. Out the cage since a younging, n*gg*. I been drilling n*gg*s."
82. "I'm a gangster, but I like to party."
83. "Wish death upon me. Yeah, I don't cry no more. I don't look to the sky no more 'cause I got it on me."
84. "I got one thing for sure. I got two things for certain."
85. "I don't talk to n*gg*s 'cause they be capping. Disrespect me and see what happens. I will make a call for war, start snapping."
Short Pop Smoke Quotes That Are Perfect for Your Instagram Posts and Captions
86. "Nigs saying they outside."
87. "If I don't got it, she gon' tase him."
88. "I see an opp, and I drop folk."
89. "N*gg*s know I bring them guns out. I make it hot when it's sundown."
90. "I said I'll pop a perc and feel amazing."
91. "I'm with the straights and the apes talking stone to stone."
92. "'Cause your pussy feel the same, and I don't got time to waste."
93. "Shorty a little baddy. Shorty, my little boo thang."
94. "I will be in New York with the gangsters."
95. "I never hit a b*tch more than once 'cause they be leeches."
96. "I told this b*tch I can't keep up. Most of my thoughts in the clouds."
97. "If I run down, it's a drum round. All you gonna hear is gun sounds."
98. "They ain't in the field, they on the bleachers."
99. "I just wanna be alone."
100. "We be shopping through the city. I gave her keys to the Bentley."
Pop Smoke Quotes on Relationships
101. "All I need is your trust, and girl, I told you once, don't make me tell you twice."
102. "Make me wanna treat you like a broke n*gg*. Always end up with the wrong n*gg*s."
103. "Mother was a lawyer, her father the police. They be working long hours, so she always had the free."
104. "Get off your knees. You don't gotta cry to me. I'm your best friend, baby. You don't gotta lie."
105. "I ain't no city boy 'cause I love my b*tch n*gg*, but that doesn't mean that I don't love my hoes."
106. "Shawty could Fendi out, but she like Fashion Nova. She ain't driving no Camry, she pulled in a Rover."
107. "I got the baddest b*tch out of the city. She got my name on top of her titty. I do my dance when I get jiggy."
108. "Got a bad b*tch from overseas, got a 10 pack up in my jeans. I'm in Manhattan in these stores."
109. "I stay to myself 'cause I never liked these hoes, and she only liked the guap, red light these hoes."
110. "Shoot for the stars. I'm a foundation, huh. Look at the money I'm raising. She wanna f*ck, hold on. She's stuck in a book, have her wait for arraignment."
Other Pop Smoke Quotes That Are Dope and Full of Swag
111. "If I call you bae, you bae for the day or a bae for the night. You not my wife."
112. "N*gg*s tryna lock me up and give me a bid. I'm like, 'N*gg*, f*ck the pigs.'"
113. "Talk to me nice or don't talk at all. I make a call, and it's war."
114. "Like me undone, I got a drill, them now feeling. Back out, brush them. No, I can't sit around feeling." 
115. "Get to spraying n*gg*s 'cause I hate n*gg*s. F*ck n*gg*s, I ain't playing with them. I don't really wanna hear n*gg*s. I don't got nothing to say, n*gg*."
116. "I ain't no window shopper. Your man out here window shopping. I be in all the stores, and no, we ain't window shopping."
117. "I ain't with the talk or the chitchat. All you hatin' *ss n*gg*s better sit back, or you gon' be the next one to get they sh*t snatched."
118. "N*gg*s talkin' about they guns but never shot sh*t. Might as well put a cap on it, all over with a chopstick."
119. "I made like 200 in London. You out here gassing these b*tch*s. You pumpin' sh*t up like you budden."
120. "It's still free. All my n*gg*s that's sentenced, stuck up in the jail, I could show you how to vibe, but I can't be your man."
Did Pop Smoke Inspire You to Start Your Journey Towards Success?
Most people are being held back from achieving their dreams because they stopped believing in themselves. We are blinded by the hardships we experience and lose sight of our goals. 
Pop Smoke had great pride in using his talents and passion for winning in life. His music reminds us that the sacrifices we make are all worth it once we attain our aspirations.
If you get discouraged, reread these Pop Smoke quotes to celebrate life and gain your confidence. We hope this collection was able to become a reminder to get back up when life knocks you down and keep fighting!
Which Pop Smoke quote is your personal favorite? Did you learn a lot about dreams in this collection? Comment down your thoughts below!
Read Next: