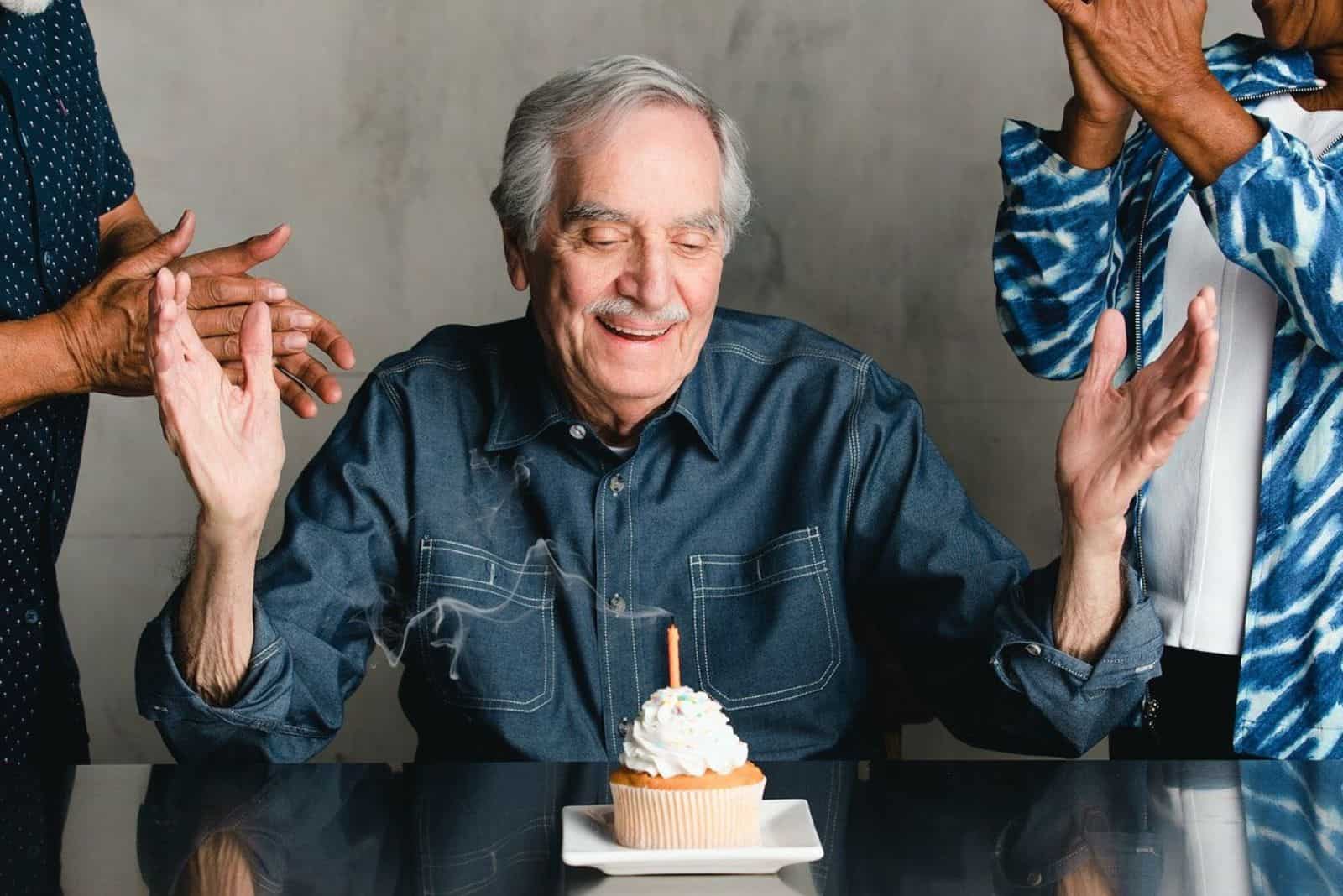 Someone dear to you is turning 65 and you just can't come up with a thoughtful happy 65th birthday wish to mark their latest trip around the sun?
Don't sweat it, because I've scoured the web to cover you with no less than 120 birthday wishes for 65-year-olds, to show them some love and respect they deserve.
They've experienced 65 fantastic years of treasured memories, lessons learned, and wisdom gained.
Use these birthday wishes to remind them of all those remarkable things and let them know why their 65th birthday deserves an exceptional shout-out!
10 Greatest Ways To Wish A Happy 65th Birthday
1. "Happy birthday to a very special person, someone utterly extraordinary. May the years ahead be as epic as the years gone passed!"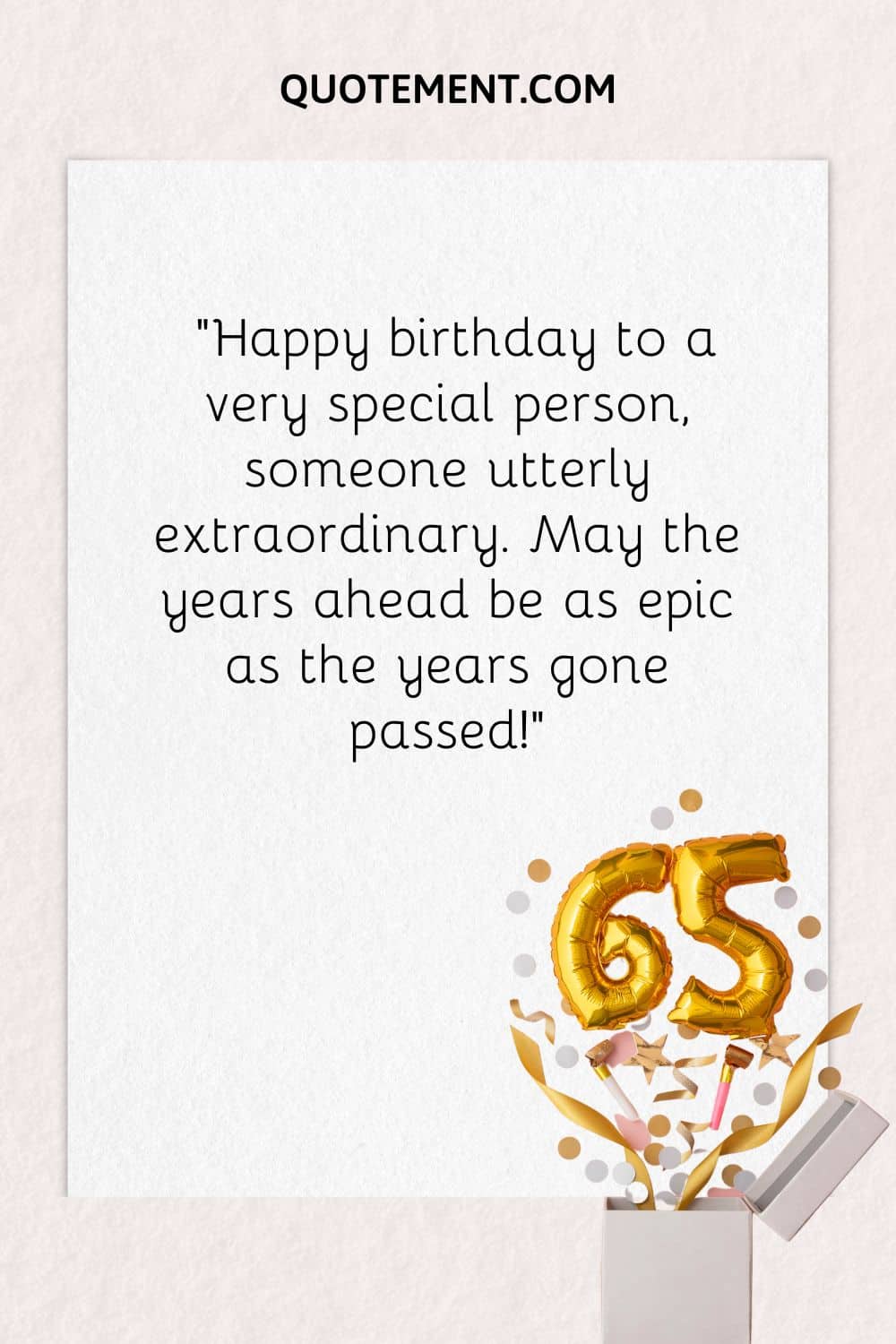 2. "Once upon a time, 65 was "old," but times have changed for the better. Here's wishing you nothing but happiness as the next chapter of your life unfolds."
3. "Another year of you is reason enough for us all to celebrate this glorious day! May you continue to inspire us as long as you can!"
4. "From seed to shrub to mighty tree, you have come a long way. It is an honor to commemorate this remarkable milestone with you. Sending you the best birthday wishes!"
5. "In a world full of stubborn seniors, you are the only one who cares, nurtures, and propels naive juniors like to me chase their dreams. Heartiest birthday wishes to the best senior in the world!"
6. "The world has been graced with 65 years of your awesome presence. The years have been wonderful to you, and I have to say I'm a little jealous. Lots of love to you on this special day."
7. "Another year went by and you are just as awesome, adventurous, and carefree person as you've always been. I am so proud of you! Happy 65!"
8. "You are such a delight to everyone in your life, me included. Celebrating the one-and-only, inspiring you! I hope your day is fantastic!"
9. "So many good times and great memories thanks to you. Thanks for the positive impact you have had on me. Happiest of celebrations to you, have a beautiful day!"
10. "Here you are in your 65th! Do you know that these are your "autumn years"? Kick it back and enjoy every second of it!"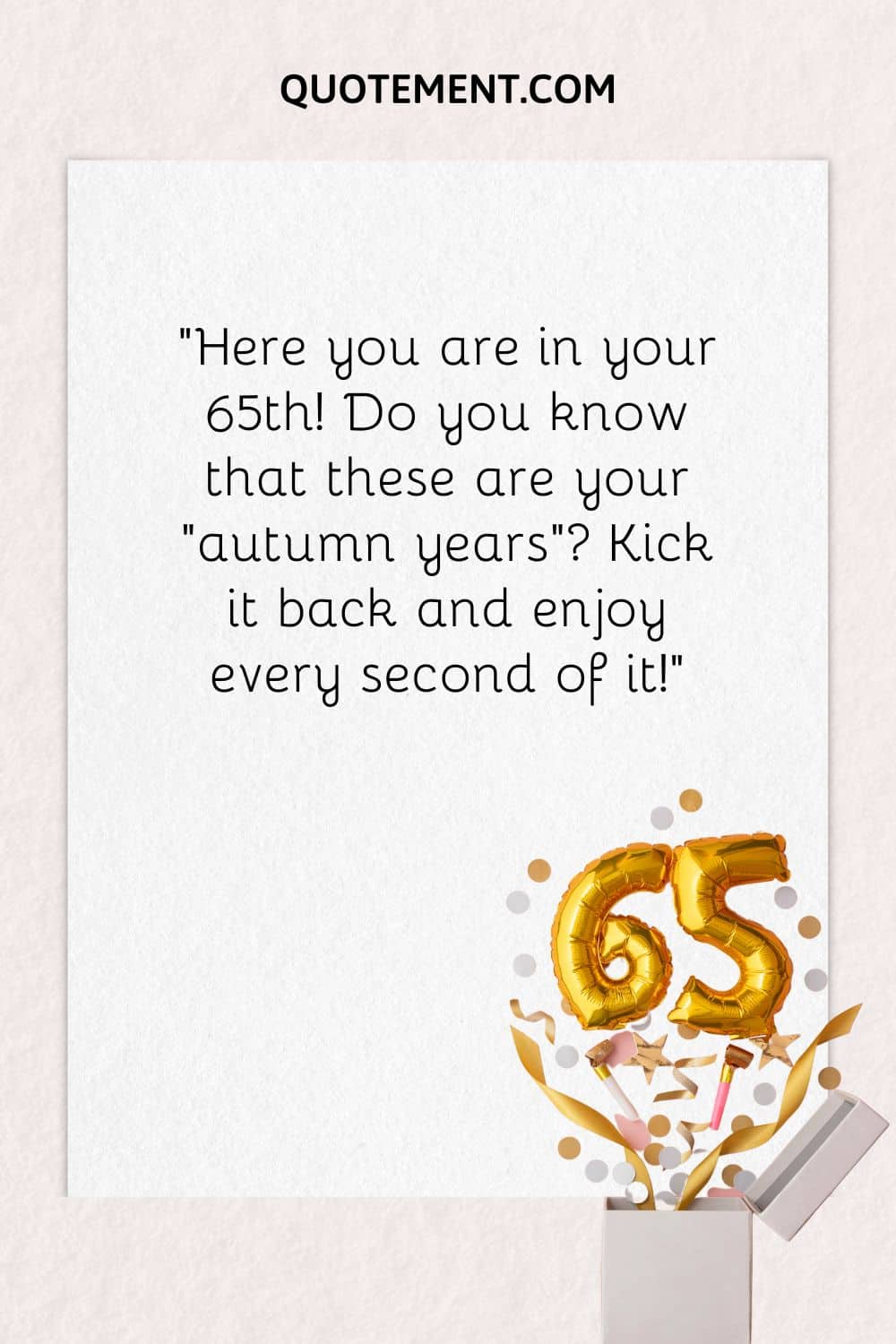 Heartfelt Birthday Wishes For Your 65-Year-Old Friend
1. "My friend, you have aged as finely as a 20-year-old Cabernet. As you get ready to take your place among the rest of the oldies, I'm sending you my best wishes. Happy 65th!"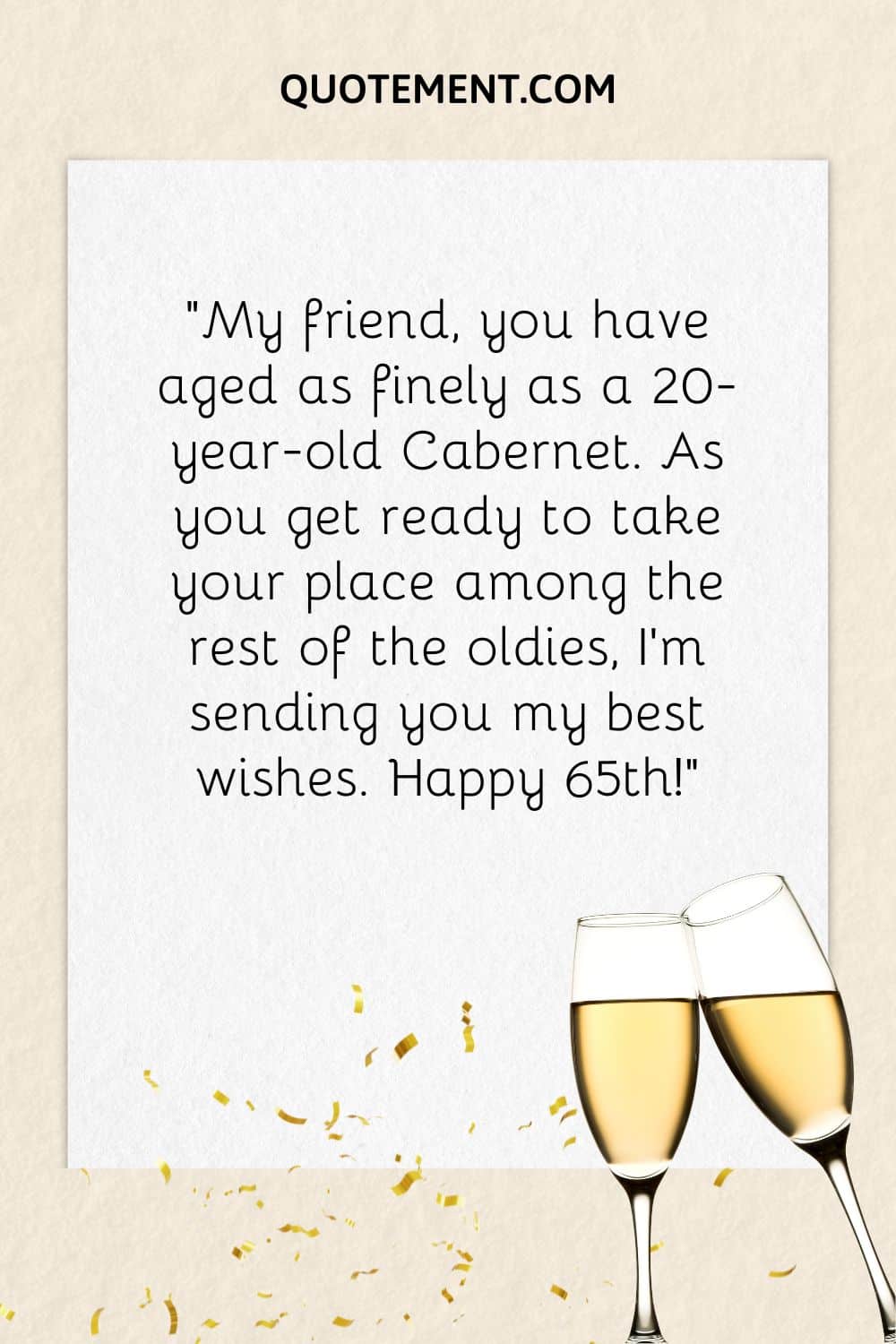 2. "Birthday greetings to you, my friend! Like a great oak, your roots remain solidly grounded. Winters have come and gone, but you remain standing. You've been strengthened by your years, and it's time to celebrate that. I wish you a wonderful 65th birthday."
3. "Your zest for life is as infectious as a zombie bite. Your energy is as vibrant as a leprechaun's pot of gold. Your spirit is as fiery as a newly risen phoenix. You are the stuff of legends, friend."
4. "On your 65th birthday, may your ears be filled with years of laughter. May your tongue speak wise lessons to us all. And may the road ahead be walked with this in mind: there is no substitute for a life well-lived."
5. "Congrats on the milestone of your 65th birthday, friend. This is a time to enjoy the unforgettable memories of your past and plan your dreams for the future. Enjoy it!"
6. "Turning 65 may mean that you feel a few more aches and pains than you did before, but embrace them all. Each time we are fortunate to celebrate another milestone is a day to truly recognize ourselves for all that we are, and you are loved and honored by all. Happy birthday."
7. "Did I hear that right? This is your 65th birthday? That doesn't seem possible. Either way, I hope you have a wonderful day. As for me, I'm going to spend the day trying to believe you're actually 65."
8. "My wish for you is that every day brings adventure and a renewed zest for all life has to offer. I hope you absorb many sunsets, get used to the feel of the breeze in your hair, and are lulled by the sounds of the birds. Happy birthday for this year and many to come."
9. "Today, on your 65th birthday, you may feel a little older than before. But to me, you have always had a young spirit. It is for this reason that I would say you have a long way to go before anyone, even you, can call you old. Happy birthday."
10. "Whiskey, cheese, and leather boots — some things only get better with age. It is about time we added your name to that list! Happy birthday, buddy!"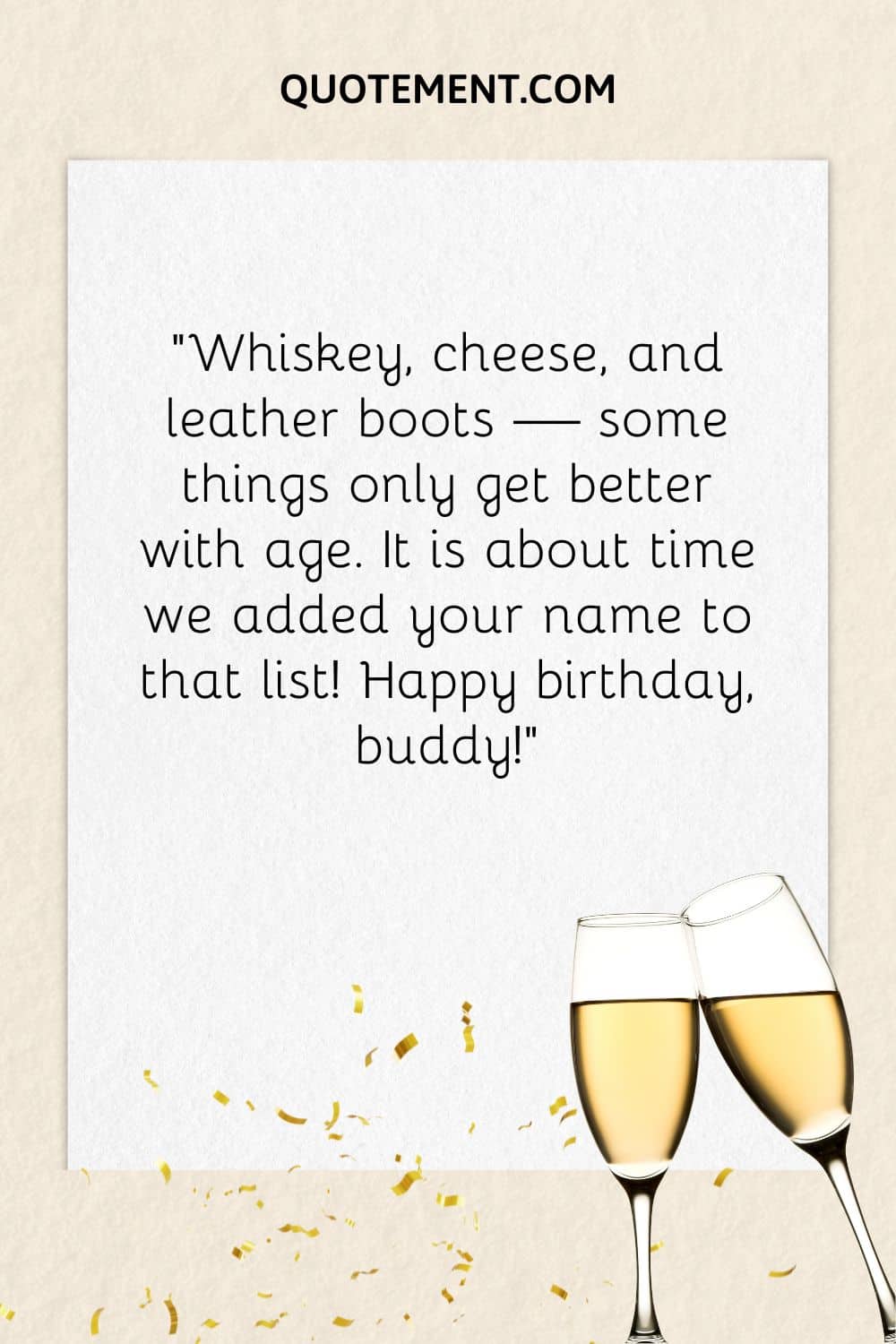 11. "There are twenty-four hours every year set aside to mark your birthday. I hope you spend all twenty-four in a happy celebration of the day you were born and the life you live. I wish you the best for each hour to follow. Happy birthday!"
12. "I expect that today, on the celebration of your 65th, you can just take pride in all you've done and enjoy the love of family and friends. Happy birthday, dear friend."
13. "65 sure is a funny age. Old folks think you're young, and young folks think you're old. So I hope that those older than you see your youth, and those younger than you see your wisdom. May they all see how far you've come. Have a happy birthday, friend."
14. "Today, I hope you take a moment to enjoy the person you've become and all that you have to offer. Best birthday wishes to my best friend."
15. "I'm happy to celebrate your 65th birthday! Though some people measure life by what you do or what you own, I'm honoring who you are. And you're one of the most special people I know!"
16. "Congrats on turning 65. May this birthday find you looking happily back at the past and joyfully forward to the future. And may it be the beginning of a great new chapter in your life."
17. "Dear friend, 65 isn't just any number, because today it is yours! May this day be one of the happy memories and wonderful plans for the future. You're being wished nothing but the best."
18. "If it is true that things get better with age, you are about to enter the best phase of your life. Pants are no longer mandatory. It is acceptable to wear a robe all day. And best of all, you can speak your mind, and nobody takes offense. Happy birthday to my friend! I hope it is incredible."
19. "Celebrating turning 65 means that you have seen the world change, the good and the bad, and your best self has come out of it all. You know that no matter what changes may still come that you will handle them all with wisdom and grace. You are a living legend."
20. "Your life contains a host of experiences that are unique and vital to who you are today. Here's to remembering the past and anticipating the future. Happy birthday."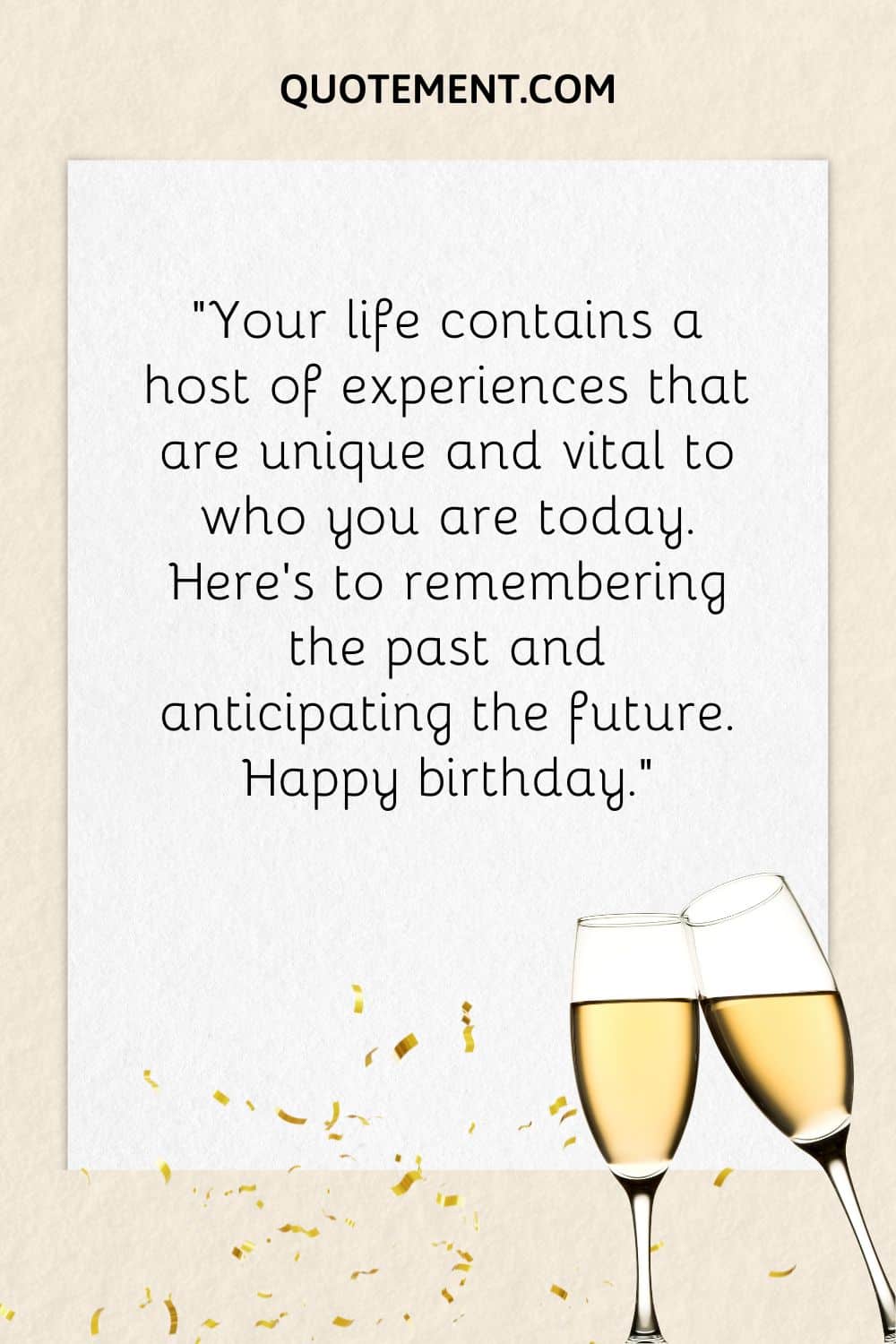 See also: 180 Heart Touching Birthday Wishes For Friend You Adore
65th Birthday Wishes For Your Mom
1. "You've always been the wind that helped the boat of my life sail through high tides, choppy waters, and endless storms. Happy birthday, ma."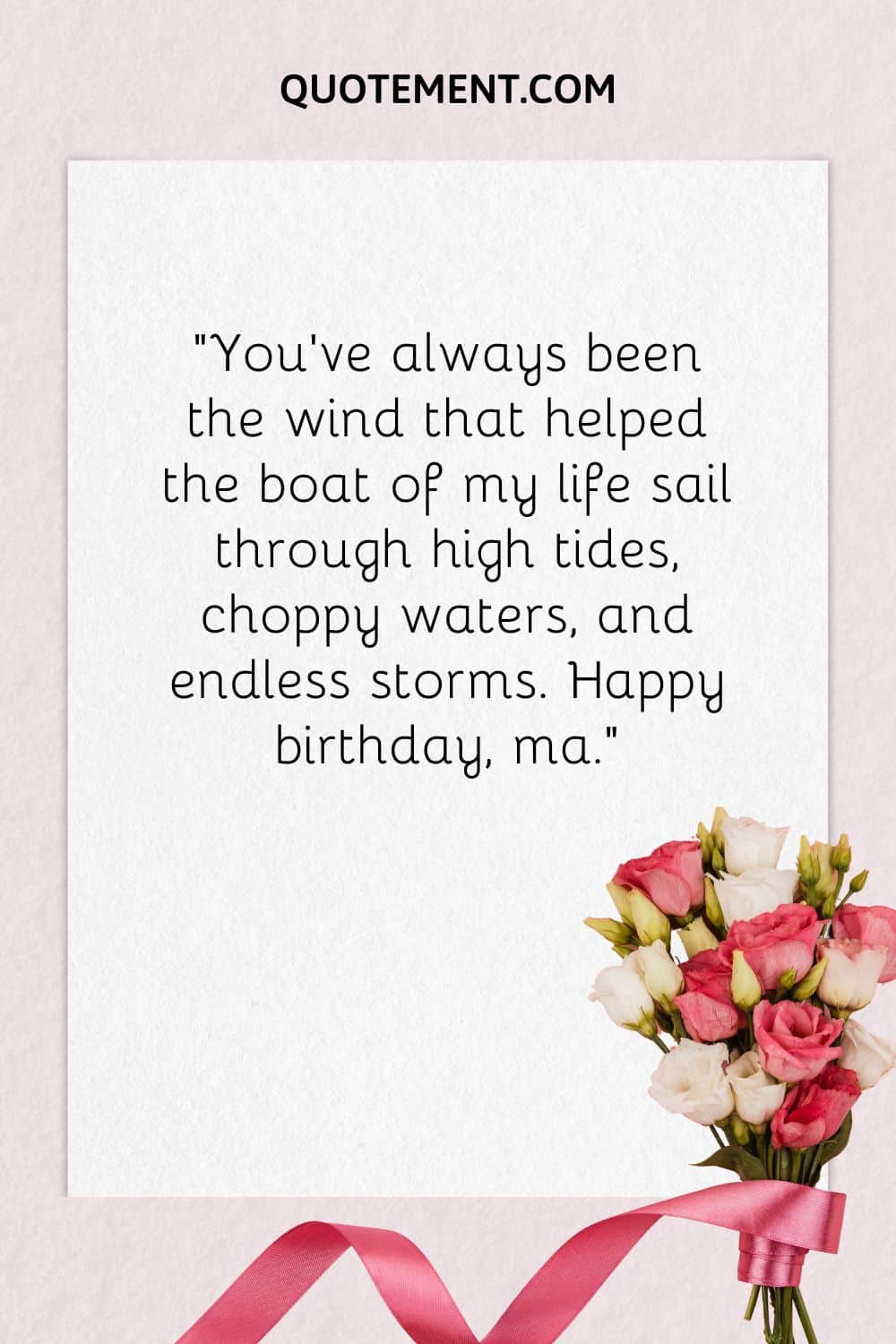 2. "As we celebrate your 65th birthday, I can only echo what Abraham Lincoln said: "All that I am or ever hope to be, I owe to my angel mother." Happy birthday!"
3. "When I think about my favorite childhood memories, I realize they were all so special because you were making our lives magical. Happy 65th birthday to you, let's keep making memories this year!"
4. "People come and go, but family is forever. Happy birthday to someone who's been there for me since day one!"
5. "It's hard to take credit for any of the successes I have had in life. As hard as I have worked to become the best I can be, you worked even harder to help me reach my dreams. Thank you and happy birthday, mother!"
6. "While others are getting old, it's like you are growing younger with each passing day. I think I should come for the recipe. Happy birthday, mom."
7. "Sometimes life gets tough, but I always rest assured that I can make it over any obstacle in my way with the power of your love. Thanks for being the best mom the world has to offer, happy birthday."
8. "Turning 65 means it's a time to relax, and enjoy your hard-earned wealth. Happy 65th birthday, mom!"
9. "I used to complain that it took forever to go grocery shopping because you were always stopping to talk to everyone. But now, I realize that it's because you are such a warm person that everyone wanted to talk to you. Happy birthday to my kind-hearted mom! You are so loved!"
10. "I believe in angels, superheroes, miracles, blessings, good luck, and destiny. Because I find all these in you, mom. You are my everything. Happy birthday, mom!"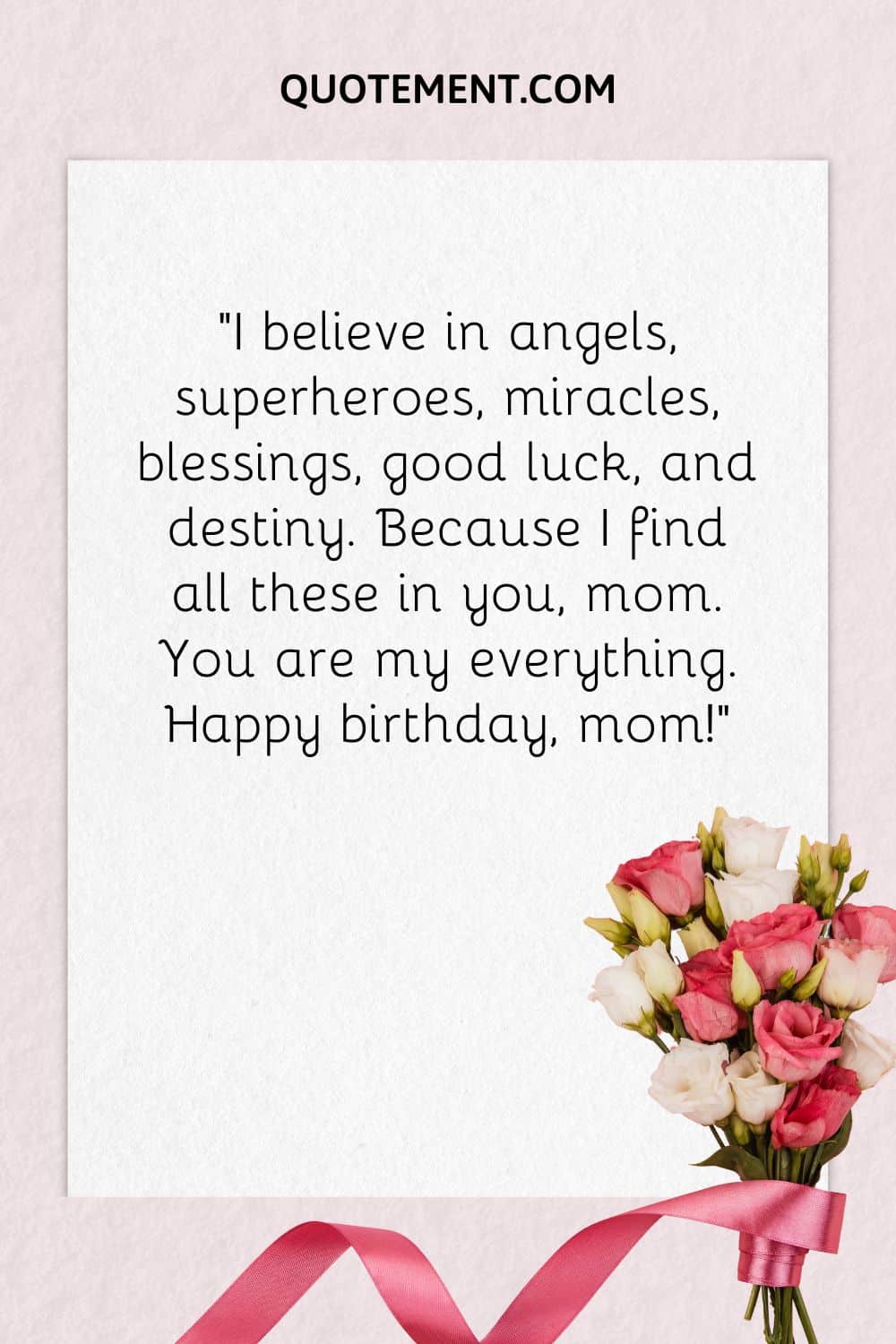 11. "Happy birthday to someone who touches the lives of so many and makes things brighter everywhere she goes."
12. "No one can love me more, no one can understand me better than you do. No one can inspire me more, no one can hug me as warmly as you do. Happy birthday, mom!"
13. "You've taught me everything I know, guided me through life's most difficult moments, and inspired me to keep going along the way. Words will never explain just how much that means to me. Have a wonderful birthday, mom."
14. "Happy 65th birthday to my unshakable, hilarious, tough mama. I'm so happy to have someone like you in my corner forever."
15. "There's nothing like a mother-and-child bond. I'm so blessed to have you as my mom. Happy 65th birthday!"
16. "I know things aren't always easy between us, but I hope you never forget how much I love you. You're the first person I come to with good or bad news, and you are totally irreplaceable. Happy birthday to my amazing mom!"
17. "When I wasn't true to myself, you told me to listen to my heart while others were egging me on to do stuff that I never wanted to. Thanks, mom, for that and everything! Happy birthday!"
18. "My dearest mom, thank you for being so patient with me for so many years. Thank you for your unconditional love and the ability to find happiness in small things! I hope that when I am your age, I will have these traits too. Happy 65th birthday, mom!"
19. "The years go by, but some things never change. You never stop being there for me, and I never stop thinking I have the best Mom in the world. Happy birthday!"
20. "Mom, only you can do everything and still look great every day! Know what that makes you? A SUPERMOM. Happy birthday to a lady who just keeps getting younger!"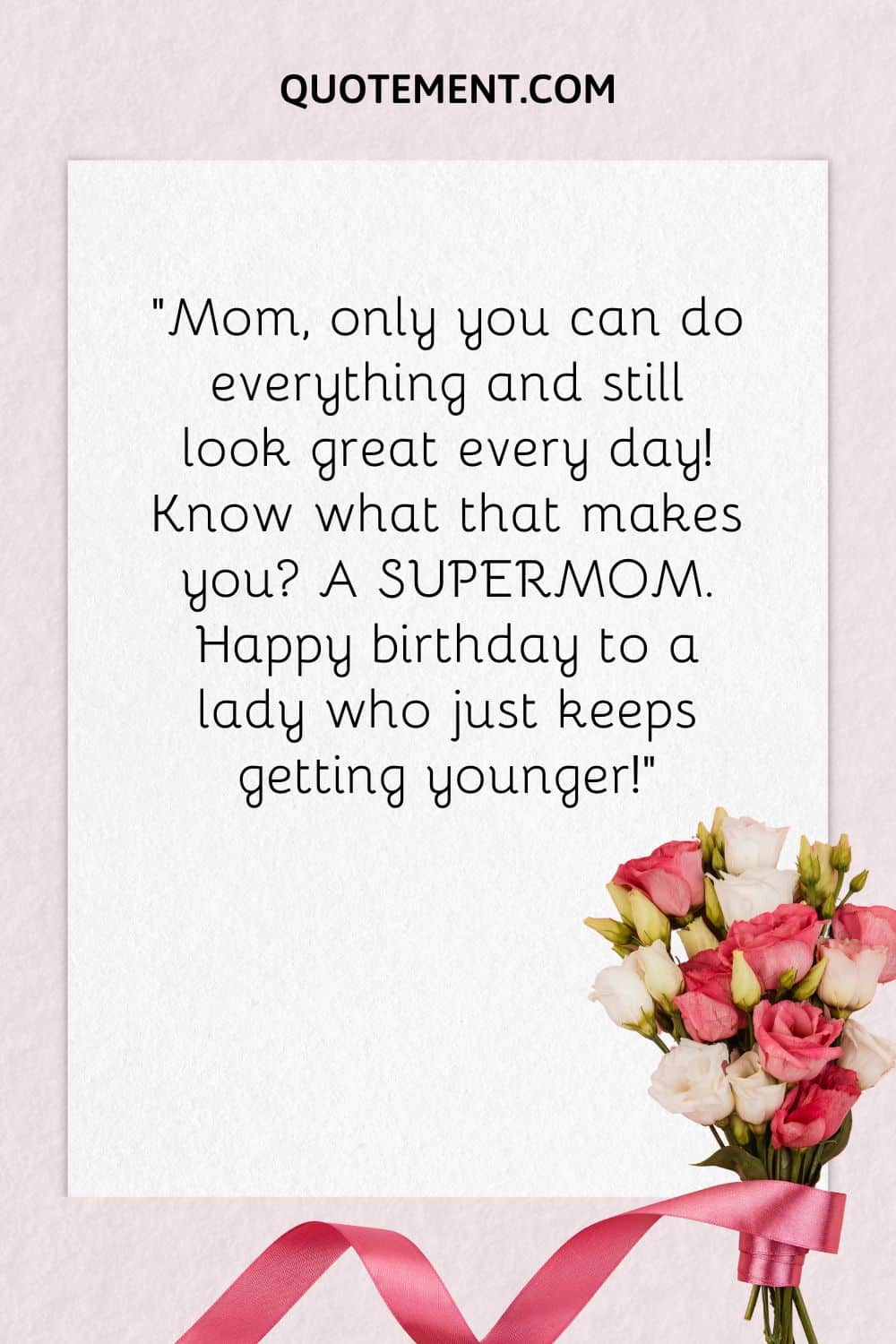 See also: 270 Beautiful And Heart Touching Birthday Quotes For Mom
65th Birthday Wishes For Your Dad
1. "Thank you for paving the way, making me patient and brave. Mostly, thank you for always being a safe place to land. Happy birthday, dad."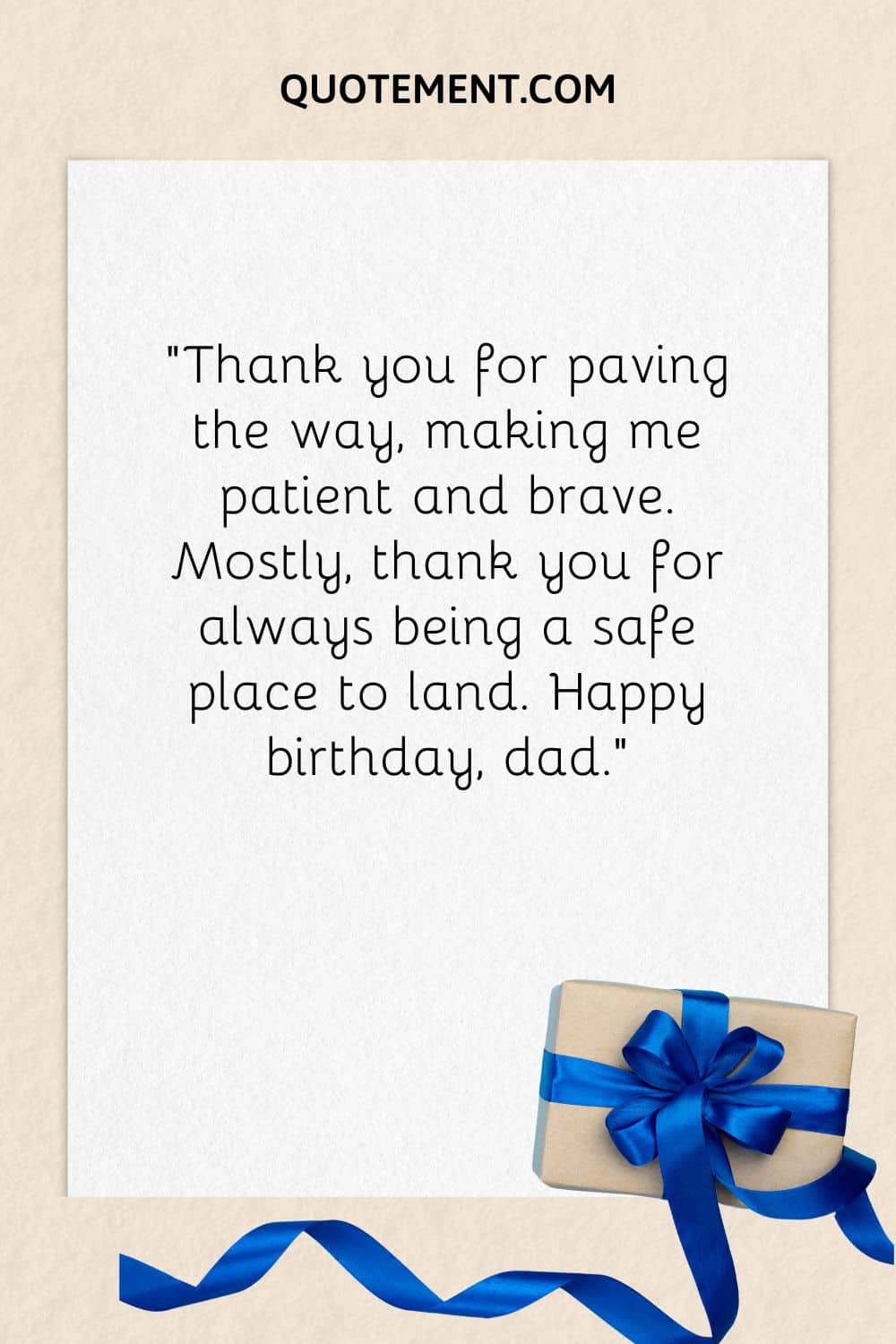 2. "A birthday is that time of the year when you look back on the success of the past year and set goals for the next year. I hope you will achieve all your goals this year, dad. Happy birthday!"
3. "As you are turning 65, you can now appreciate the advancement in technology. Back in your days, many things had not been invented and now you cannot do without them. Truly times do change. I wish you a happy birthday."
4. "A father can be a powerful force in a child's life, imparting strong values and generosity of spirit. I can say my own dad paved the way by example. Happy birthday, dad, you deserve it."
5. "There are so many perfect reasons to celebrate in style. I hope your day is filled with all that makes you happy. Enjoy a happy 65th birthday, dad."
6. "Today is your birthday, it's official you are sixty-five. You are the best dad ever. Every second with you is a blessing to me. Happy birthday!"
7. "Wishing my dad a very happy 65th birthday! You have lived a life filled with love, laughter, and so many wonderful memories. May this special day be a celebration of all the amazing things you have accomplished and all the happiness that is yet to come."
8. "This is not just a normal day; it is a special day for all of us. It is a celebration for someone who is so special and dear to our hearts. Happy 65th birthday to the best dad in the world!"
9. "You have lived a truly remarkable life, dad, and I am so grateful to be a part of it. Here's to many more years of joy, health, and happiness. Happy 65!"
10. "Thanks for making all the sacrifices silently and working hard all day and night just to get us a better life! I love you, happy birthday dad!"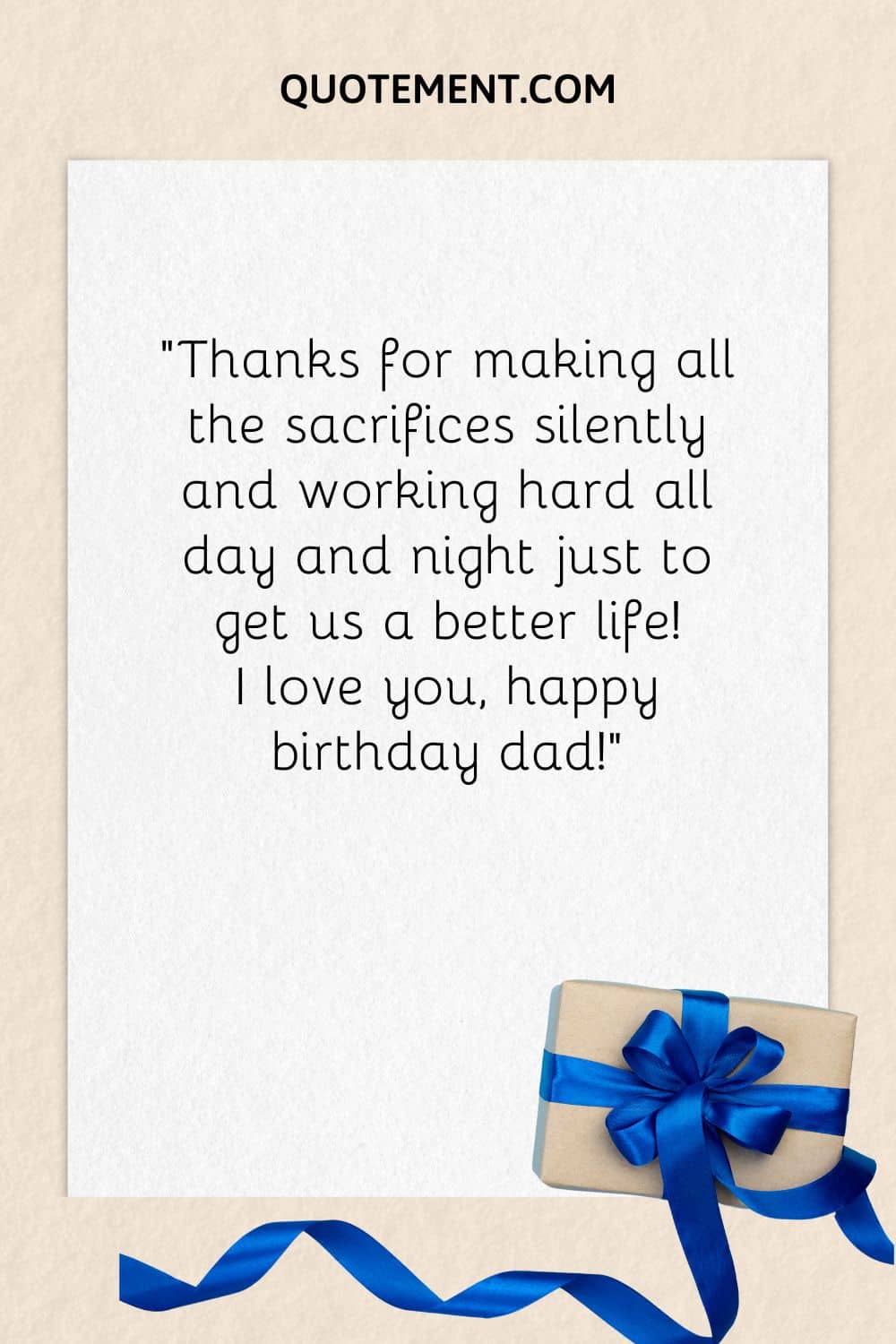 11. "Dad, you have always been the most present, involved, and committed father to my siblings and me. You never thought twice about going the extra mile, even when you were tired from a long day. Happy birthday!"
12. "Dearest father, as you mark this extraordinary day, I hope that it inspires you to achieve all the goals and dreams that your heart yearns for."
13. "The foundation of my life was formed with your principles. You guided me in the right way and showed me the path of honesty. Many congratulations on your birthday, dad! May your life be blessed by God always!"
14. "Happy birthday to you. Wishing you, my awesome father, a birthday you will never forget and the hope of a fantastic year! Thank you for all that you do that shows me how much you really care for me. You are the best."
15. "Dad, you didn't always have the easiest go at things, yet you never failed to show up for the people around you. We are the luckiest family in the world. Happy birthday!"
16. "Have you ever noticed that the worse a dad's jokes are, the better father they are? Well now at least we know why your dad jokes are so terrible. I hope your birthday is much better than your jokes!"
17. "All my life, I've been lucky to have the best dad. Now, I count myself doubly lucky, since my child gets to have the best granddad. Happy birthday, dad, we love you!"
18. "Dad, you've had such an incredible life it's mind-blowing to be your child. You can count me among your many admirers. Have a wonderful 65th birthday."
19. "Dad, you mean the world to me. There's no one else on earth like you. You care so completely, give so quietly, and love so deeply. As the years pass, I realize more and more just how lucky I am to have a dad as wonderful as you. Happy birthday."
20. "I miss the days when your shoulders seemed like the highest place on earth. But, dad, no matter how old I become, you will always be my Superman! Happy birthday."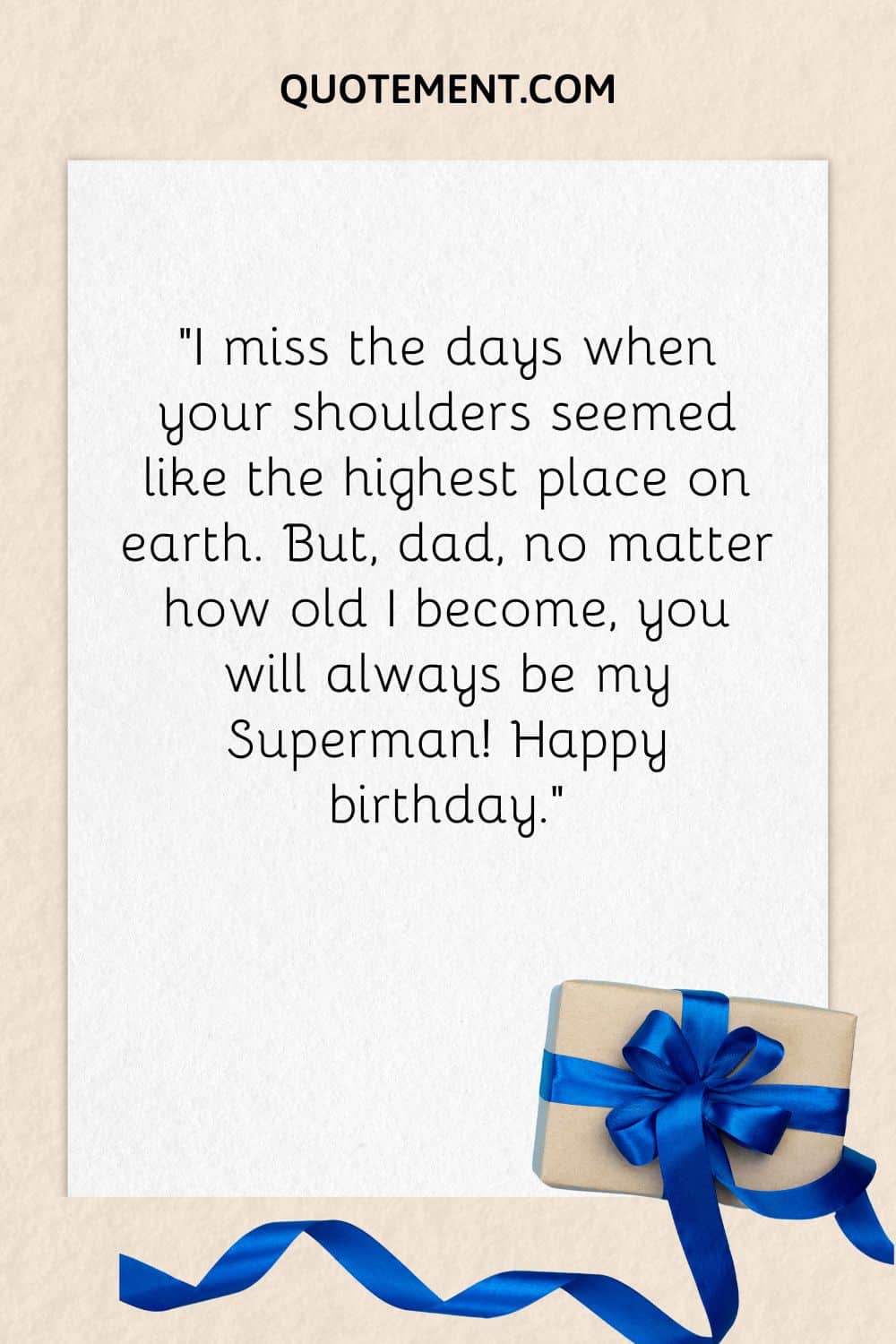 See also: 240 Sweet & Heart Touching Birthday Wishes For Dad
Happy 65th Birthday Wishes For Your Beloved Wife
1. "You are that woman who transformed my imperfections into perfections, just by the touch of your love. I love you, my dearest wife, and a happy birthday to you!"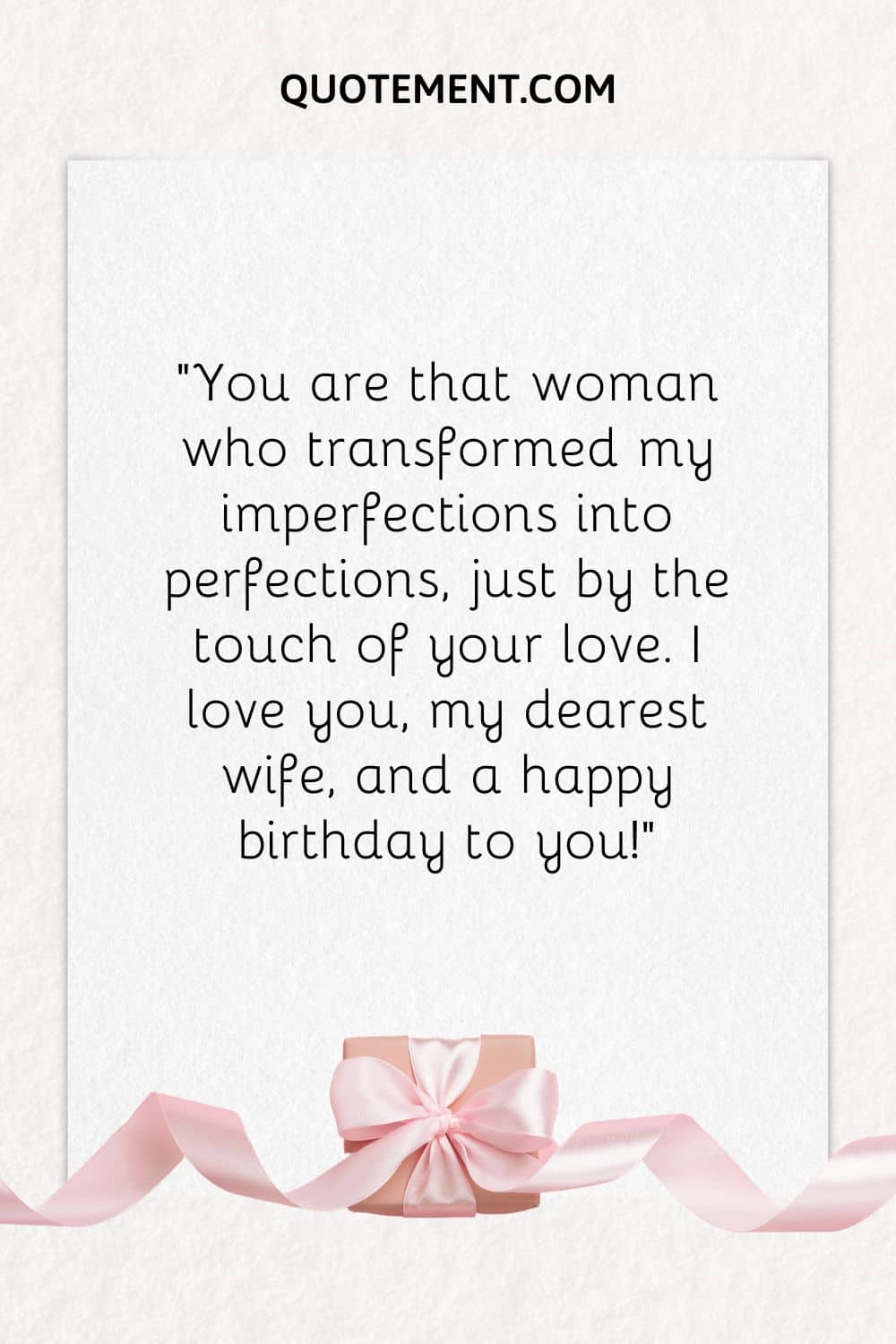 2. "I get to fall in love all over again every day with you. Cheers to a lifetime of being madly in love with you. Have a wonderful birthday, love!"
3. "Love is not always long walks on the beach and dinners by candlelight. For all the years of endless laundry and mac-n-cheese, you'll have my never-ending love and my gratitude. Happiest birthday to the woman who keeps everything together."
4. "I want you to know just how much your 65th birthday means to me. Celebrating this milestone with you gives me a lot of happiness. Have a wonderful time enjoying this very, very special day."
5. "My love, I've told you "Happy Birthday" before, but this time makes me happier than ever. Today, you're turning 65 and looking forward to a whole new world of possibilities. I can't wait to see what the future brings your way."
6. "It does not matter how old you are, sweetheart, the celebration of a birthday knows no age. The fun is always better each year. I wish you a very special birthday."
7. "In your time on this planet, have been times when you've put others before yourself. But today is for you, so let's honor it in a way worthy of your years. You've still got so many memories to create, love. Best birthday wishes from me to you on your 65th birthday."
8. "Happy 65th birthday, wife! May this year bring you even more joy and happiness, and may you continue to live life to the fullest. Cheers to another year of laughter, love, and endless adventures."
9. "Dear wife, I find it hard to believe you are turning 65 today. You look incredible! If I did not know any better, I would accuse you of having a map of the mythical fountain of youth. Seriously though, you do not look a day over 50. I hope you have a wonderful birthday."
10. "65 never looked better on anyone. I never for once regret growing old with you. May your smiles never fade away my beloved, happy birthday to you today."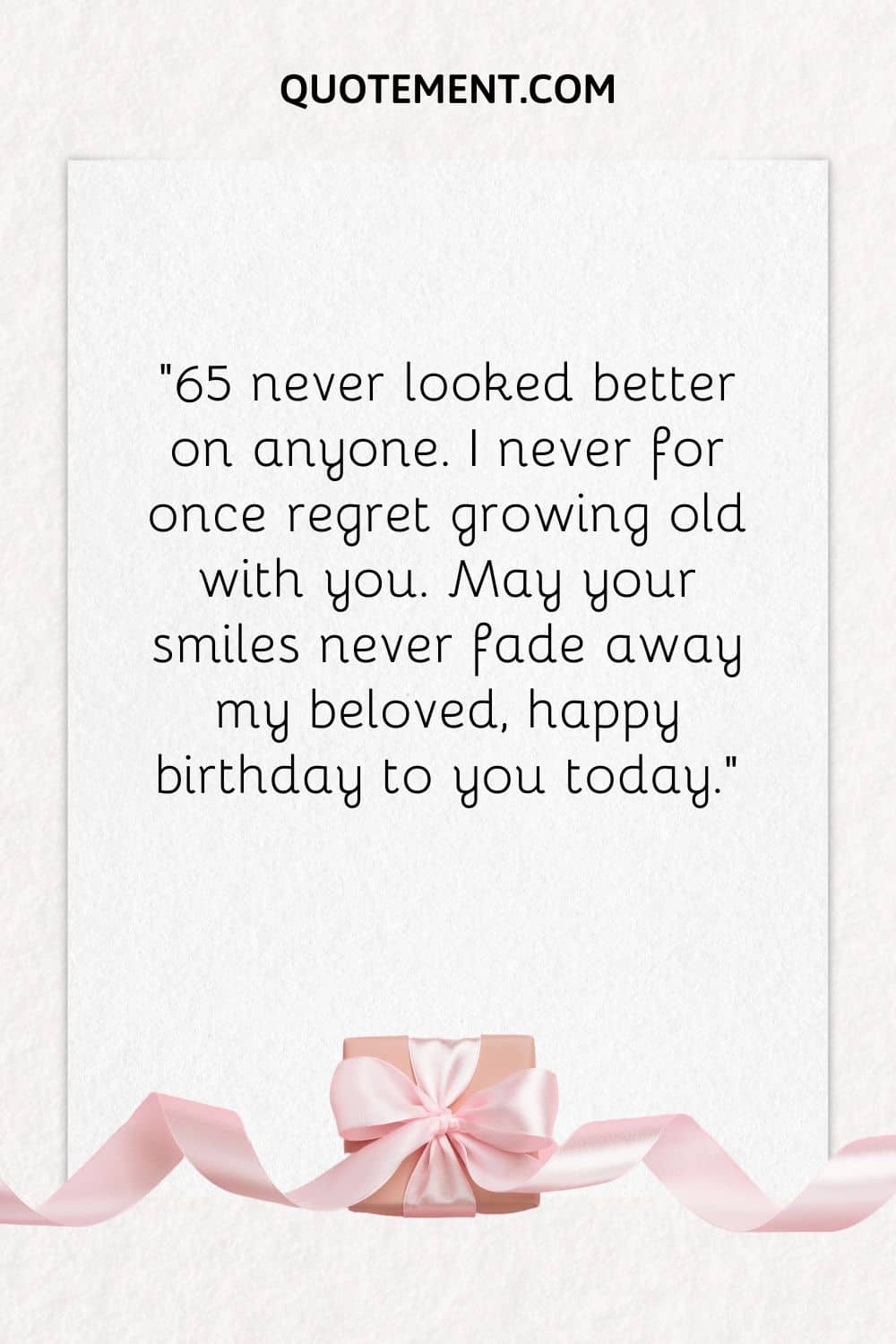 11. "I don't need to try hard to know what to write on your birthday card because there are a million and one things to say to you. My sincere heart desire is that God continues to enrich you, my dearest wife. I celebrate you today and I say a very happy 65th birthday to you."
12. "As you turn 65 today, I want to sincerely congratulate you! You have given me the best of what life has in place. Thank you for being in my life. Happy birthday, wifey."
13. "I may not have enough words to fully express my thoughts, but trust me, you're simply the best of all women. Cheers to another year of an amazing life. Happy birthday to you, my love."
14. "Happy 65th birthday to the best wife on earth. You are my reason for living. I feel privileged that you have allowed me to be your husband. We have a strong bond and we will never let it go. Wish you all happiness in the coming year."
15. "Dear wife, age is just a number and I will always love you as my beautiful young princess. May life's every day become the most wonderful one you have ever wished for!"
16. "Happy birthday, my love! You have given me a reason to live and to look forward to the future with great anticipation and excitement. It is true that "the best years are yet to come". I am looking forward to many more great years with you."
17. "Today, you are a year older, but I see no change in you because your beauty has only gotten more radiant. I will continue loving and cherishing you always. Happy 65th birthday!"
18. "To my loving wife of sixty-five years, I want to take this opportunity to thank you for all your unconditional love and support. My life would not be complete without you."
19. "Dear wife, our love story has been both exciting and challenging. On this special day, I would like to thank you for loving me when no one else did. For showing me how good life can be and making my dreams come true. I love you."
20. "Your heart is full of love and affection. Your hands are always caring. I am lucky to have you as my wife. Happy birthday, my dear!"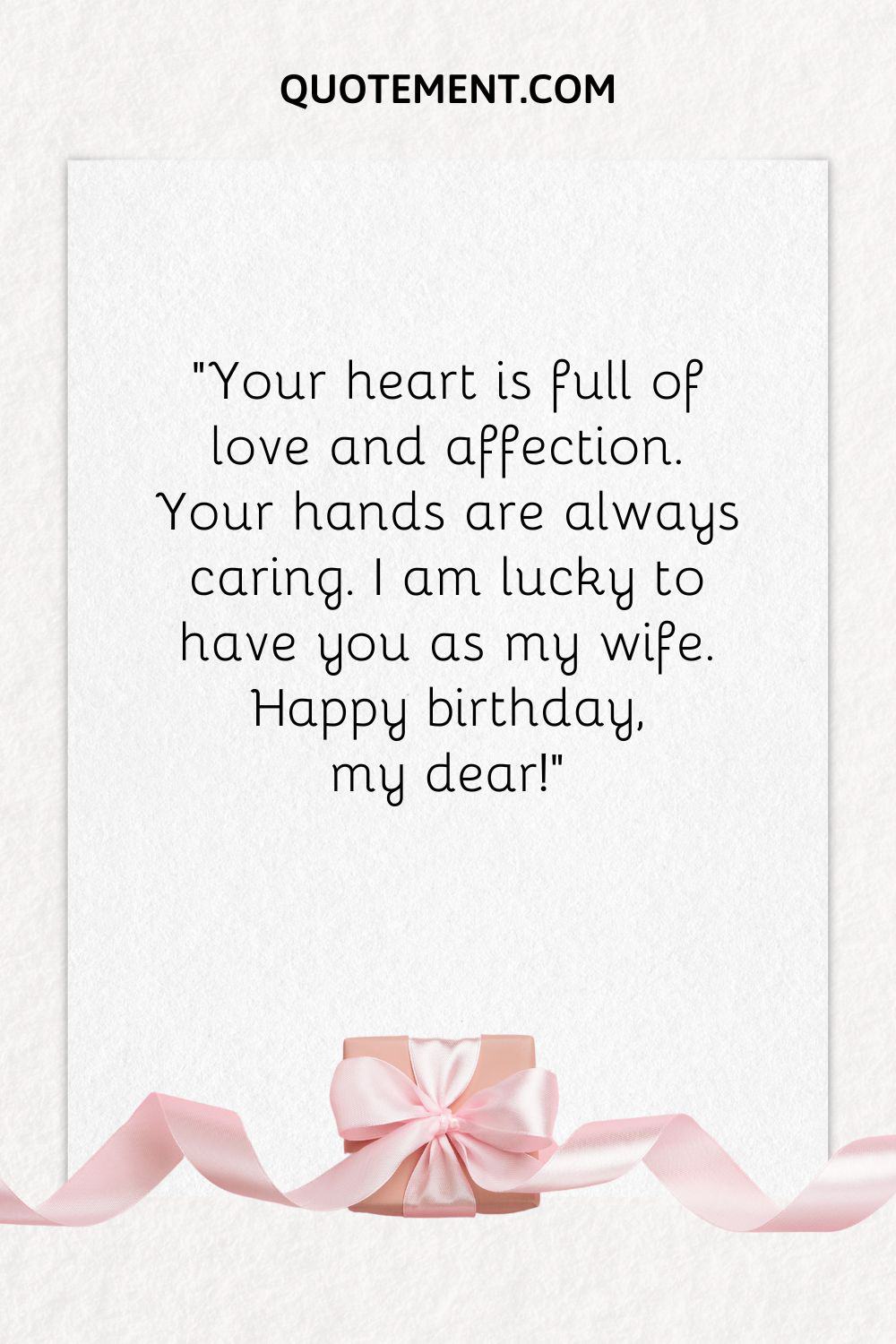 Happy 65th Birthday Wishes For Your Dear Husband
1. "Like the sturdy oak tree, you are the embodiment of wisdom and strength. You have flourished on sunny days and stood firm through cloudy storms. Happy 65th birthday."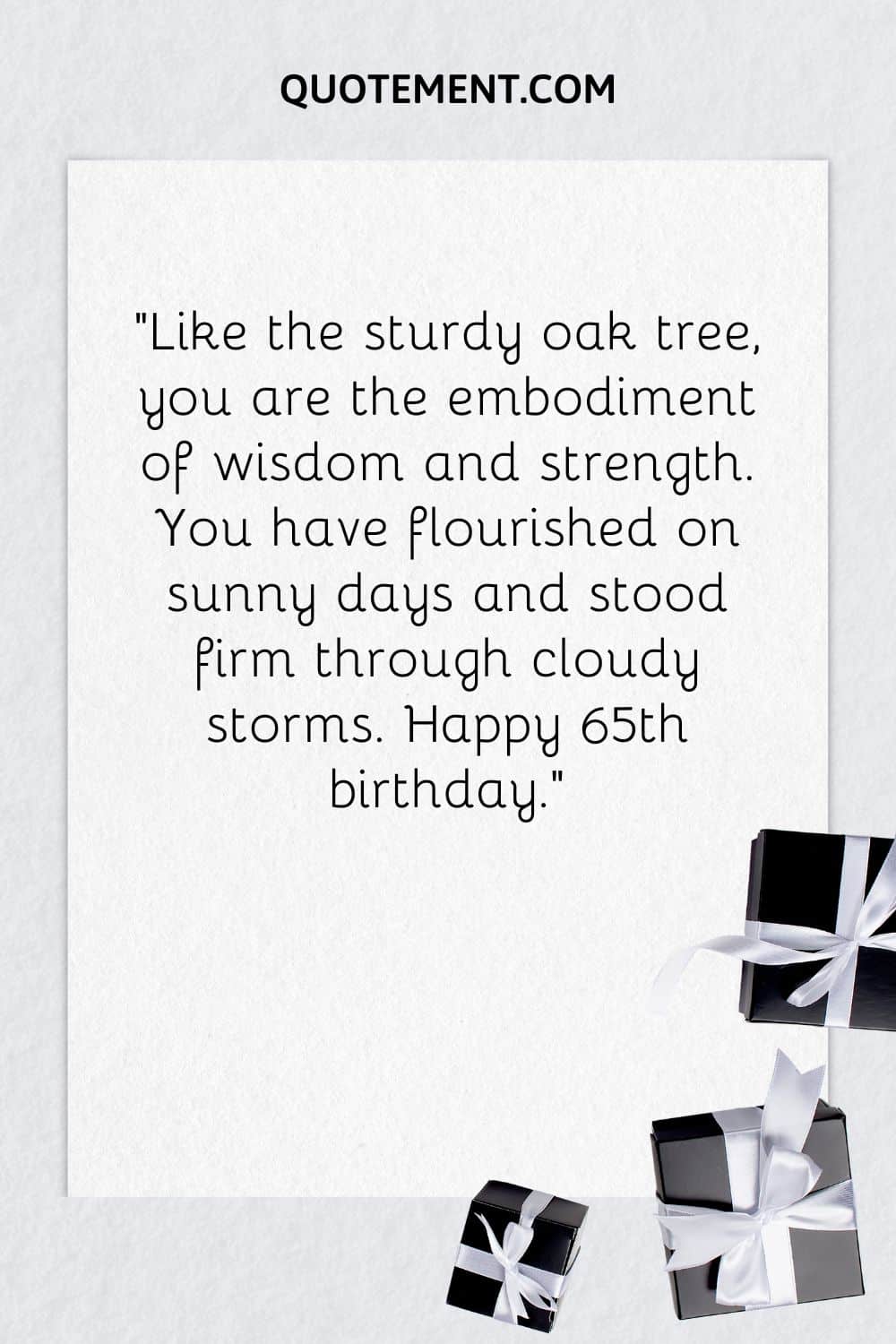 2. "My darling husband, life is beautiful with you. Thank you for the blessed years of our marriage. Thank you for being a super amazing man through the years. This is your best year yet, so welcome to your 65th!"
3. "Hey hubby, you just turned 65, and you've just become cooler, wiser, and more handsome. Put a smile on your face and take pleasure in your life. I wish you a happy birthday."
4. "A cheerful 65th birth anniversary to the handsome man that won my heart and kept it so till date! I love you forever."
5. "Loving you is a response to your love for me. You've shown me what love is, and better yet, you've shown me how to love you in loving me. My husband, welcome to your best year yet. Happy 65th birthday!"
6. "The attention you give me hasn't declined one bit through the years and I am more than grateful. Cheers to a new year — the 65th! Happy birthday!"
7. "For love unending, and sweetness undeniable, I am grateful you are in my life. Thank you for being a sweet lover, a dear friend, an amazing husband, and the best father to our kids. We all love you and we are happy you are a year older today. Happy 65th birthday!"
8. "It is the 65th year of the most diligent man I know! Thank you for being an amazing husband. Happy birthday!"
9. "I remain filled with much passion for you because you keep it so. 65 hearty cheers to you this new year, darling! Happy birthday!"
10. "Having you is having all I ever wished for. Thank you for the past years. And thank you for the ones to come. Cheers to the 65th year, honey!"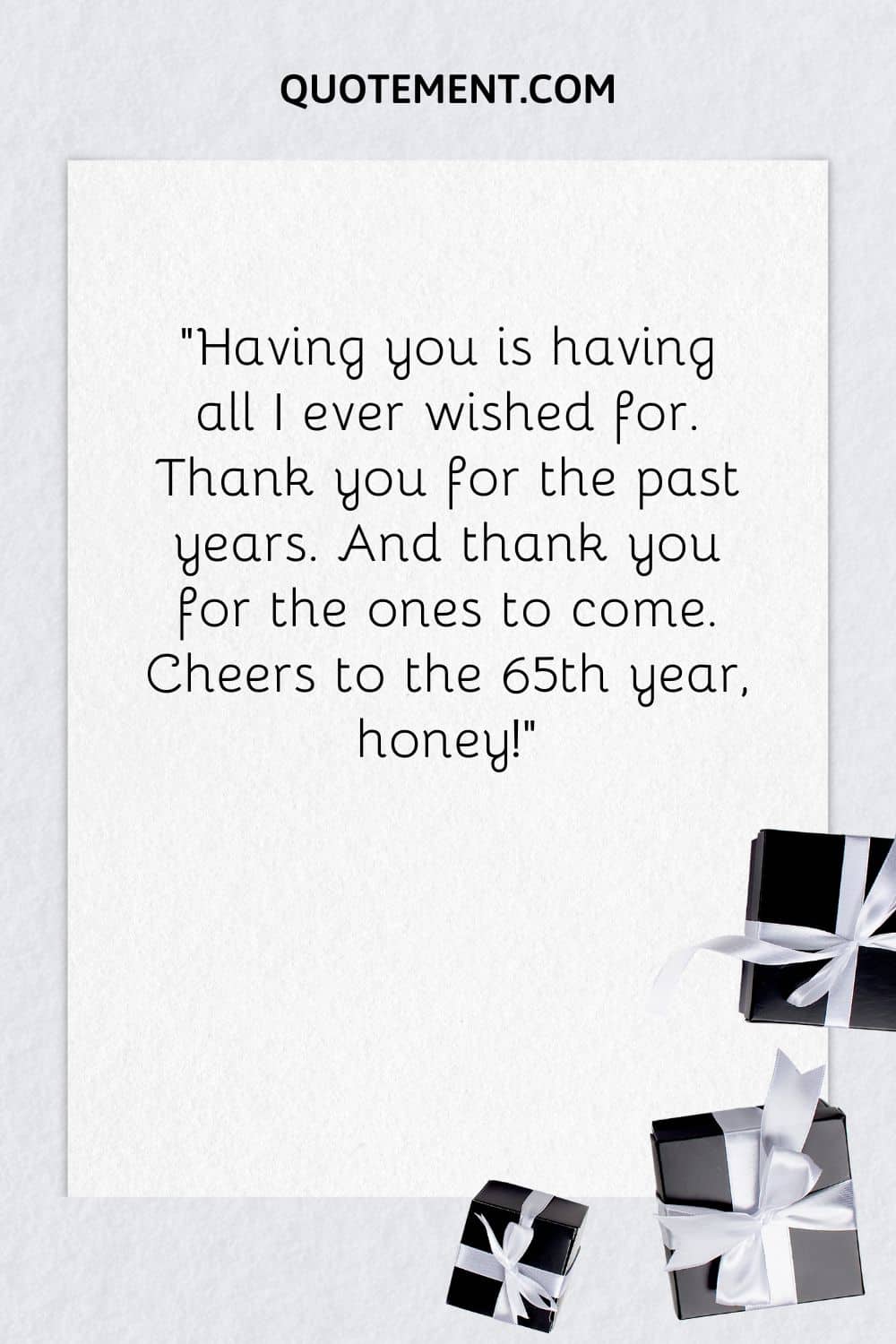 11. "Nothing makes sense today asides from the fact that it's your 65th birthday. So, celebrate as much as you want because I got your back always, my darling husband. Many happy returns of the day."
12. "I've been with you for so long to know that you are certainly the best of all husbands. Today, as you celebrate your 65th year, all my wishes for you are prayers that you will continue to do well and prosper."
13. "Hurray! It is your 65th birthday. It has remained my pleasure caring for and being cared for by you all these years. Hearty cheers, baby! Happy birthday!"
14. "No matter how old we both grow, one fact remains; we can't ever live without each other. You'll always stand out as my life's greatest achievement. Happy birthday to you today, my dearest husband."
15. "Your successes are a show of how dedicated you are. Keep being amazing. Happy 65th birthday, my husband!"
16. "Dear husband of mine, happy 65th birthday to you. Even if I don't get to say it to you always, you are my life's greatest joy. Long life and prosperity to you my love. Happy birthday to you today."
17. "Happy birthday to the most handsome man this world has known. I celebrate you today baby and with a reminder that you're the best forever. I am so proud of you."
18. "My husband, today, I pray for you, that all the blessings of a new year will never elude you. May God's favor, kindness and blessings be yours for the rest of your days. May you have no cause for sorrow, and may there be no turbulence on your path. Happy 65th birthday, darling."
19. "Knowing you and loving you over the years has been a great win for me. Your love makes me whole and it's the best for me. I celebrate you today, my love. Happy birthday to you."
20. "Celebrating yet another year, the 65th, makes me think of the special ways you win my heart each day in words and deeds. Happy birthday, my love. Cheers!"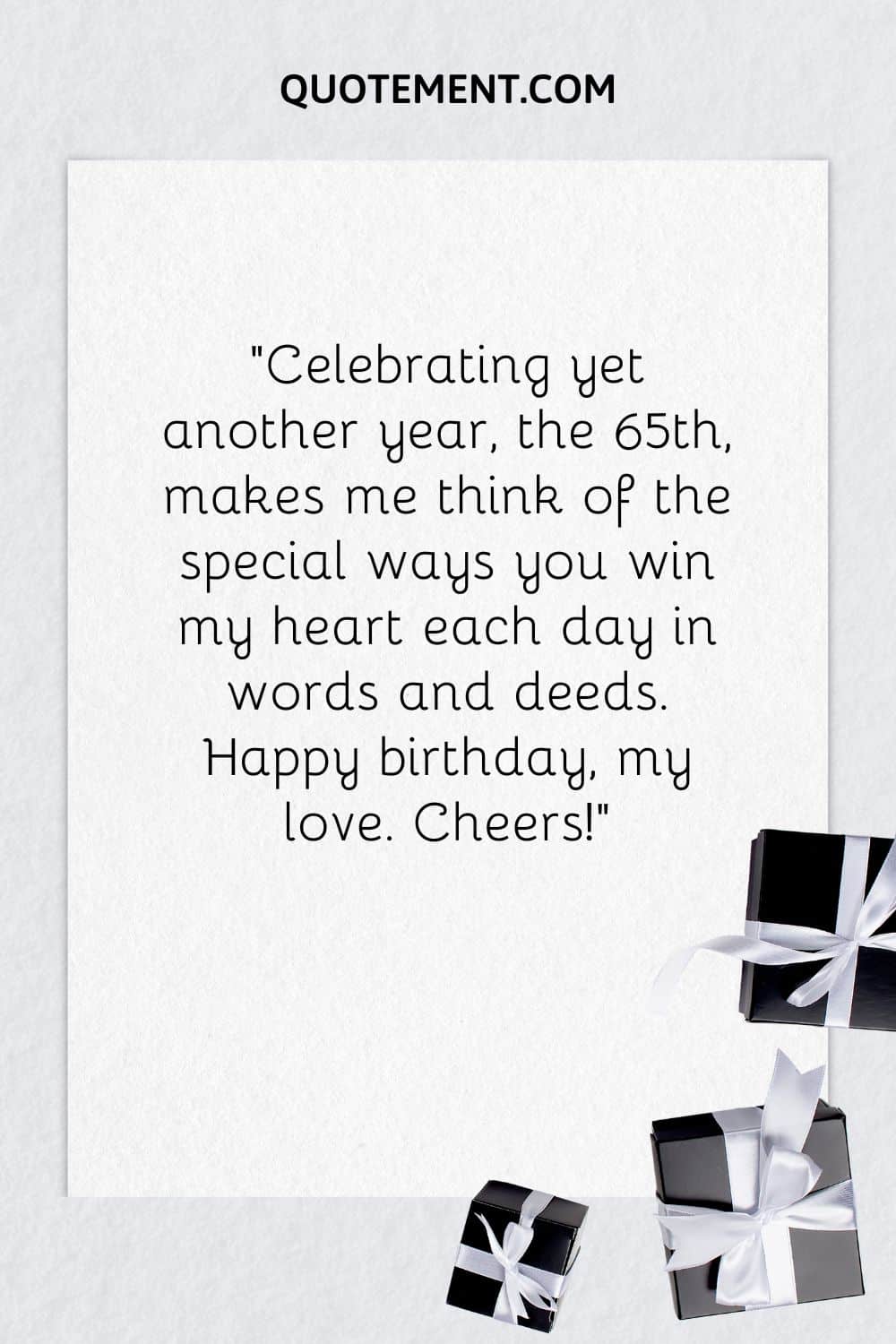 Funny Birthday Wishes For 65-Year-Olds
1. "65 is the time of your life when you start to show more interest in the comfy bed linen than anything else when watching an adult film."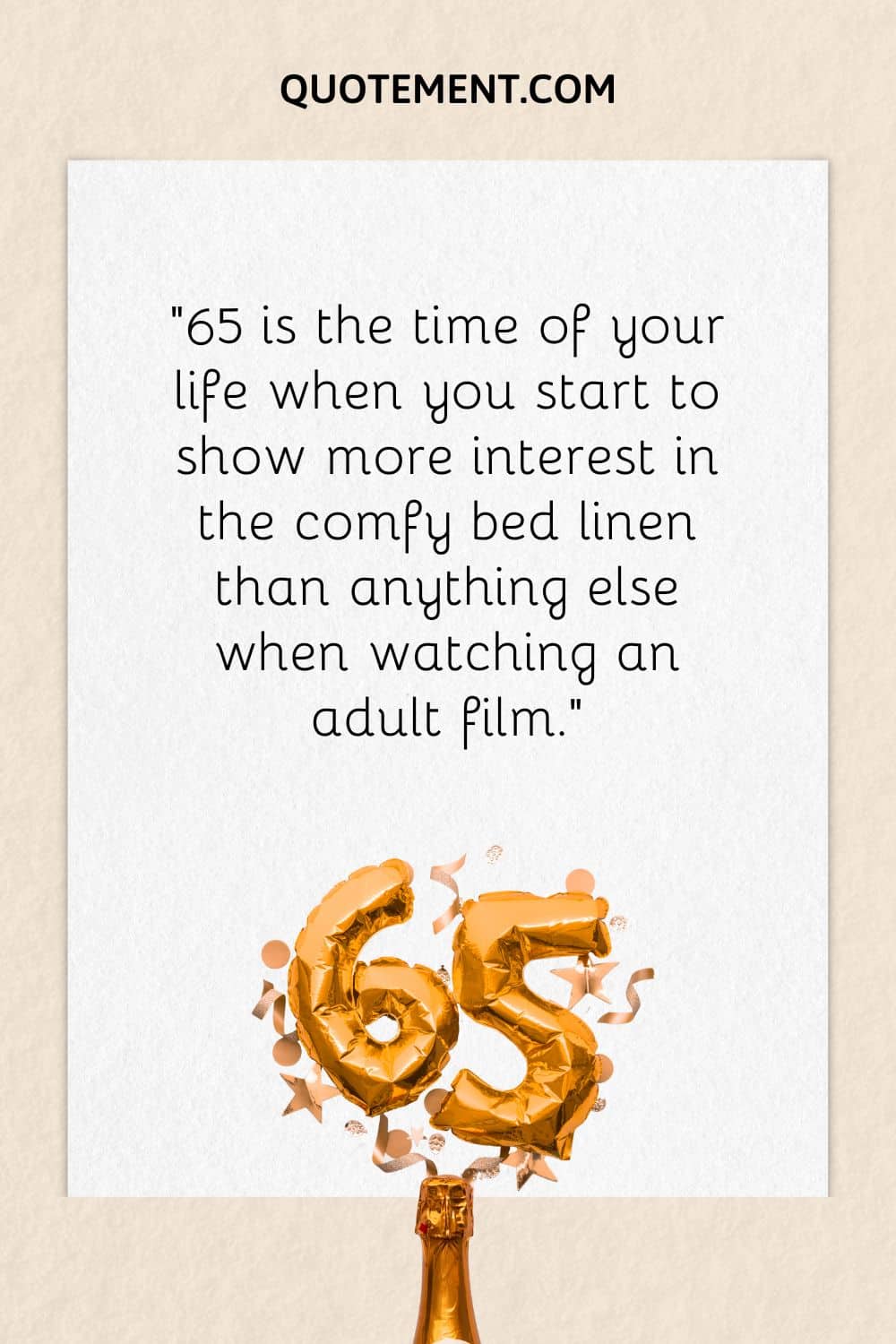 2. "Being 65 is better than being slapped in the face by a dead fish! Enjoy your 65th birthday with the full charm of life. Happy birthday!"
3. "As you're turning 65, you can probably appreciate the many modern advances that we have today. Back then, the only "cell phones" were the ones in the county jail! Times do change! Happy birthday!"
4. "Being sixty-five is nonsensical. You and a six-year-old child have now become identical. Let me wish you a fantastic 65th birthday. I hope you can still dance rock 'n roll in your tango way."
5. "Happy birthday, old fart. There's just one thing I want to know. What did they put on top of your birthday cake before the invention of fire?"
6. "Happy birthday to someone who deserves to be treasured. After all, fossils of your era are hard to find."
7. "Wow, it's your 65th birthday. Waking up from bed every morning and finding yourself with no problem is the best thing to say. Happy 65th birthday. Are you enjoying this day to the utmost, but not in a crippled way?"
8. "Being 65 means you remember all the words to the 70's songs, but can't remember why you went to the next room."
9. "Hey old man, hope you have a great birthday full of all your favorite activities… like feeding ducks at the park, playing bingo, watching the weather channel, and shaking your fist at teenagers."
10. "You know you're getting old when you can't walk past a bathroom without thinking, 'I may as well pee while I'm here'. Happy 65th birthday!"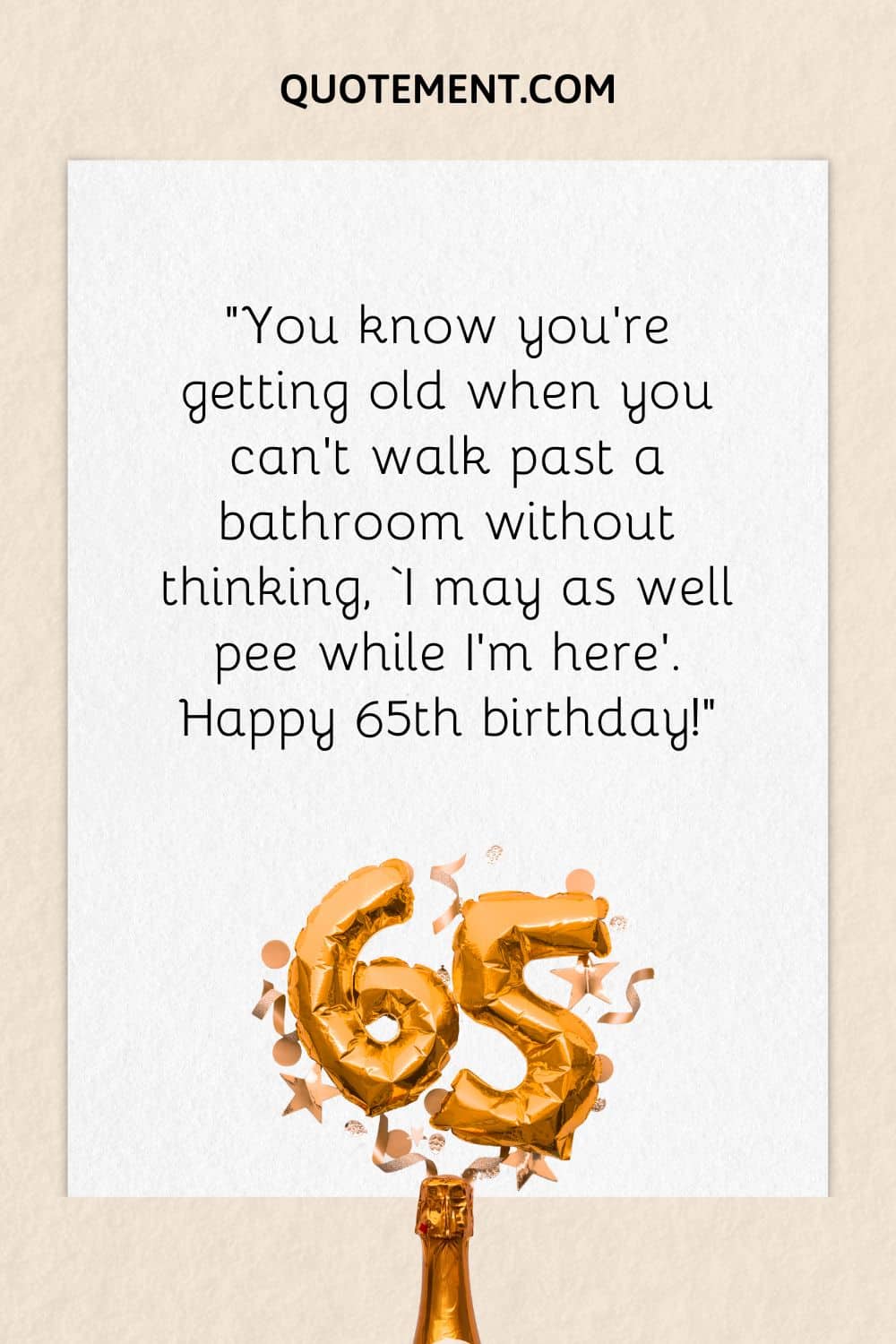 See also: 90 Inspiring & Funny Quotes About Aging Gracefully
Summing Up
I hope my collection of happy 65th birthday wishes made it easy for you to find the most thoughtful lines to warm your celebrant's heart.
So, which one did you pick?
Share it in the comments section below and make sure you check out our page to discover some more interesting and inspiring stuff!