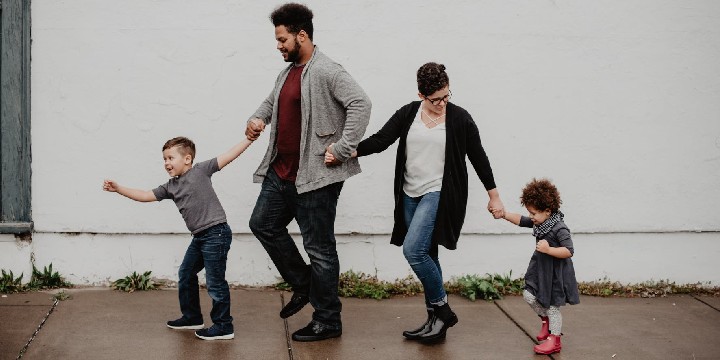 If you're starting life with your new family members, these blended family quotes will undoubtedly resonate with your feelings!
There are many types of families in this world. However, the common denominator out of all of them is that love is present at the very core of each one.
It's the same in blended families. In this kind of relationship, you mix two families together to form one.
We'll be honest with you and tell you right now that it won't be a piece of cake! This process of combining or merging families will require a lot of patience and dedication from both sides, especially the parents.
If you or someone you know is going through this process, we're sure this list of blended family quotes will be of great help. Check out all the quotes below and gain positive and encouraging words to help you build your new family from the ground up!
And make sure to read these unsupportive family quotes and toxic family quotes.
Best Blended Family Quotes
1. "Bright families are just like bright colors. When you blend two, you get something beautiful!" – Anonymous
2. "The blended family isn't just an ordinary family times two. It's a special kind of family with special needs." – Maxine Marsolin
3. "Becoming a blended family means mixing, mingling, scrambling, and sometimes muddling our way through delicate family issues, complicated relationships, and individual differences, hurts, and fears. But through it all, we are learning to love like a family." – Tom Frydenger
4. "Blended families are woven together by choice, strengthened by love, tested by everything, and each is uniquely ours." – Anonymous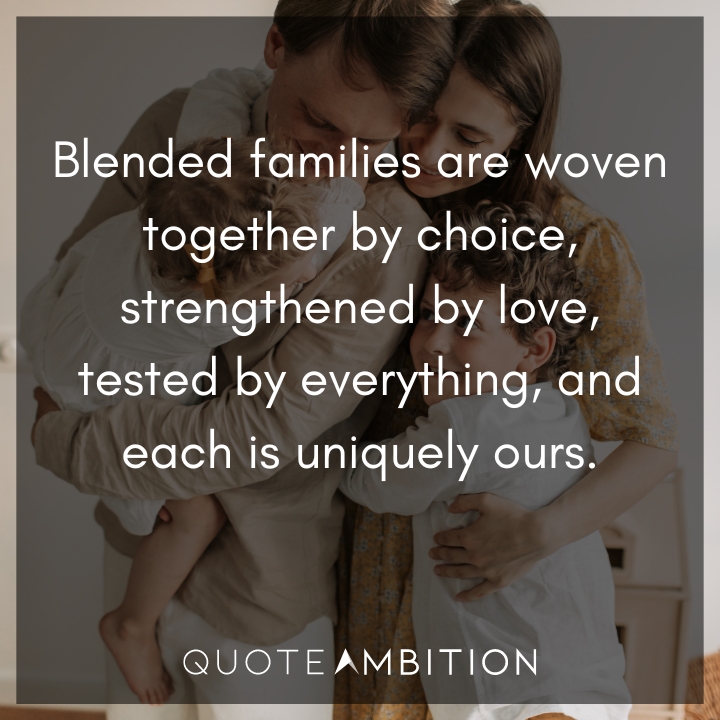 5. "Blended families are beautiful. Every member has their own color, but it's only when you bring them together that you can see the rainbow." – Anonymous
6. "Families don't have to match. You don't have to look like someone else to love them." – Leigh Anne Tuohy
7. "The secret to blending families is—there is no secret. It's scary and awesome and ragged and perfect and always changing. Love and laugh hard, try again tomorrow, but that's life advice, right?" – Mir Kamin
Inspirational Blended Family Quotes
8. "Family is family, whether it's the one you start out with, the one you end up with, or the family you gain along the way." – Anonymous
9. "Bringing two families together is never easy. But in the end, it's more than worth it." – Anonymous
10. "There will always be steps you can take toward unity in your blended family. You will make—one step at a time!" – Donna Houpe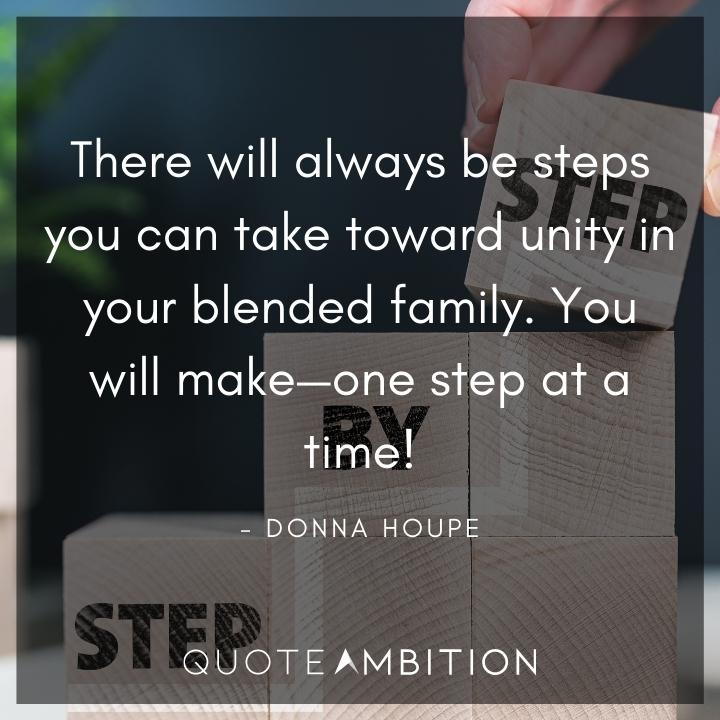 11. "Family is not defined by our genes; it is built and maintained through love." – Anonymous
12. "Live one day at a time—or one moment, if you have to. Blend little by little and celebrate even the smallest breakthrough." – Andi Parker-Kimbrough
13. "There is no such thing as a broken family. Family is family and is not determined by marriage certificates, divorce papers, and adoption documents. Families are made in the heart." – C. Joybell C.
14. "In math, one plus one equals two. In families, one plus one equals, too." – Anonymous
Positive Quotes About a Blended Family to Encourage You
15. "The bond that links your true family is not one of blood, but of respect and joy in each other." – Richard Bach
16. "Every family has a story to tell; blended families just have more chapters." – Anonymous
17. "There are so many beautiful reasons to be happy in a blended family." – Anonymous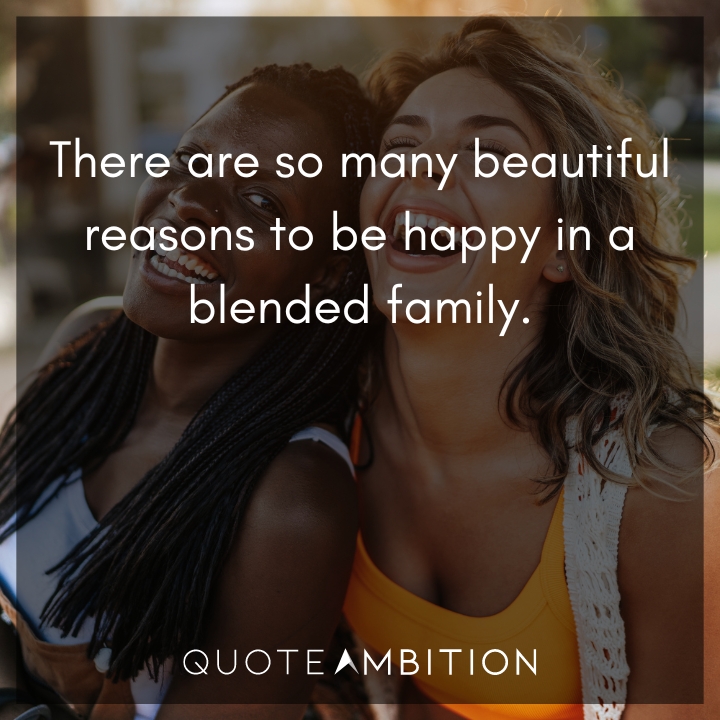 18. "You're facing one of the most important challenges of your life. Yet, being a member of a blended family can be an exciting adventure for all concerned." – Kathie M. Thompson
19. "Don't worry if you're not an instant, happily-ever-after blended family. Expect to endure 'I give up,' days and rejoice in the 'I can do this,' days. It will take work, dedication, an excellent sense of humor, and strong resolve. But hey, since when has any family taken the easy route? Don't do 'easy'—do 'worth it!'" – Jessica James
20. "Taking two families and blending them into one takes dedication and effort, but it will be one of the most rewarding undertakings of your life." – Anonymous
Quotes About Blended Families and Their Dynamics
21. "Blended families are a beautiful mix of diverse people who each serve an important role in our lives. At times, it can be challenging to appreciate everyone's unique beauty." – Deana Keller La Rosa
22. "There is nothing so rewarding as bringing two families together and making it work." – Anonymous
23. "They call it a 'stepfamily' because together, we took a step in the right direction." – Anonymous
24. "Stop thinking that things are going to be perfect. It's not going to happen. The kids will not get along all the time, the house will not always be quiet. You will not always hear 'please' and 'thank you.' It isn't realistic. What is realistic is taking stock of how incredibly lucky you are to have more children to love and to guide." – Kellee Mulkerin-Ford
Short Blended Family Quotes
25. "Blood makes you related; love makes you family." – Anonymous
26. "Blended families are stronger together than they are apart." – Anonymous
27. "We aren't 'step,' we aren't 'half,' we're just family." – Anonymous
28. "The last names may not match, but the hearts certainly do." – Anonymous
29. "DNA doesn't make a family—love does." – Anonymous
30. "Blended families are the best project you'll ever get to work on." – Anonymous
31. "The love of a blended family never ends." – Anonymous
32. "Blended or stepfamily? To me, we're just family, plain and simple." – Anonymous
Blended Family Quotes to Fill You With Love
33. "Family isn't defined only by last names or by blood; it's defined by commitment and by love. It means showing up when they need it most. It means having each other's backs. It means choosing to love each other even on those days when you struggle to like each other. It means never giving up on each other!" – Dave Willis
34. "Blood doesn't always make a parent; being a parent comes from the heart." – Anonymous
35. "Remember why you chose to come together in the first place—the love that you have for your partner. Your partner's children are an extension of them, and this makes them just as important to your happiness." – Beth Happiness
36. "It's about prioritizing. Just take it one step at a time. Do the best you can. I'm a mom, and I have two husbands—an ex-husband and a next husband. It's a blended family, and it's very hard to keep things together, but we're happy, and we live in love." – Kimora Lee Simmons
37. "Recipe for a perfectly blended family: one, combine two families and traditions. Two, enfold in love. Three, stir in a heaping measure of crazy schedules. Four, add feelings and strain. Five, chill with patience and respect. Six, mix in honest communication. Seven, pour on fun and new experiences. Eight, whip together until 'his' and 'hers' become 'ours.' Yield: one new, strong blended family!" – Anonymous
38. "A stepparent is so much more than just a parent: They made the choice to love when they didn't have to." – Anonymous
39. "By the grace of God, every blended family can become an opportunity to see His redeeming and restoring love at work." – Debbie Alsdorf
Funny Blended Family Quotes for Some Giggles
40. "Blended families are like a belt. Some days you have to take them in, while other days, you need to let them out." – Anonymous
41. "To create a blended family, you have to be apartmental: a part mental!" – Anonymous
42. "We combined our two families to make one mega, magical, super-strong, ultra-powerful family." – Anonymous
43. "This blended family is twice the crazy, twice the chaos, and 10 times the fun." – Anonymous
44. "Having a blended family means there are more siblings to blame when I make a mess!" – Anonymous
45. "Blended families mean bonus grandmas, and there is simply no drawback to more grandmas!" – Anonymous
Blended Family Quotes That Are Worth Checking Out
46. "Being part of a blended family means you're part of something very wonderful." – Anonymous
47. "Two families have the potential to create one incredible, big, loving family." – Anonymous
48. "It would take too long to explain how we're all technically related, but it only takes one word to sum it up—family." – Anonymous
49. "One of the most important lessons our children have learned from divorces is that some things in life can come to an end, but that's okay because something new is manifested. In our case, it's a blended family that has respect, love, trust, authenticity, and a sense of fun." – Jennifer Kessler
50. "The hardest thing about being a blended family is knowing when to fight and when to let it go." – Anonymous
Do You Think Blended Families Are Special?
All families are special and unique in their own ways; they have traditions and customs specific to them. However, blended families are a step above the rest!
This is because they're building a new home by combining and merging two families. In the end, their goal is to become one big happy family.
It won't be easy, but it's not impossible as long as there is love! When there's love, there's understanding, patience, and dedication.
You have to want to become a complete and whole family. Without this goal to drive you forward, you'll never seamlessly mix your families together.
People who come from blended families will know how difficult this process of mixing and merging is at the beginning. However, once successful, they will also be the ones to say how every struggle was worth it!
With that, we hope we were able to inspire and encourage you to work toward a happy and loving blended family. Remember, blood and DNA are not required to form a family; sincere love and dedication are all you need!
Read Next: