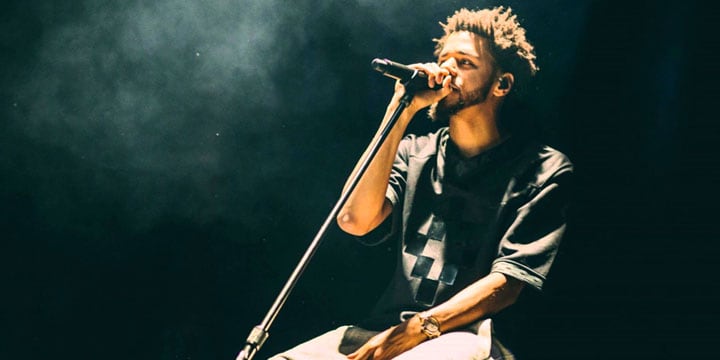 These top 80 J. Cole quotes are perfect for those who want to learn from his incredibly profound insights into life and success.
Jermaine Lamarr Cole, famously known as J. Cole, is an American artist, rapper, and record producer.
He started his career by releasing his debut mixtape in 2007 entitled, The Come Up.
Following the success of this mixtape, he went on to release his studio debut album, Cole World: The Sideline Story, four years after.
His work earned him many accolades following his debut album's platinum certification.
However, even with all the fame and recognition, J. Cole remains humble and focuses on doing his best to improve.
His words and lyrics zoom in on messages of love, following one's dreams, and achieving happiness—inspiring all his fans globally.
If you're curious about J. Cole and what he has to say, then this list we've created will fit the bill perfectly. Scroll through to the end and take note of his most impactful lines!
Start here.
And make sure to check out these Jhene Aiko quotes and Kendrick Lamar quotes.
Best J. Cole Quotes
1. "I'm here to spread a message of hope. Follow your heart. Don't follow what you've been told you're supposed to do."
2. "I feel like this: whatever is in your path and in your heart, you need to do."
3. "Take a chance, because you never know how perfect something can turn out."
4. "Never give up until you've given out all your very best. It's better to fail trying than wondering what could have happened if you tried."
5. "If you truly believe it, that's step one. Step two, is, you know, the hard work that goes along with it."
6. "You are perfect exactly as you are. With all your flaws and problems, there's no need to change anything. All you need to change is the thought that you aren't good enough."
Famous J. Cole Quotes
7. "To appreciate the sun, you gotta know what rain is."
8. "Don't let bridges you cross be bridges you burn."
9. "It's beauty in the struggle, ugliness in the success."
10. "Anything's possible, you gotta dream like you never seen obstacles."
11. "They say time is money, but really, it's not. If we ever go broke, time is all we got."
12. "I'd rather be happy being myself than sad trying to please everyone else."
Also read: Famous Quotes, Positive Quotes
J. Cole Quotes to Motivate You
13. "I put a lot of pressure on myself. I think something's not good enough, and I won't stop until I feel like I've made it. I'm never satisfied."
14. "I've always been an underdog. I feel like I beat the odds."
15. "I keep my head high, I got my wings to carry me. I don't know freedom, I want my dreams to rescue me."
16. "Either you play the game or you let the game play you."
17. "We got dreams and we got the right to chase 'em."
18. "If they don't know your dreams, they can't shoot them down."
19. "My intuition is telling me there'll be better days."
20. "But see, I'm growing and getting stronger with every breath."
Also read: Rod Wave Quotes, Drake Quotes
J. Cole Quotes About Life
21. "Life can bring much pain. There are many ways to deal with this pain. Choose wisely."
22. "You have to hurt in order to know. Fall in order to grow. Lose in order to gain. Because most of life's lessons are learned in pain."
23. "What's done in the dark will always find a way to shine."
24. "Life is all about the evolution."
25. "Keep grindin' boy, your life can change in one year. And even when it's dark out, the sun is shining somewhere."
26. "No such thing as a life that's better than yours, no such thing—no such thing."
27. "Life is a movie. Pick your own role, climb your own ladder, or you dig your own hole."
28. "My life accelerated but had to wait my turn. But then, I redecorated, that means my tables turn."
29. "There's a story behind every person—a reason why they are the way they are. So, think about that before you judge someone."
30. "Rejection makes you defensive, so you protect your pride with your reflexes. But life is a game with no reset at the end."
31. "But there's a lot of stuff going on in the world. Whether or not you're aware of it, it's happening."
Also read: DJ Khaled Quotes, Jay-Z Quotes
J. Cole Quotes About Love
32. "The same ones you love will bring you pain."
33. "If you place your importance on appreciation and love, that's enough."
34. "For a few minutes, you made me feel as if I actually meant something to someone." 
35. "Catch me, I've fallen in love for the first time."
36. "And the strongest drug of them all—love."
37. "Me be right here. Have my mom be able to be right here. My brother over here. My girl's grandmother and family right here. Friends over there. That's my real dream."
38. "A little jealousy in a relationship is healthy. It's always nice to know someone is afraid to lose you."
Also read: Lil Baby Quotes, Lil Durk Quotes
J. Cole Quotes About Success
39. "If you ain't aim too high, then you aim too low!"
40. "One thing you should know about me is I never play to lose. Always aim high and rarely obey the rules."
41. "People congratulate me. I just tell them God is good."
42. "As much as it might look like, to someone else, that I'm successful, I never feel like I'm anywhere. The further I go, I still feel equally further from my eventual goal. Because as I grow, I get more goals. I'm never content."
43. "I had a lot of resistance, and not just to fame. I was always conscious of not changing."
44. "You can't reverse fame. You can lose all the money, but you'll never lose people knowing you."
45. "I feel like I am officially in the game, but I also feel like I'm not where I want to be. I'm far from it. I got a lot more things to do. I got a lot more respect to get."
Also read: Juice WRLD Quotes, King Von Quotes
J. Cole Quotes About Happiness
46. "Nothing lasts forever, but at least we've got these memories."
47. "We ain't picture perfect but we worth the pictures still."
48. "In this life, ain't no happy endings—only pure beginnings followed by years of sinning and fake repentance."
Also read: XXXTentacion Quotes, Mac Miller Quotes
J. Cole Quotes About Friends
49. "Time will tell who is on my side."
50. "As we grow up, we realize it becomes less important to have a ton of friends and more important to have real ones."
51. "Get to know somebody and you really learn a lot about 'em. Won't be long before you start to doubt 'em. Tell yourself you better off without 'em. Then in time, you will find can't walk without 'em."
Also read: Kevin Gates Quotes, Kid Ink Quotes
Short J. Cole Quotes
52. "Sometimes our dreams come true, sometimes our fears do too."
53. "Hard to move on when you always regret one."
54. "But the only real change comes from inside."
55. "Anything I do, I want to do it well."
56. "I swear I walk with God, but the Devil keeps following." 
57. "Time is short—that's what somebody told me."
58. "Every loser gotta win and every winner gotta lose someday."
59. "As we speak, I'm at peace, no longer scared to die."
60. "Everything grows, it's destined to change."
61. "No need to fix what God already put His paintbrush on."
Also read: Tupac Quotes
J. Cole Quotes for All His Fans
62. "I want people to follow their dreams, yes. But I'm not interested in telling young Black kids how to be rappers. I want to show them that there are so many other paths you can take, besides a rapper or basketball player."
63. "The music becomes more pure and soulful when it's true, and it has to be true these days with the way the internet works, and the way the game works, everyone wants authentic raps."
64. "I pay attention to lyrics and I know what rap fans care about. I try to write for the average listener and I'm conscious of the mainstream without selling out."
65. "I don't live for the accolades. I'm more so about the music. Making it, and putting it out. Those are the two best feelings."
66. "I'm not a conscious rapper, all those things we talk about, the struggle, the pain, the outlook to the future, keep your head up. I try to put all those positive things into a regular human character, which is myself."
67. "In a game full of liars, it turns out that I'm the truth. Some say that rap's alive. It turns out that I'm the proof."
68. "I still wanna rap better than everybody else, and I wanna say important things."
69. "I'm half Black, half White, so I basically put it like this: I can fit in anywhere. That's why I write so many stories from so many different perspectives—because I've seen so many."
70. "If I was to go to sleep before midnight, I would feel weird about myself, like I wasted a day. My most productive hours are between midnight and five."
71. "The thing about being an artist today is you get to develop right in front of people's eyes before you even put out an album."
72. "I do put a lot of God in my music, but not because I'm super religious. There are a lot of demons in my music, too. I acknowledge both."
73. "I'm a super-duper over-analyzer. You mix that with self-doubt and pressure, and that's never healthy."
More J. Cole Quotes
74. "Am I about dollars or about change? Am I about knowledge or brains? Freedom or big chains? They don't feel my pain."
75. "College isn't in everyone's hearts. I am living proof, though, that school doesn't mess up your plans. It gives you more experiences to write about."
76. "Producing all my own songs and refusing to go to the hot producer. That's the biggest risk I've taken so far."
77. "School is a good place—it ain't for everybody, but I think it's for most people."
78. "When you're a rapper—just a rapper—you have to kind of settle for whatever comes your way. If a beat is hot, you wanna rap on it, period."
79. "I walk along this long harbor of life and sit on the piers, reflect on my pain, and shit on my fears."
80. "It's no coincidence that all the greatest rappers—whoever you put in your top five—I guarantee you they are great storytellers."
Did These J. Cole Quotes Make You See the True Value Behind Success and Happiness?
As an artist with many awards and recognitions, you may think that J. Cole relishes his fame. He has a Grammy, a YouTube Music Award, countless BET Hip Hop Awards, and many more. However, J. Cole is anything but boastful of his fame.
For him, success, awards, and popularity are indeed positive things, but they aren't the main reasons he pursued his career in music. After all, as the famous saying goes, "All that glitters isn't gold." He may have all these markers of greatness, but what truly matters to him is that he's able to work on what he loves and be with the people who truly appreciate him.
Success and all its glittering accompaniments can get blinding. But, like J. Cole, let's all strive to remain humble, find our true purpose, and build stronger and more genuine relationships.
Are you a fan of J. Cole's music? What other lessons did you learn from today's collection? Share your thoughts below.
Read Next: