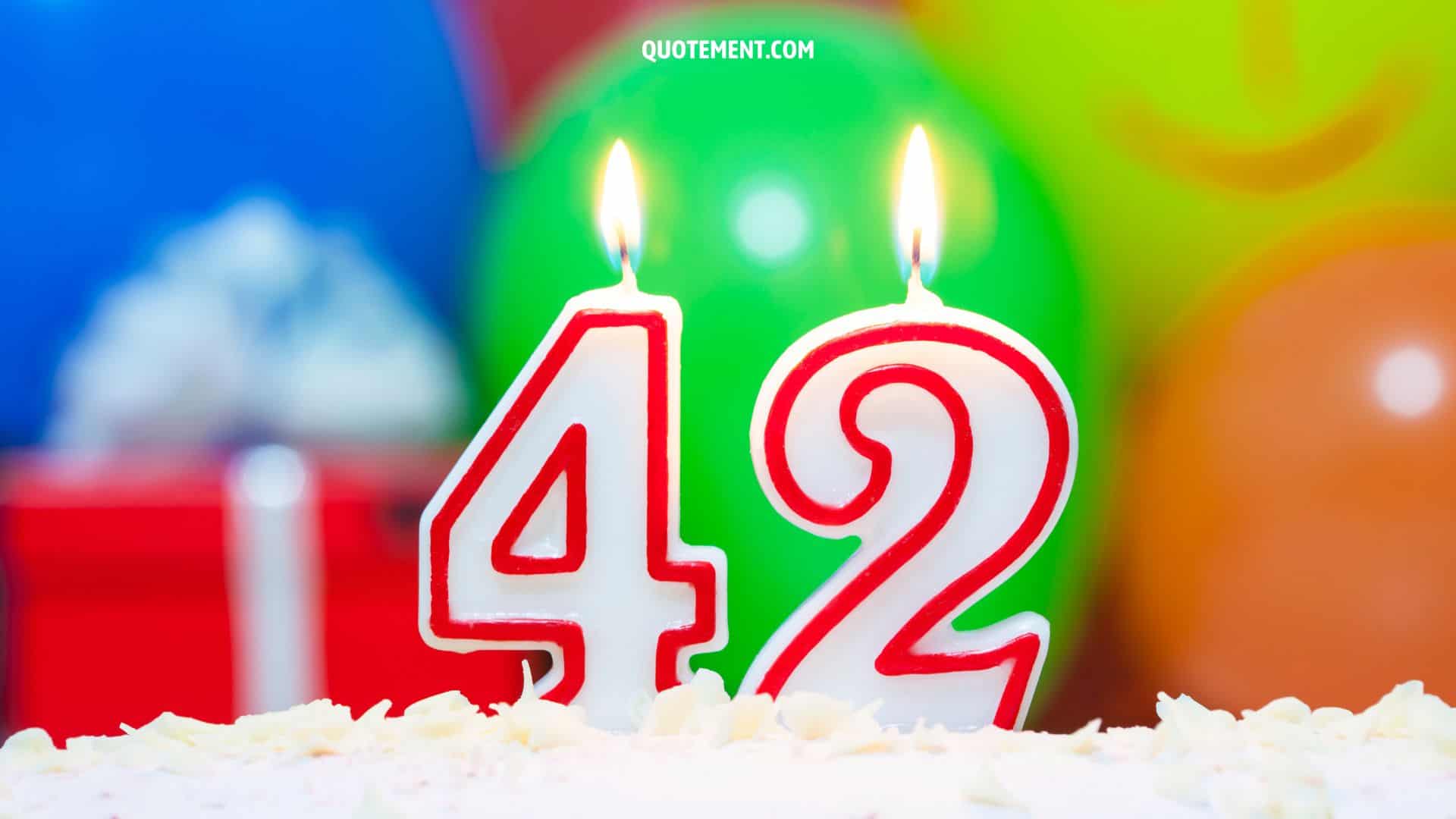 Many people say that the 40s are the unhappiest age.
You've probably heard of the U-shaped curve according to which our happiness decreases as we age, bottoming out in our 40s, and then increases again as we grow older. 
And this pattern of aging paradox shows up around the world.
Would you agree with this theory? Is life's happiness curve really U-shaped?
Well, I wouldn't say so.
I know so many people who are truly enjoying their 40s and living their best life.
So, if one of your favorite people happens to celebrate their 42nd birthday, you'd want to remind them of all the joys this age brings, right?
Luckily for you, I've gathered some fun and cheerful happy 42nd birthday wishes, the best ones I could create or find online, to make your words memorable and your celebrant happy.
Here we go!
10 Best Ways To Say Happy 42nd Birthday
1. "Let's raise a toast to you and your life. Wherever the year ahead takes you, I hope it's a happy place. Long may you run!"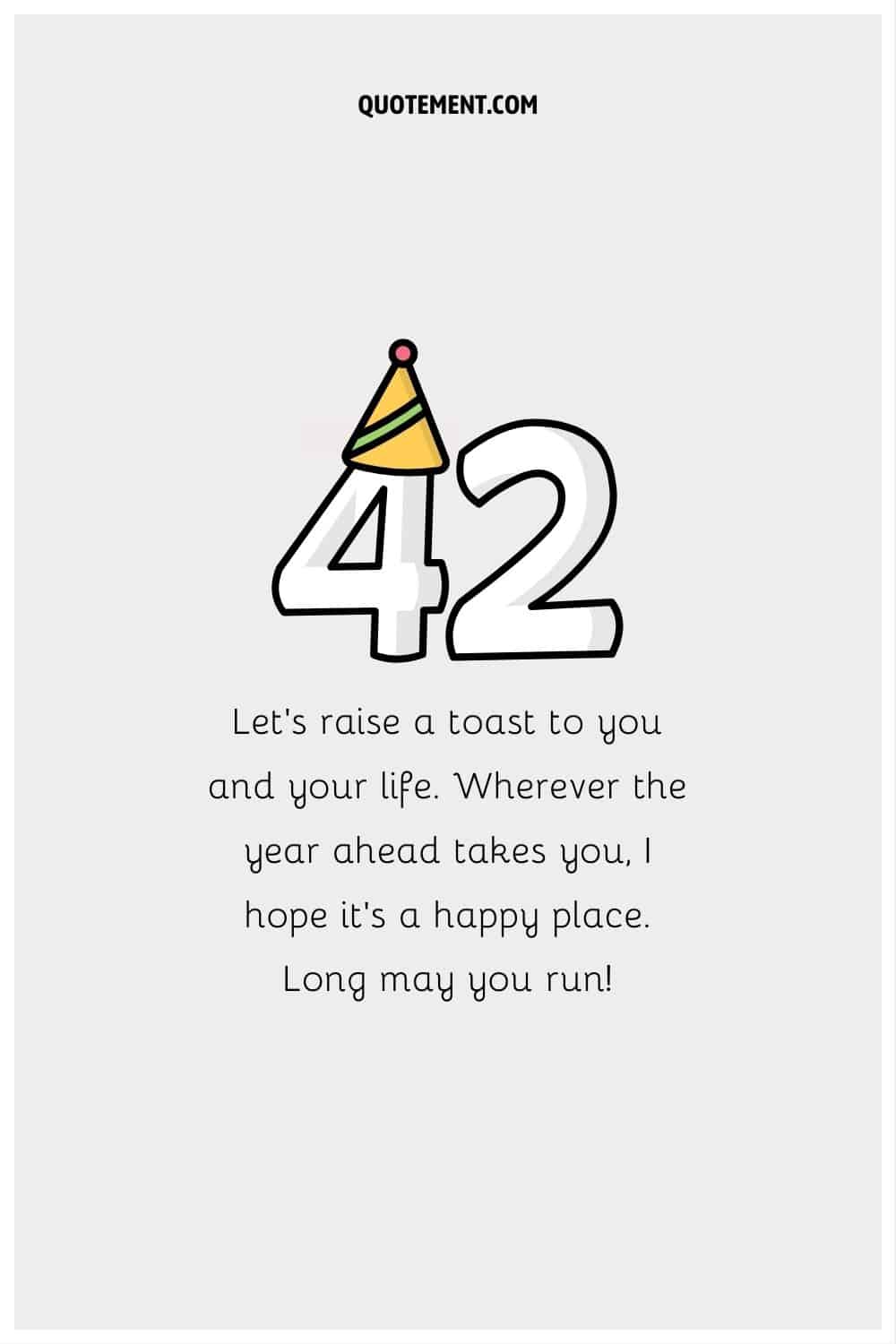 2. "Happy 42nd birthday! When you tell yourself you've seen all that life can offer, know that you're wrong cause the best is yet to come. Enjoy it."
3. "Life has different stages, and each is amazing and special in its own way. So don't worry about getting old and just enjoy your 42nd birthday!"
4. "A kind-hearted man with forty-two years of experience can conquer the world. Are you ready? Birthday hugs and kisses incoming!"
5. "Welcome to a delightful adventure. Forty two is a new horizon of life, but more towards glory. Enjoy it!"
6. "May your 42nd birthday be a hook to catch your dreams and make this year the best one ever. Happy birthday!"
7. "Keep climbing the stairs of the forties. May the best of your past be the worst of your future! Have a beautiful day!"
8. "How do you expect me to remember your birthday, when you never look any older? Have a blissful 42nd birthday dear!"
9. "As you celebrate your 42nd year on this earth, don't count the candles, but enjoy your day. Here's to many more candles to blow!"
10. "Happy YOU day! Remember, be good but not too good. Wishing you a day that is overflowing with joy and happiness!"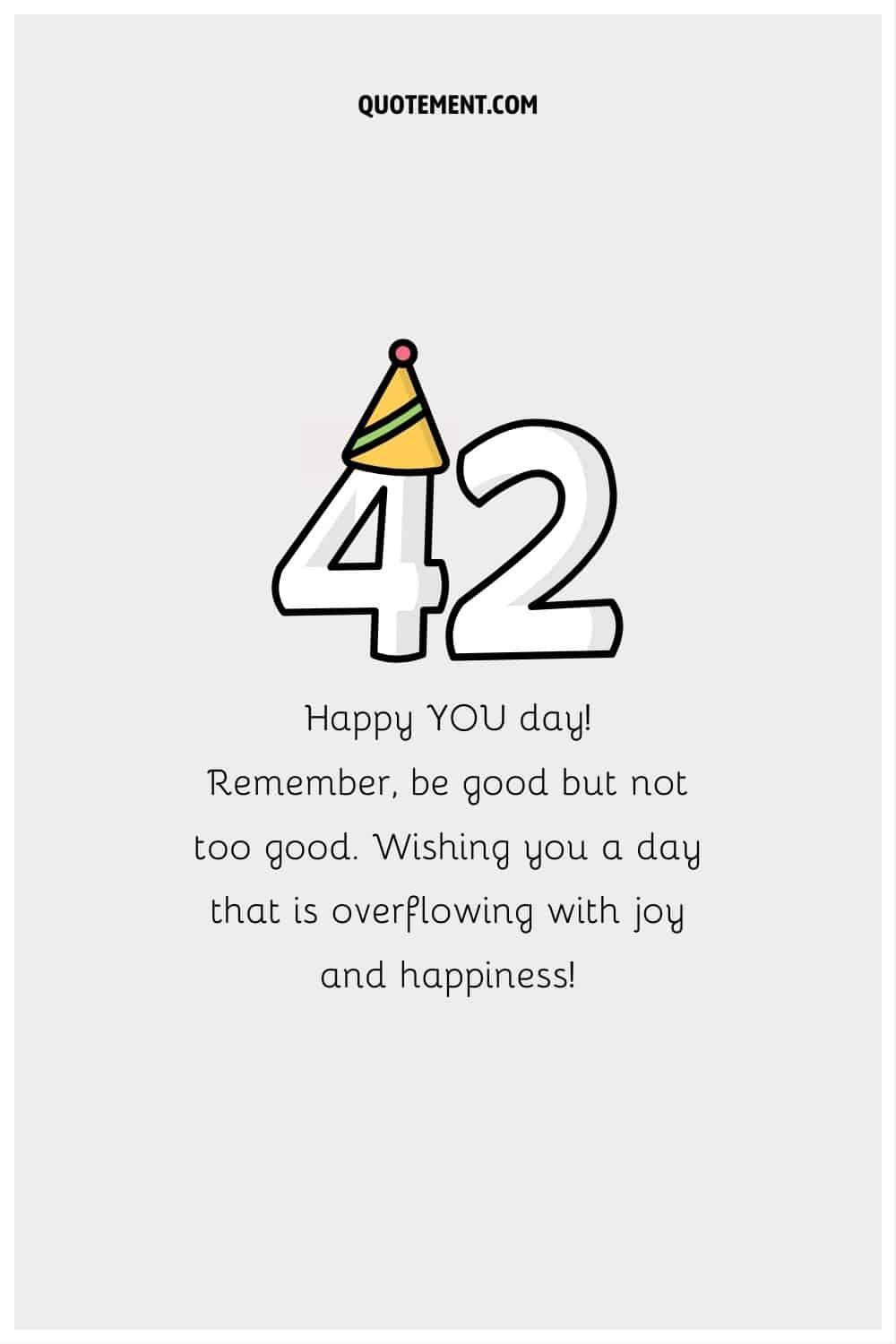 Birthday Wishes For Your Friend Clocking 42
1. "You told me about your dreams long ago, and now is the best time to chase them. Happy 42nd birthday, my friend."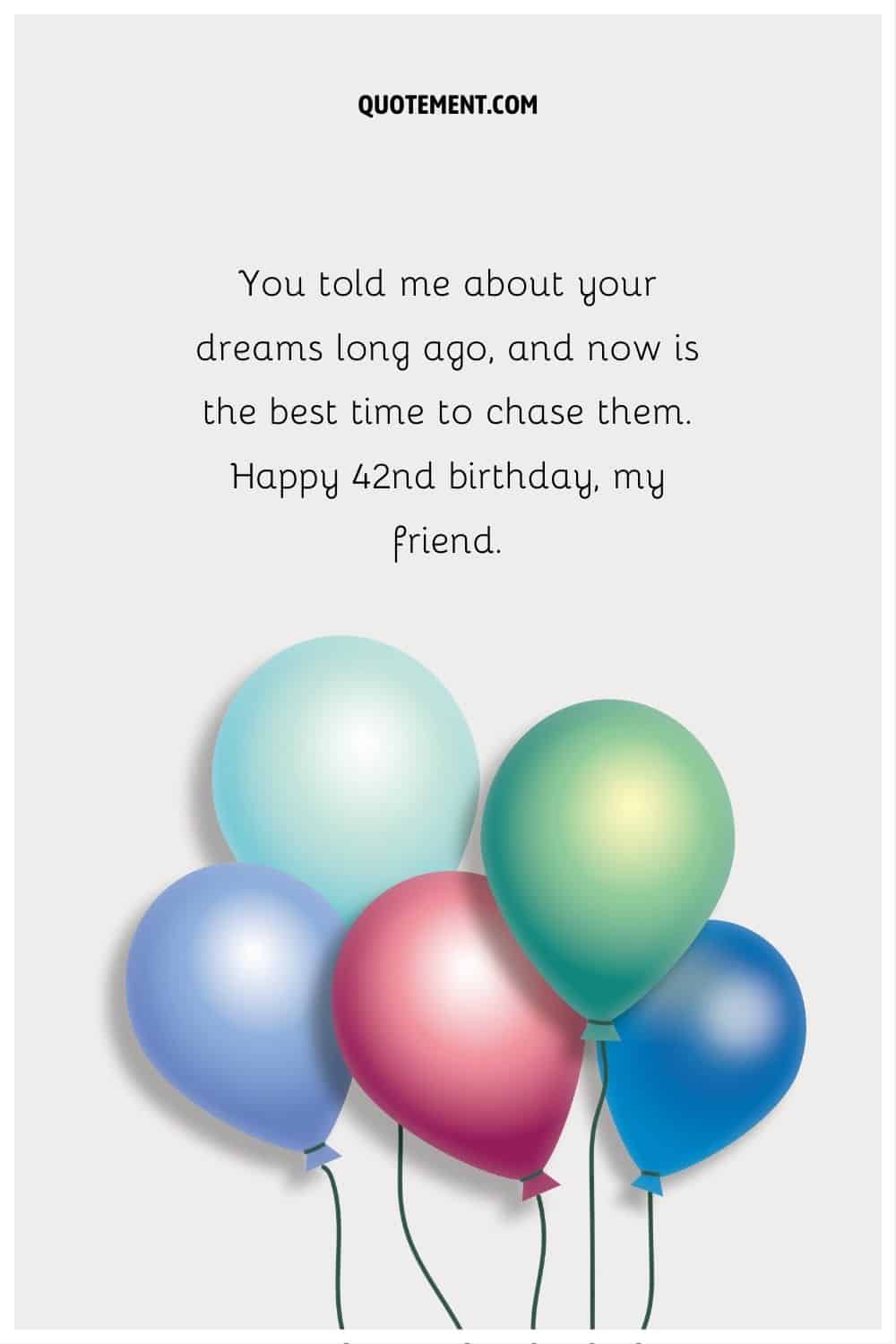 2. "42 really does suit you, friend; I can't remember the last time I saw such a big smile on your face. Enjoy!"
3. "On your 42nd birthday, I remind you that we've shared good and bad moments together. So let's share this party as well."
4. "42 years of life, that's your brand. That is the number of your life. That is the story you carry. Everything that has happened to you in these 42 years made your heart shine and gave you the maturity to move forward!"
5. "Happy birthday to my friend who looks like an innocent kid even after turning 42."
6. "Just 8 years away from becoming half a century old! WOW! Welcome to the old times and happy birthday, my friend."
7. "Happy birthday, friend! I know you will not get as crazy as you once did. But it doesn't mean we can't party like the older animals we are. As always, I'm here for you!"
8. "Happy birthday. Live beautifully, love generously, and laugh freely. Thanks for being a fantastic friend. I hope this year brings you the best that life has to offer."
9. "You have matured like fine Shiraz, my friend. Have a happy 42nd birthday — and save a glass for me!"
10. "Congratulations on starting your 42 life chapter, friend. To me, you still look like someone who's on the threshold of twenties. Enjoy your day!"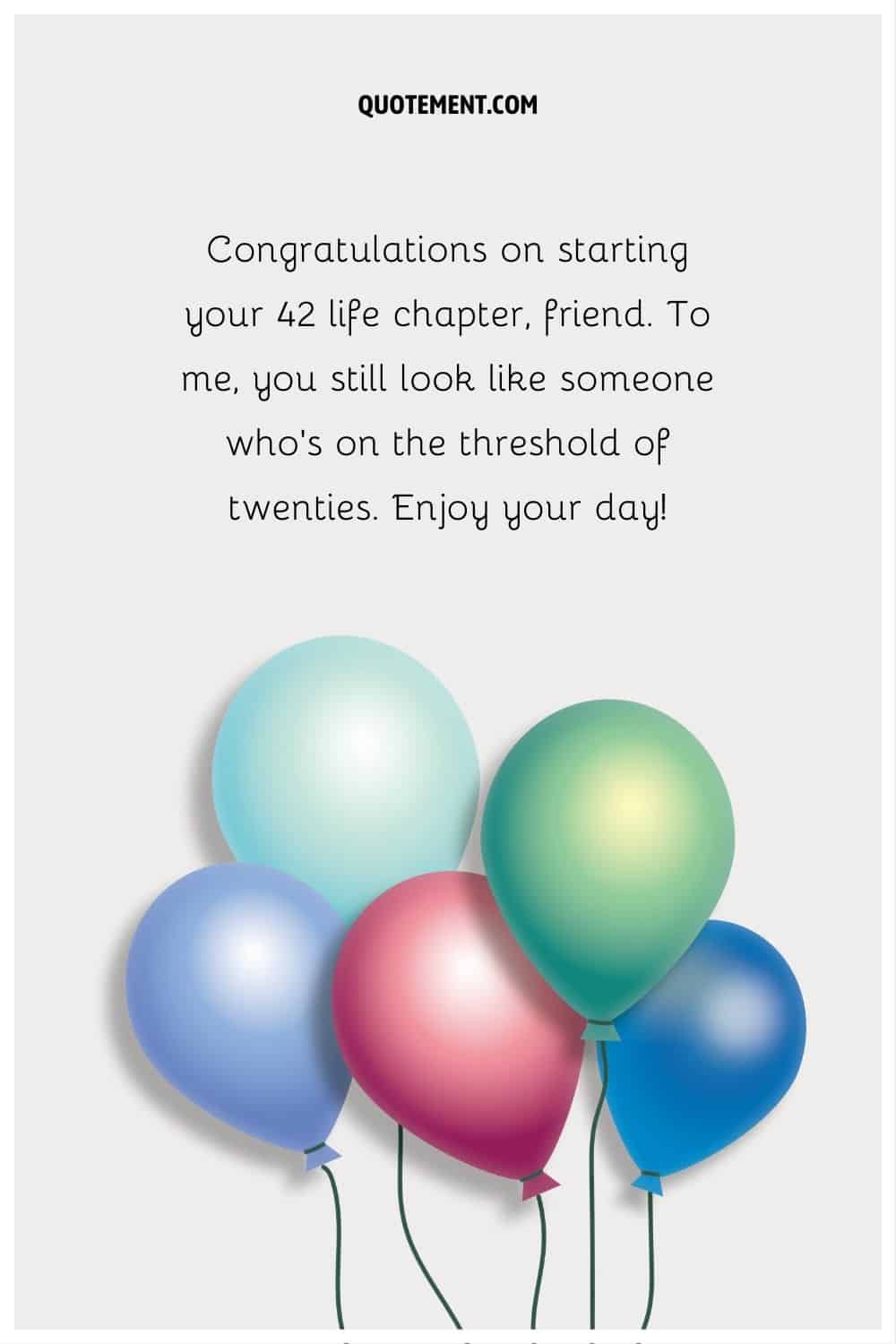 See also: 180 Heart Touching Birthday Wishes For Friend You Adore
Sweet 42nd Birthday Wishes For Your Wife
1. "Happy 42nd birthday to my one and only love, and here's to our years of all the good, the bad, and the exquisite You're my number one. I love you."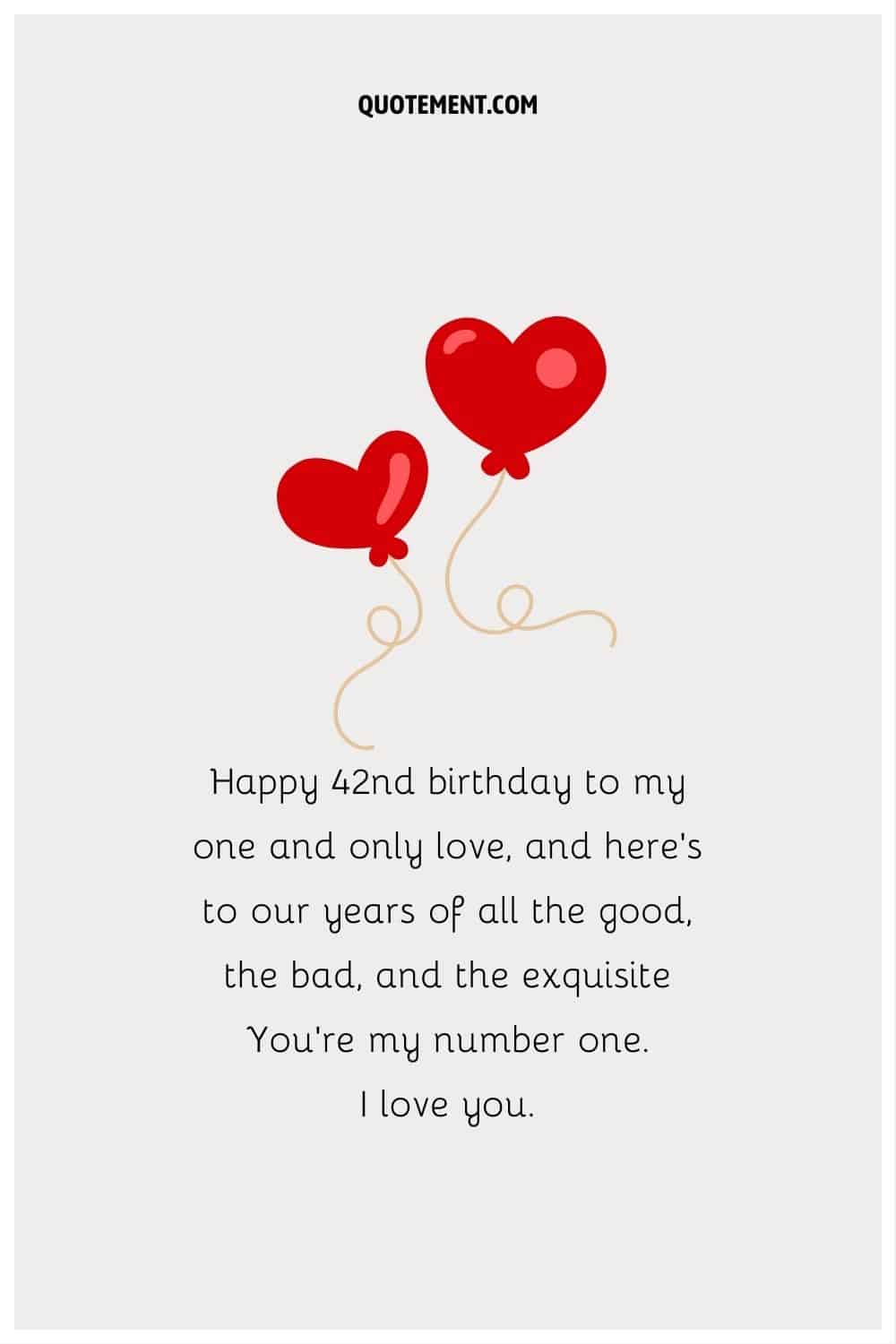 2. "Happy 42nd birthday, my darling! Growing older with you seems like a dream come true. I will always and forever love you."
3. "The older you get the hotter you become. Have an unforgettable 42nd birthday, my dear wife. I'm glad to be growing old with you."
4. "My deepest wishes to a lady who just needs a golden throne and a scepter to be a queen — my fabulous wife!"
5. "My sincerest wishes to the only woman who keeps her eyes on the stars, and her feet on the ground. You've always been the best wife ever."
6. "They say too much of everything is bad, but I beg to differ with that statement since too much of you, my sweet wife, is heavenly. Have a lovely 42nd birthday."
7. "Happy birthday to my amazing, strong, smart, funny, silly, wonderful wife. You keep our family together and make my life complete. I love you."
8. "It is a day about you. Your strength. Your character. Your heart. You are the center of my world and I am the luckiest man ever to have you as my wife. Happy birthday, my love."
9. "You blessed me with lovely children and changed our house into a home. You are the stuff of dreams — best wishes on your special day."
10. "Today is your 42nd birthday, and it serves as a reminder that a star fell from the sky to shine its divine light into the life of a humble man. Happy birthday!"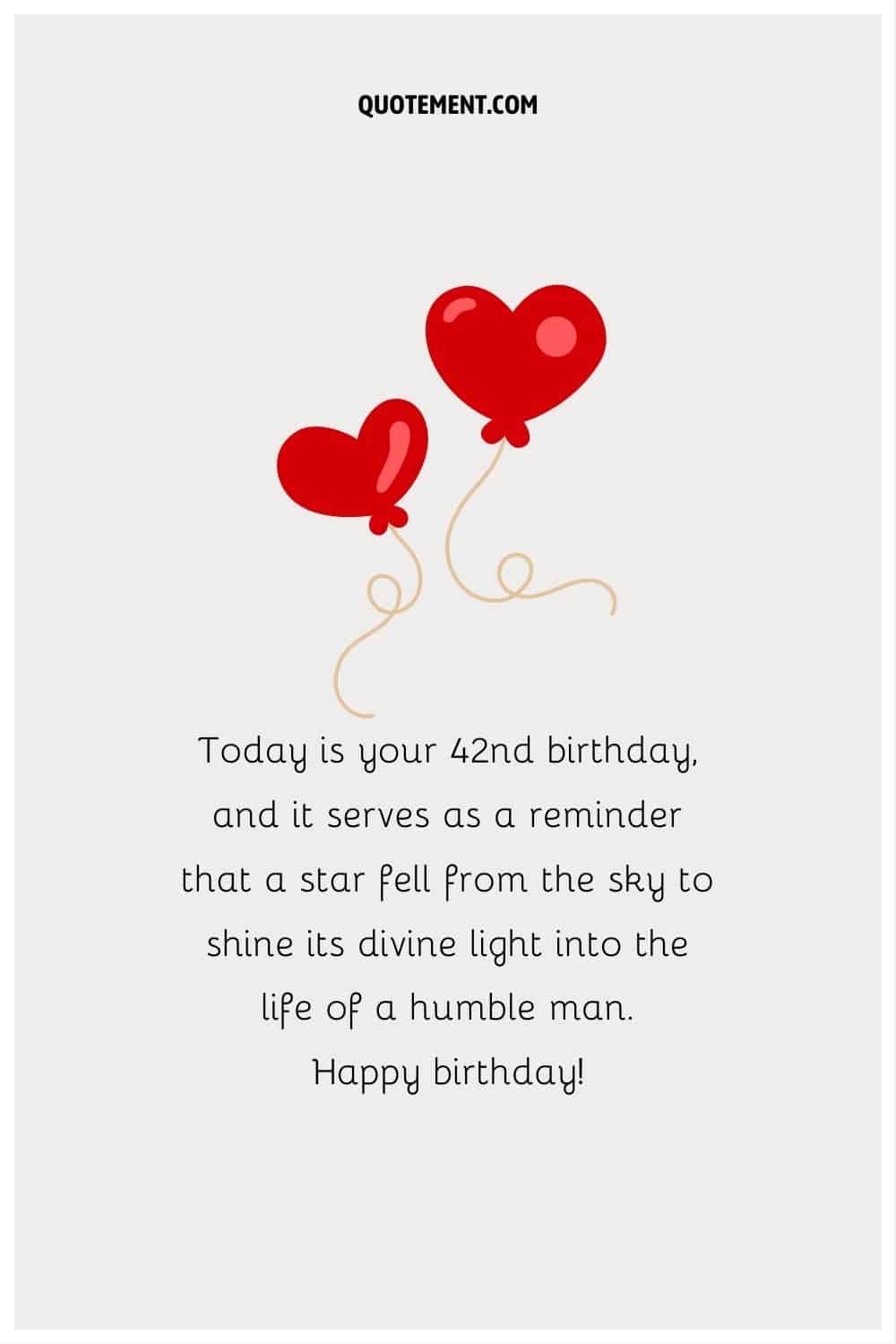 Romantic 42nd Birthday Wishes For Your Hubby
1. "Dear husband, may your glass be full of wine, and may your heart be full of laughter as you celebrate your 42nd birthday!"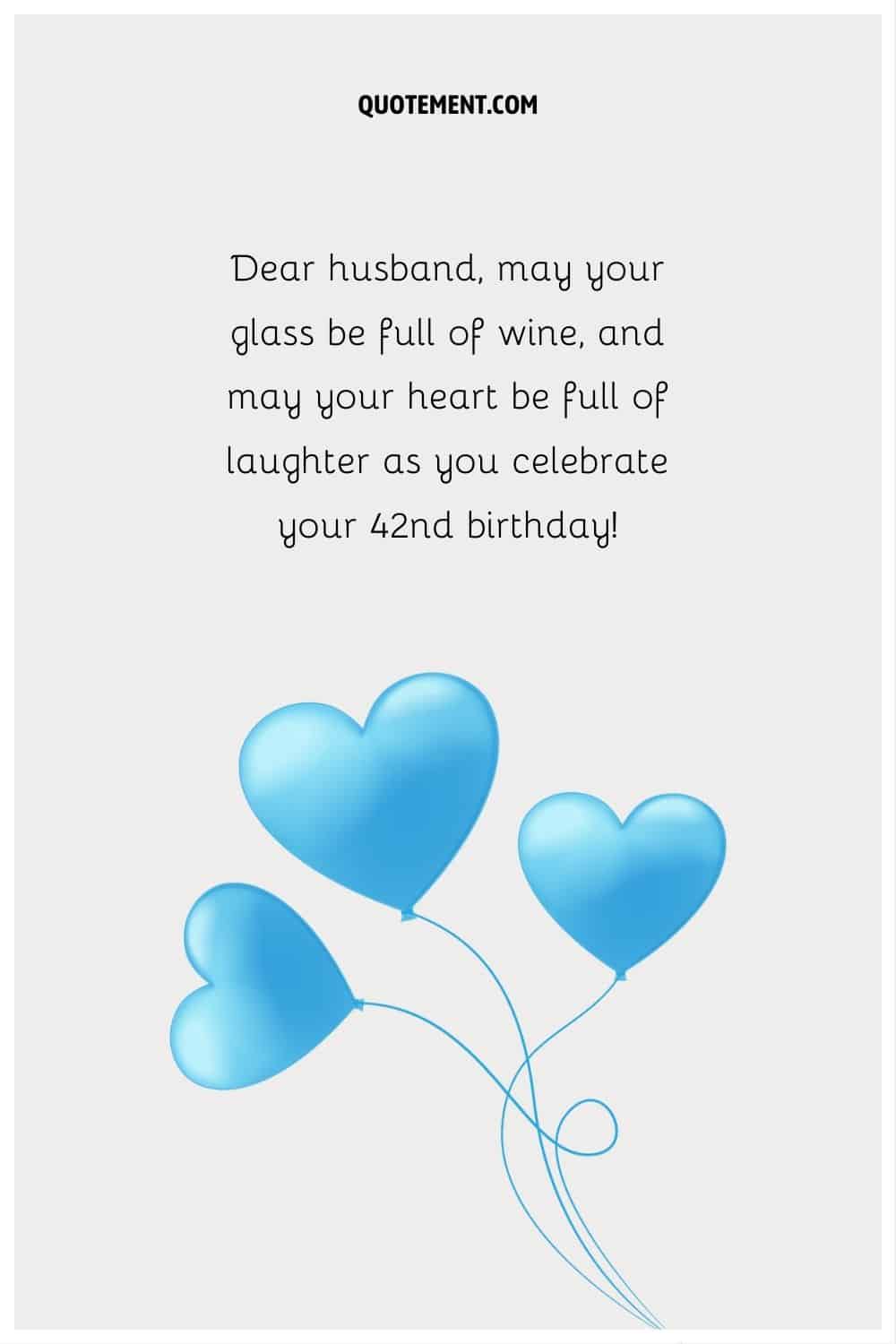 2. "My love for you never dies, never fades, and always suffices anything. I said that before, but today, I confirm that nothing will change even after turning 100. Have a cool 42nd birthday, baby!"
3. "You've helped me enrich my life with your love, care, guidance, and support! You are not just my hubby but my best friend too! Thank you for caring for me so well and a very happy birthday to you!"
4. "42 years old and your voice never stopped telling of your love to me. Happy birthday, dear husband!"
5. "Happy 42nd birthday to a man with a humble nature and strong personality. Keep it up, honey."
6. "On your 42nd birthday, I have these words for you — you look too good to be this old. Happy birthday, babe!
7. "Best wishes to the man who taught me the beauty of life and the way of happiness. Love you!"
8. "Now, we can get the true reward for our success. My love, look at our children and how big they became. That's the real success. Happy birthday!"
9. "42 years have passed since you came to this world to fill it with colors. You are magic because you have the ability to illuminate any space with your presence. I am proud of you, hubby."
10. "I celebrate the wonderful being and true blessing that you are each and every day, but just that little bit more so on your special day. Happy bday, my love!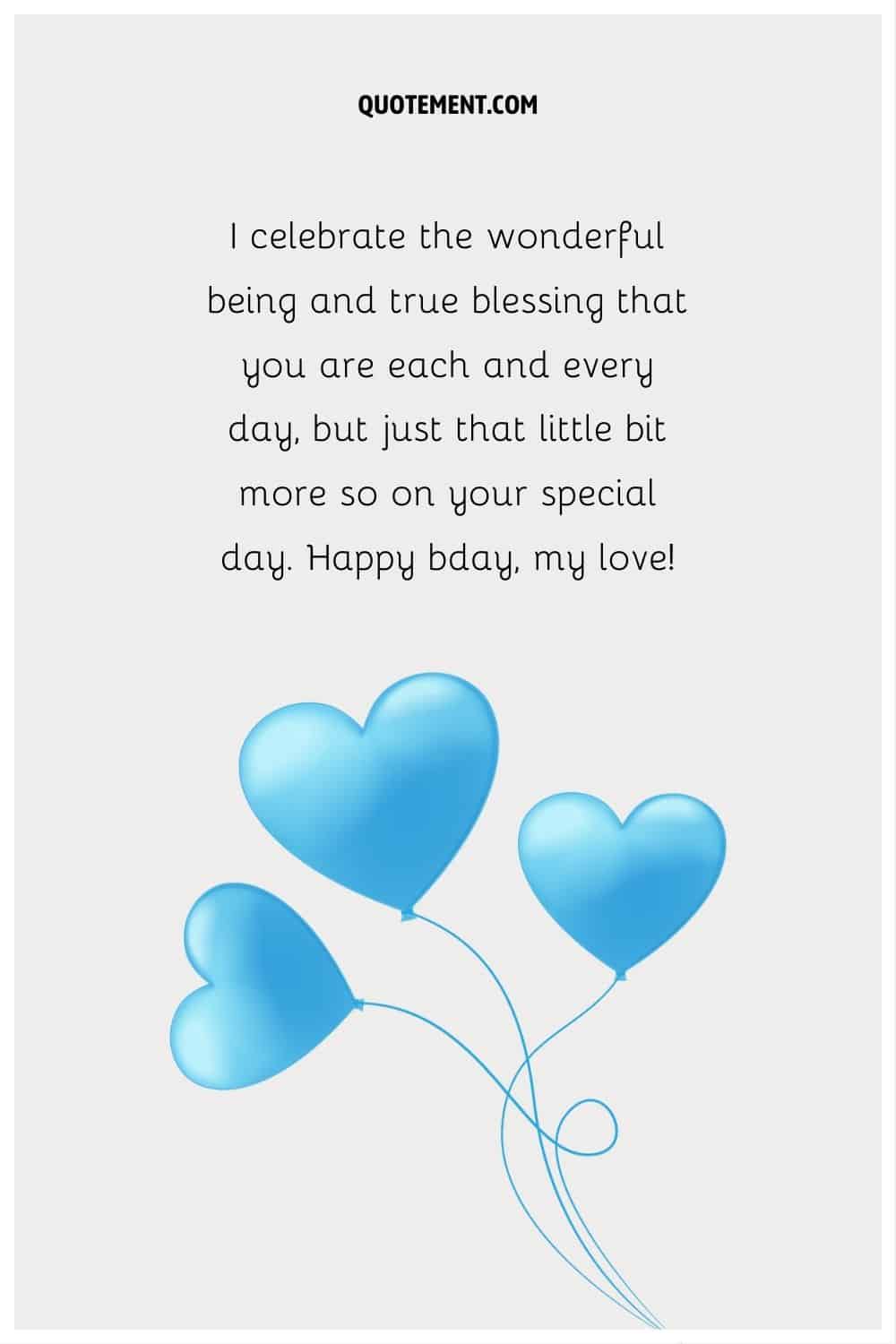 Happy 42nd Birthday Sis
1. "Wishing a spectacular birthday to the unique combination of best friend and villain. That's my sister. Happy 42!"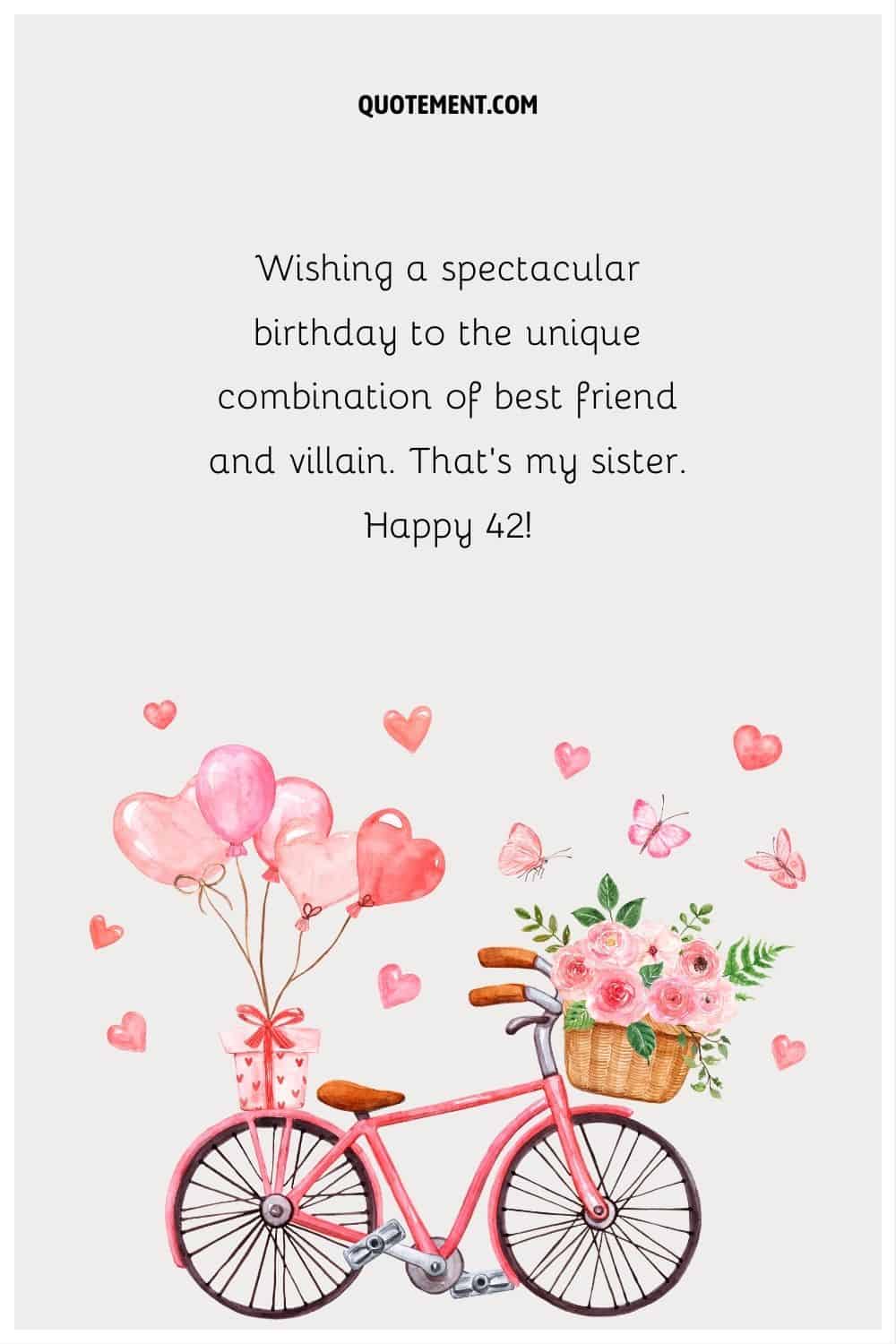 2. "Happy 42nd birthday to my dear sister who has oceans of knowledge and mountains of wisdom. I pray to God for your protection."
3. "Hey, sis! Congrats on having four transformations in your life. Girl. Young lady. Cool Lady. And finally, the perfect 42-year-old woman you are. My deepest wishes."
4. "How do you feel while standing on 42 pretty and charming?! Congratulations, sis!"
5. "Dear sister, we have shared so many magical moments in our life. We laughed and cried together and made smiles out of frowns. Happy 42nd birthday."
6. "Sisters are similar to best friends. You never know that they are keeping a close and caring eye on you so that nothing can bother your happiness. Happy birthday, sis."
7. "You mean so much to me. Just like a diamond, you are sparkling and priceless. The most heartfelt birthday wishes to my irreplaceable sister."
8. "Happy birthday to the one who has known me my whole life and still loves me. Best wishes to my beloved sister."
9. "Today is the most special day of the year: your 42-year-old birthday! And I know you have a habit of not giving yourself the right value, so I'll tell you again: Reserve that day for yourself!"
10. "Experienced enough to know what you want, young enough to achieve it all – aren't you at a perfect age? Happy fabulous 42!"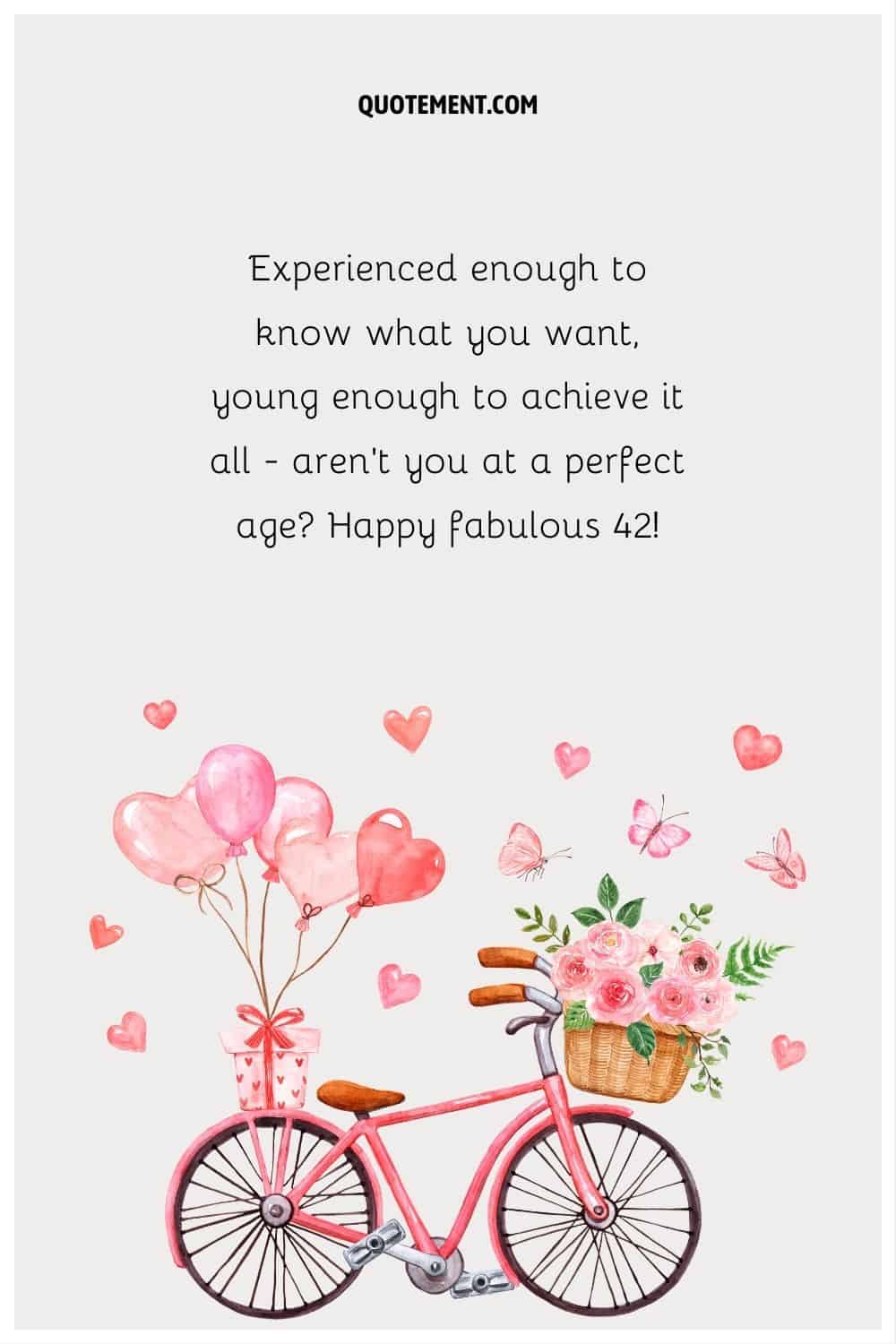 See also: 270 Sweet & Heart Touching Birthday Wishes For Sister
Birthday Wishes For Your 42-Year-Old Brother
1. "Through the shifting sands of time, we have loved each other with our different personalities, views, and perceptions. I love you, brother."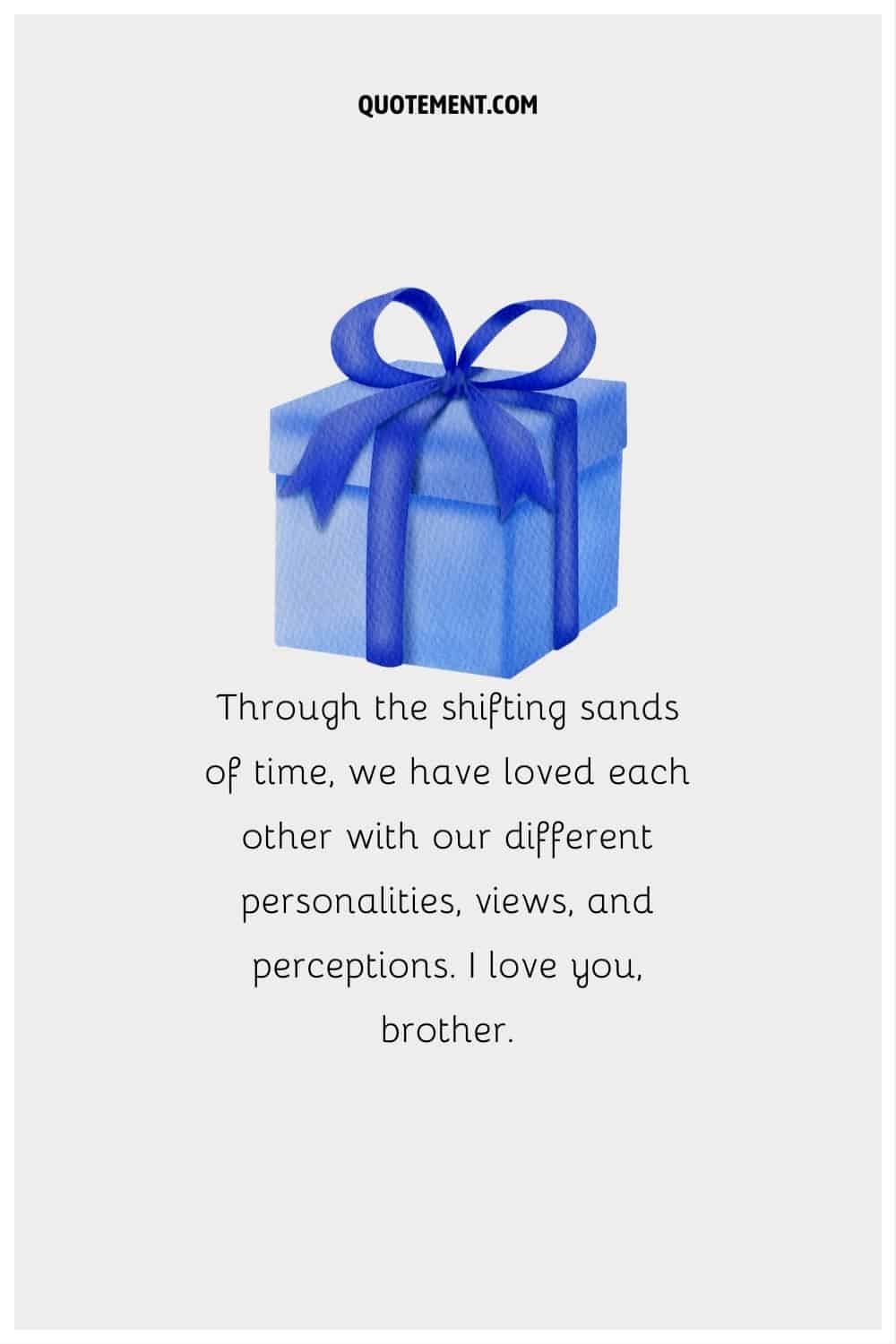 2. "Happy 42nd birthday, dear brother! Glad for all the good and bad times we've been through. It made us tough and great."
3. "Turning 42 can't touch your strength, brother. May your muscles never get old. Have a spectacular birthday!"
4. "Middle age is when you start turning off lights for economical rather than romantic reasons. Happy 42nd birthday, brother!
5. "You've always been a good-looking dude, brother. Now you're a good-looking older dude. Happy 42nd birthday!"
6. "Happy 42nd birthday to my sidekick and partner in crime. Here's to many more years of happiness and success."
7. "Music, drinks, delicious food make for a blessed celebration of forty two! Blow out those 42 candles with pride and have the happiest birthday!
8. "Age matters little when you make every day shine a little brighter. That's what you're good at doing. Happy birthday to the world's best brother."
9. "Happy birthday, brother! You're truly one of a kind and I couldn't have asked for a better brother. Thanks for all the little and big things you do for me! Enjoy your day."
10. "Worried about getting older, bro? Don't fret, your forties are just like your twenties, only doubly as good! Happy 42!"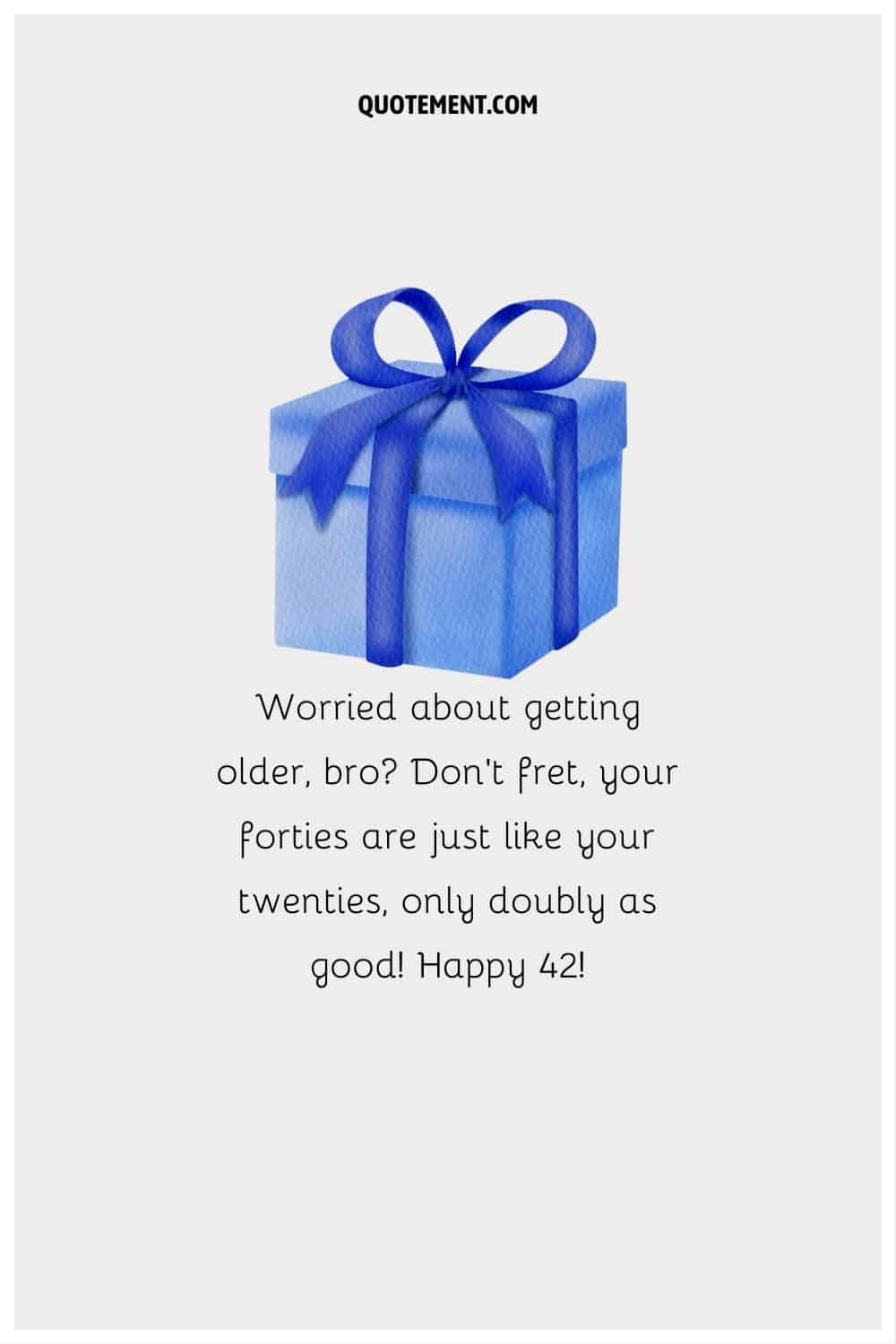 See also: 330 Cute & Heart Touching Birthday Wishes For Brother
What To Write In A Birthday Card For Someone Turning 42
1. "Happy 42nd birthday to someone who conquered every trial like a warrior. You've always been an inspiration."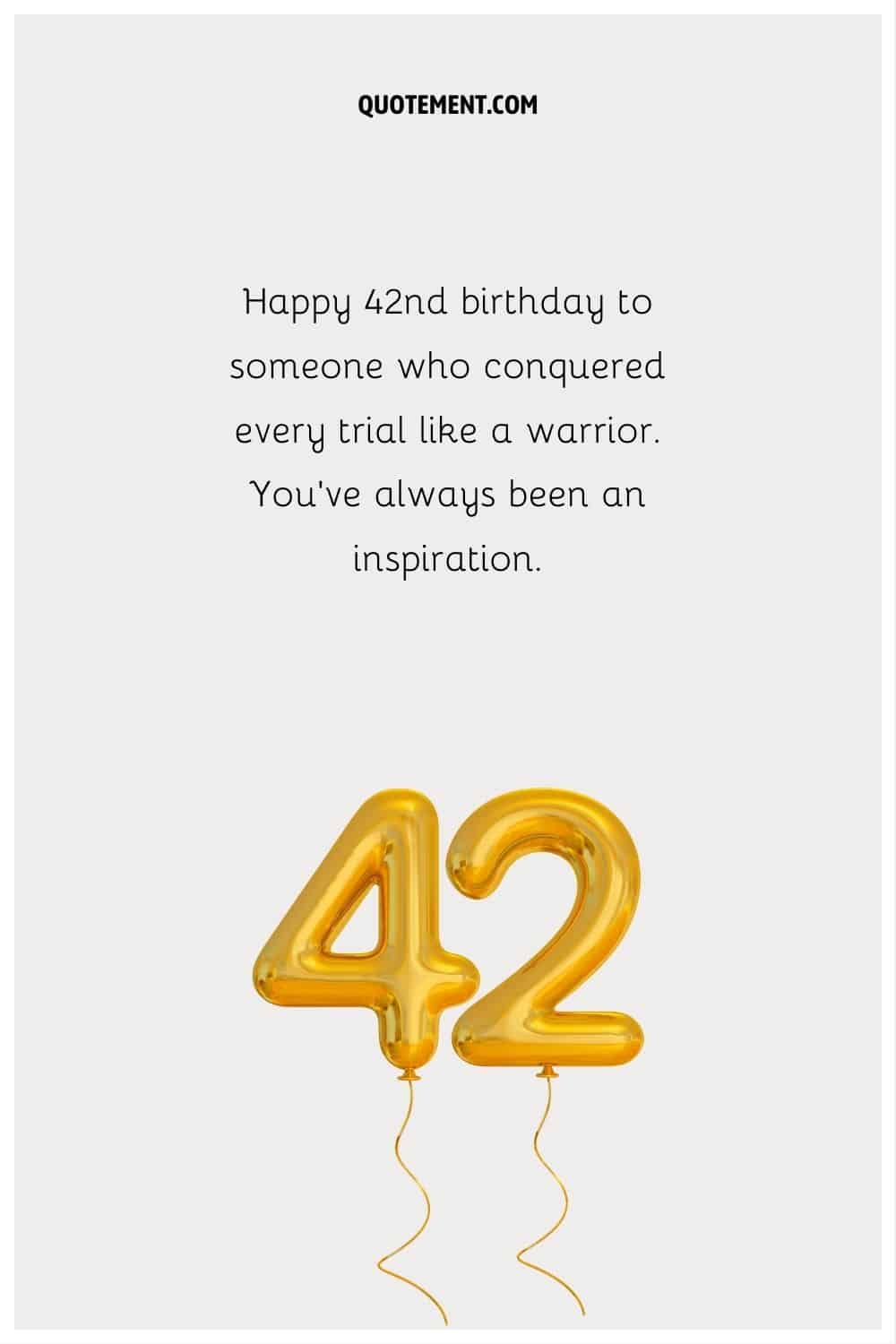 2. "Congratulations! For 42 years, you have been the joy of many people's hearts. Have my best wishes."
3. "I love the fact that I'm sharing your 42nd birthday with you; it brings me so much joy and peace when I see you age so gracefully."
4. "Your 42nd birthday is the other step towards the accomplishments you've implanted in your early 30's. Best wishes to you!"
5. "I don't have the power to manipulate the wind direction. However, I wish to change the direction of happiness and point it all toward you. A million magic wishes to you!"
6. "May the best of your birthdays be today, and today be the least of the best yet to come."
7. "Life is full of experiences, and a birthday is one of the greatest experiences in the journey of life. Enjoy your day."
8. "Go confidently in the direction of your dreams. Live the life you've imagined! Have a fantastic 42nd birthday!"
9. "Today we're not counting years, wrinkles, or gray hairs; rather, today we're counting blessings. We're so blessed to have you in our lives."
10. "Another year has passed in your life, making you wiser and stronger. Let your age not age your spirits. I wish you a very happy 42nd birthday."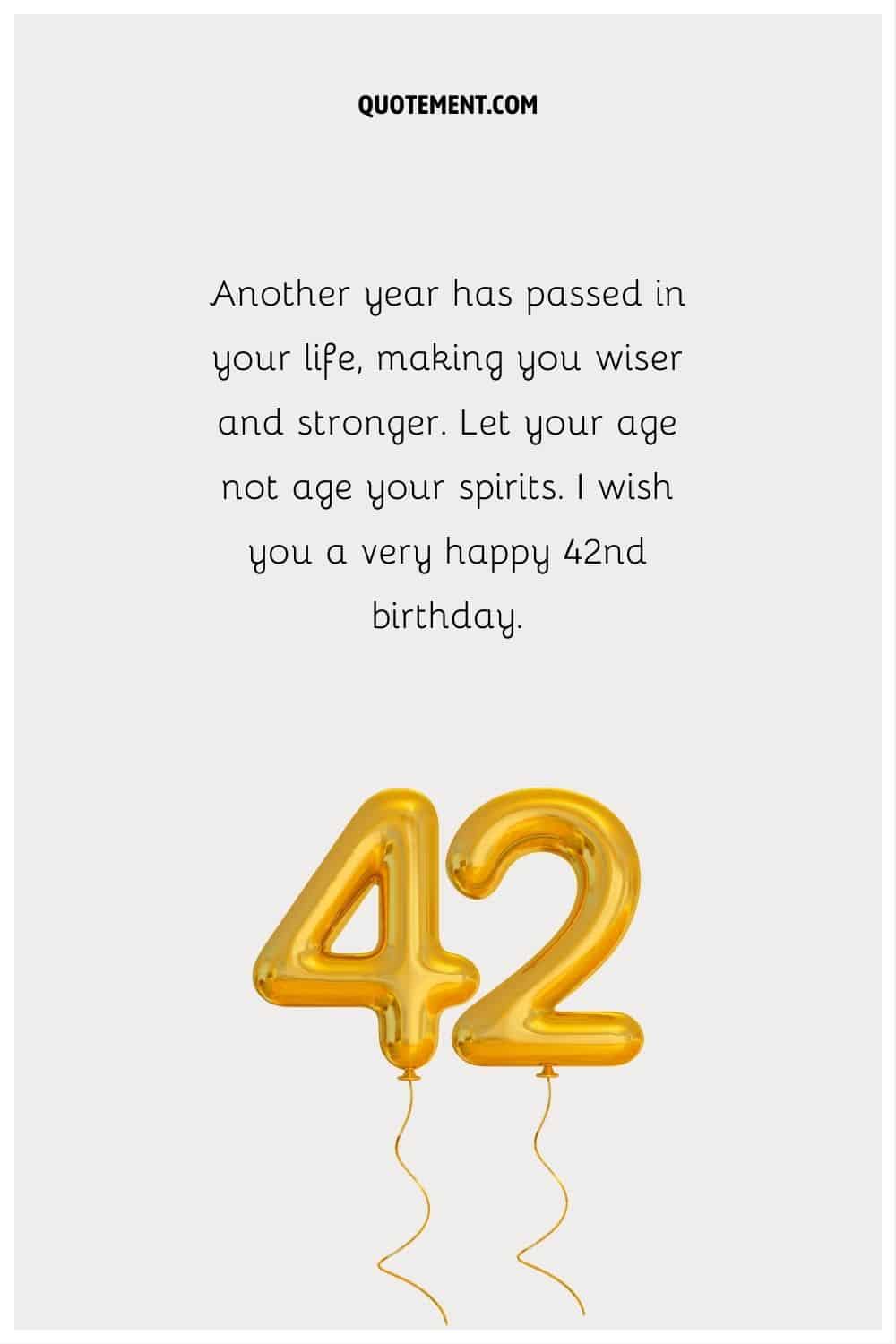 Funny 42nd Birthday Wishes
1. "As you're turning 42, may that beautiful smile of yours always be present on your lips to make wrinkles on your face less evident. Happy birthday, buddy!"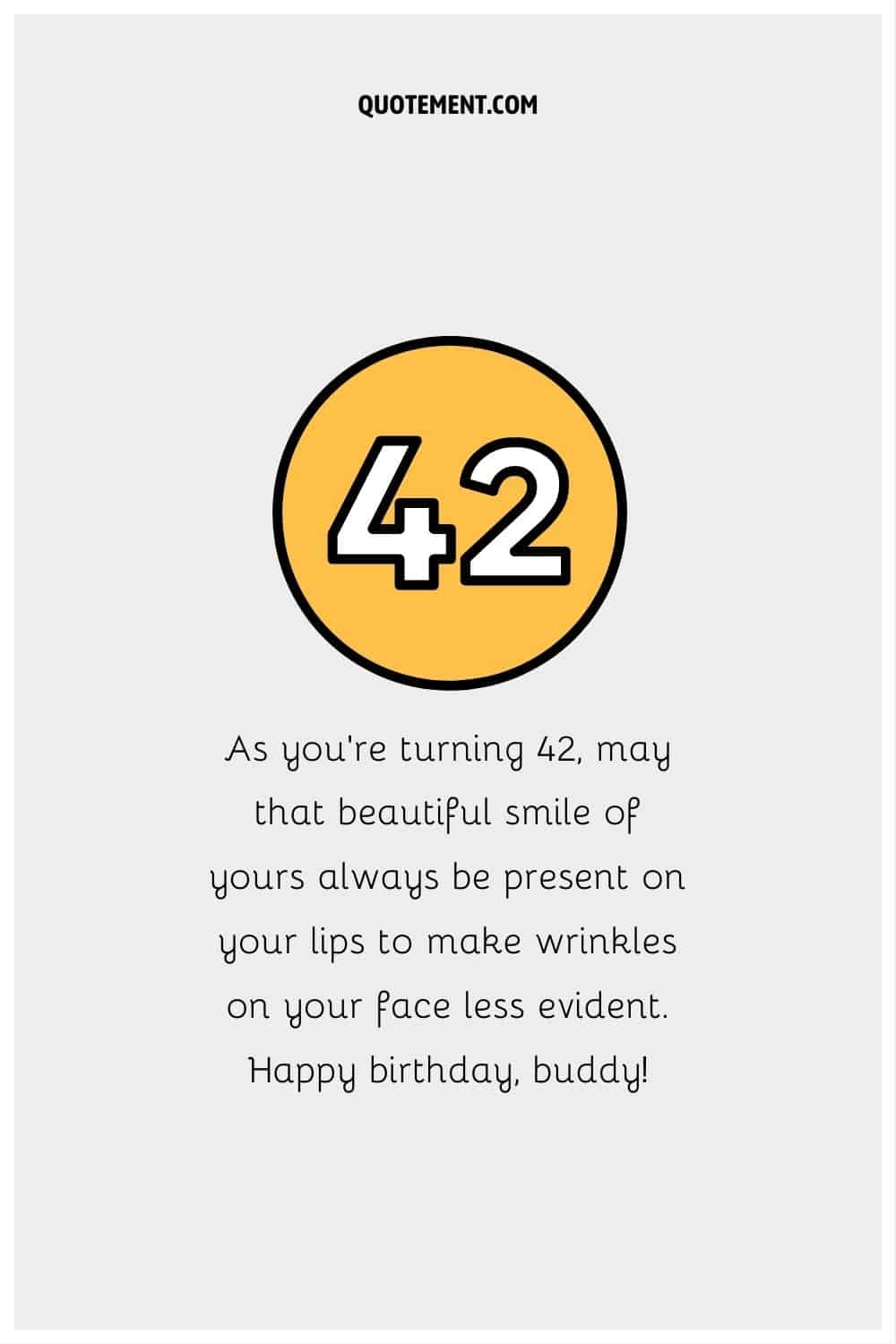 2. "Happy birthday! Let's celebrate the first time you cried naked in someone else's bed!"
3. "Another year, another new place that aches. Congratulations, you've added a year closer to death."
4. "Happy 42nd birthday! You're now officially old enough to know better, but still young enough to do it anyway."
5. "Happy 42nd birthday! Time to act like a sage who knows everything, even if you don't have a clue."
6. "Open your Facebook, for this is the only day you'll receive tons of heartfelt greetings from people you haven't talked to in ages."
7. "Isn't it weird that we're celebrating at regular intervals as your life runs out? Anyway, cheers to you!"
8. "You're still hot after all these years… just not as hot as your birthday cake will be once all those candles are lit!"
9. "Your birthday is the perfect time to recognize all your wonderful qualities, including the fact that you're older than me."
10. "Tell me again: how old you are? Wasn't your childhood pet like.. a dinosaur? Ha ha… Happy birthday you ancient old, awesome human."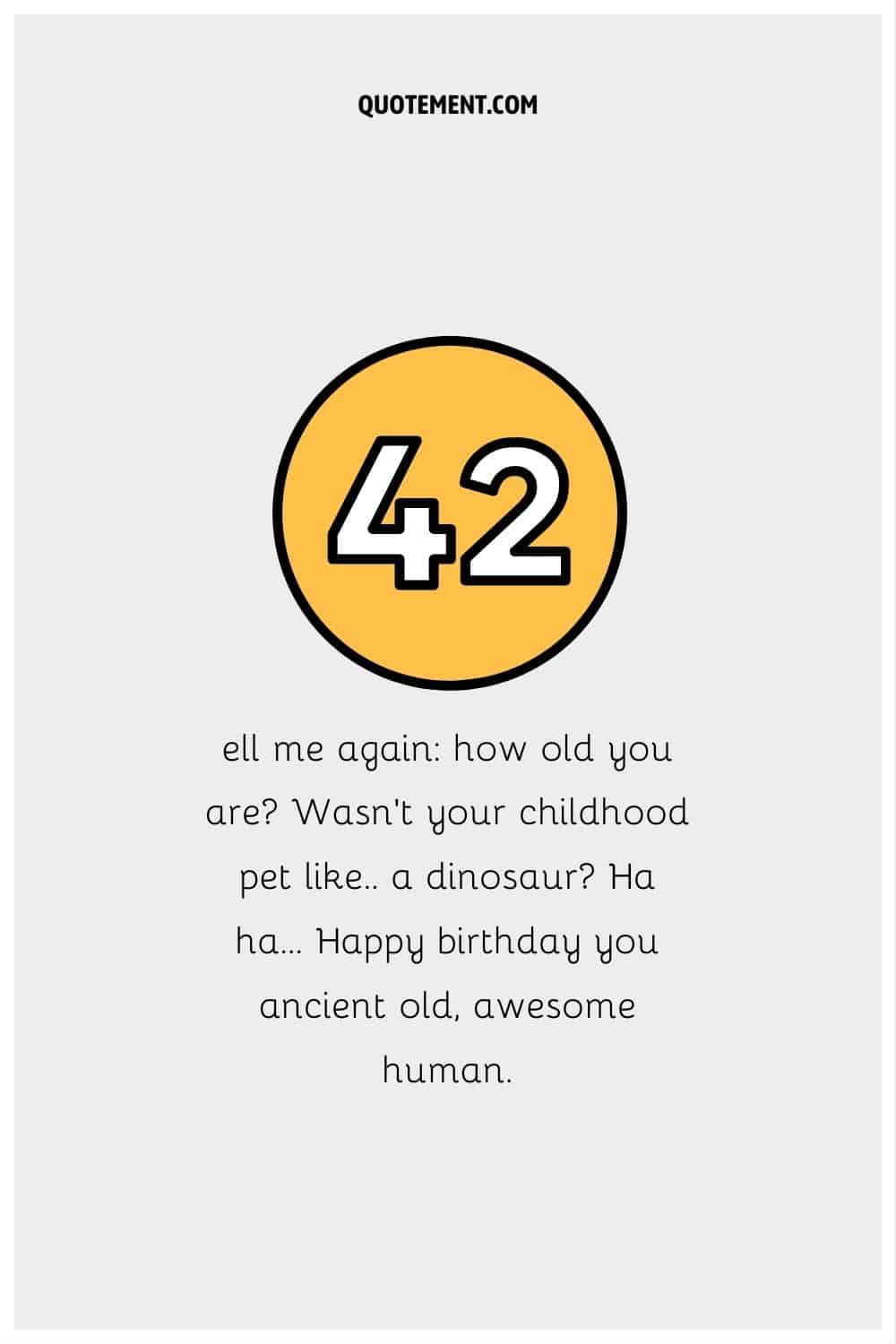 See also: 90 Inspiring & Funny Quotes About Aging Gracefully
Final Words
I don't think our happiness is U-shaped. I believe life's good in the 40s.
Everything starts falling into place — you are more confident and experienced, you make better decisions, and your relationships become more meaningful.
You've fulfilled most of your parenting role, and you can now enjoy having some kind of social life (before they start dropping off your grandchildren to your place)! 
Would you agree?If you liked my suggestions for happy 42nd birthday wishes, then why not take a look at other interesting content on our page?! You'll find some pretty great stuff there!