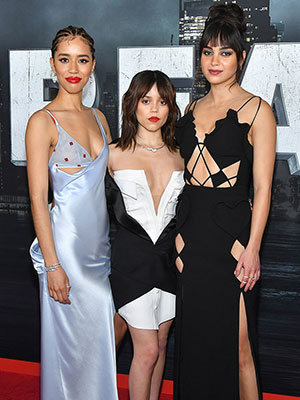 'Scream 6' is here! The stars walked the red carpet for the New York City premiere of the sixth installment of the beloved horror film franchise on March 6, 2023. The franchise, which began with its first installment in 1996, sees the return of some notable characters, including Gale Weathers (Courteney Cox) and Kirby Reed (Hayden Panettiere), and the addition of some new ones, like Tara Carpenter (Jenna Ortega).
The return of Hayden is especially touching, as it marks her return to acting after a four-year hiatus. 'I didn't know what I wanted to do next,' the 33-year-old actress explained on Good Morning America. 'I did have to take those four years off, and thank god I did. I had to work on myself: my mental health, my physical health, my spiritual health.'
'And then when ['Scream'] popped up and came back around, I was like, 'I want to be a part of that again', because I hoped that Kirby was still alive. I willed her back into existence and I called them,' she continued. She certainly looked like a comeback queen on the red carpet for the film, as did Demi Lovato, seen above. The singer and actor donned a form-fitting black gown that featured draping sleeves that reached the floor. Their black nails and smokey eyeshadow added to the hauntingly beautiful look. 
Check out the rest of the notable stars who walked the red carpet for 'Scream 6' below.