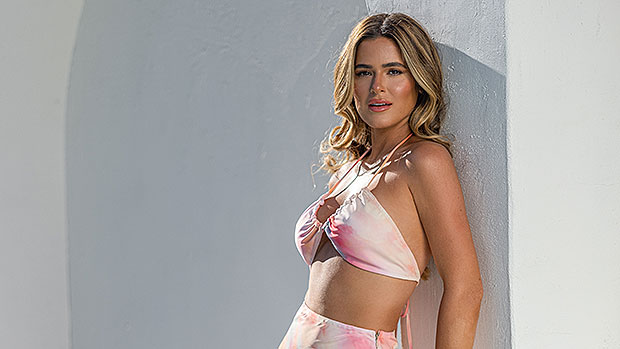 JoJo Fletcher came to slay in her second drop of designs from her RESA x JoJo spring collection! Released on March 15, the second round of designs includes pieces that draw inspiration from different cities, including Malibu and Dallas. Seen below, the third capsule of her new drop — named Soraya — uses a dreamy pink, blue, orange, and yellow tie-dye design that resembles a beachy sunset. The capsule includes two crop tops and two dresses. The 32-year-old Bachelorette alum paired the first crop top —  which resembles the trendy upside-down triangle bikini top look — with a simple, silky, ankle-length skirt.
The other crop top, seen here, is strapless and has a cinched drawstring in the center. JoJo paired it with high-waisted jeans for an effortless date night look. The dresses in the Soraya capsule include a mini slip dress and a silky floor-length gown with spaghetti straps and a crew neckline. The reality star's tanned skin made the collection look ready for a tropical vacation.
JoJo chose a blue and white pattern for the light and airy Malibu capsule. The Malibu design was used to create five dresses, one of which she modeled below in a picturesque landscape with hills in the backdrop. The simple dress is strapless and shows her body shape without being too clingy. Other designs in the Malibu collection include a cutout maxi dress that features a tie-front bust, an ankle-length, spaghetti strap dress that has a sexy slit up the left leg, and two short dresses.
Finally, her Dallas designs make use of a brown animal print for a combination of dresses and tops. In the below image, JoJo stunned in the lettuce hem crop top and paired it with high-waisted blue jeans. The collection includes a pair of flared pants, which also go beautifully with the top, as seen here.
JoJo's collection ranges from $42 for a top to $138 for a dress, but her previous collection reaches $158 for a dress. JoJo's original designs dropped on March 2 and include a ready-for-spring lavender and white print, a green and white floral print, and a peach floral print. The TV personality and host celebrated the debut of her RESA collection by sharing how thrilled she is to have been able to collaborate with the brand in a March 1 Instagram post that showed off some of her designs. "I'm soooo excited for y'all to see what we have been working on. JoJo x @shop_resa is finally launching and available to shop tomorrow! It's so so good," she raved. "All prints come in a variety of styles so hopefully you find one you love as much as I love them all."
In a launch day interview, JoJo said she went out of her comfort zone with her designs while still making them suitable enough for her to adore. "I'm usually a neutral lover at heart, but Resa does an exceptional job creating bold designs that add color and life to your closet while still feeling elevated," she told Us Weekly. "Their prints and fit keep me coming back collection after collection."
Click to Subscribe to Get Our Free HollywoodLife Daily Newsletter to get the hottest celeb news.