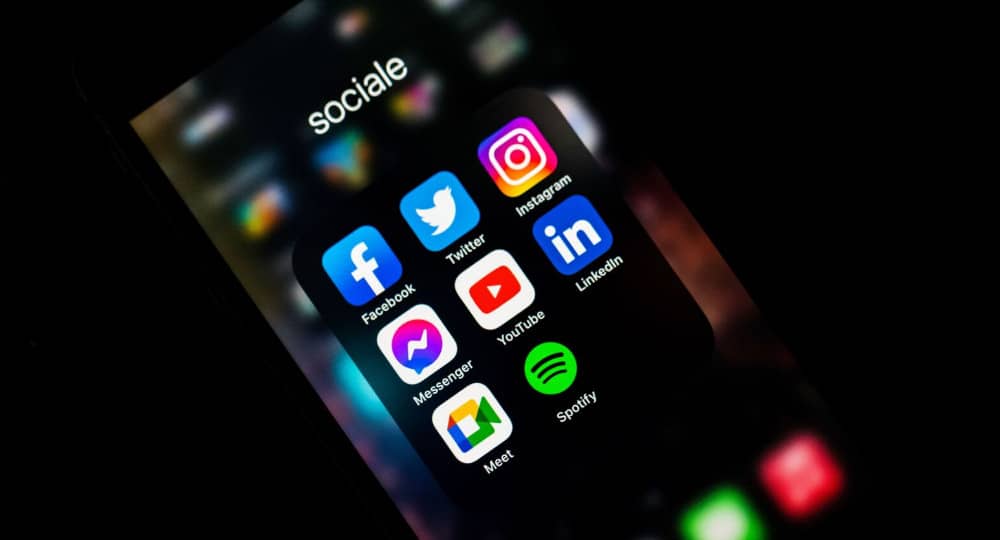 Read these amazing social media quotes, sayings, and captions to become more mindful of your social media use and to be aware of its potential benefits and drawbacks.
Social media has become an integral part of our daily lives, with billions of users actively engaging on various platforms such as Facebook, Twitter, MySpace, Instagram, and TikTok.
Not only has social media transformed the way we communicate, allowing us to connect with others and share our thoughts and ideas on a global scale, but it has also become a popular way to express our thoughts, feelings, and beliefs.
Also See: Instagram Quotes
In this generation of hashtags, trends, and follows, the internet and social media have totally changed the way of living.
From famous quotes by historical figures to original phrases coined by social media influencers, there is an endless array of quotes about social media be it good, positive, or negative.
Top 10 Social Media Quotes
"The power of social media is it forces necessary change." – Erik Qualman
"It takes discipline not to let social media steal your time." – Alexis Ohanian
"Social media is an advertisement for the superficial extroverted self." – Hozier
"The great thing about social media was how it gave a voice to voiceless people." – Jon Ronson

"The information you get from social media is not a substitute for academic discipline at all." – Bill Nye
"Social media is awesome because I can somewhat paint myself the way I want people to see me." – Kevin Abstract
"Social media is called social media for a reason. It lends itself to sharing rather than horn-tooting." – Margaret Atwood
"What is interesting is the power and the impact of social media… So we must try to use social media in a good way." – Malala Yousafzai
"Smartphones and social media expand our universe. We can connect with others or collect information easier and faster than ever." – Daniel Goleman
"Everybody wants to be a celebrity, which is why we have this phenomenon of social media, where nobody wants to be private. We all want to be seen." – Marc Jacobs
Best Quotes About Social Media
Social media has had a significant impact on society in a number of ways. They have become major sources of news and information, with many people turning to social media for breaking news and updates.
Also See: Twitter Quotes
Also, social websites have enabled individuals to build personal brands and online identities, showcasing their talents, skills, and interests to a wider audience.
"We get to live in a time that we get to use social media as a tool." – Gigi Hadid
"You cannot buy engagement. You have to build engagement." – Tara Nicholle Nelson
"Social networks aren't about websites. They're about experiences." – Mike DiLorenzo
"I'm very hands-on about social media. That's my voice." – Alexandria Ocasio-Cortez
"You learn the hard way. That's the thing with social media. Nobody knows what they're doing." – Cameron Dallas
"Posting Less, Doing More. Comparing Less, Reflecting More. Discussing Less, Accomplishing More." – Unknown
"Don't believe everything you read on the Internet just because there's a picture with a quote next to it." –Abraham Lincoln
"Social media made y'all way too comfortable with disrespecting people & not getting punched in the face for it." – Mike Tyson                                                                                                                                                             
"People are scared to have a strong opinion because, with social media, almost everyone lives the life of a celebrity." – Yungblud
"Our attention spans have been reduced by the immediate gratification provided by smartphones and social media." – Katherine Ryan
"Social media has given us this idea that we should all have a posse of friends when in reality, if we have one or two really good friends, we are lucky." – Brene Brown

"You don't need to go far to see the hatred and abuse that happens online. Even using social media is anti-social because people are always on their phones." – Ronny Chieng
"Everyone's like sheep on social media; like, one person starts making noise, and everyone's like, 'Hey, yeah!' and then you got a whole bunch of people making noise at you." – Earl Sweatshirt

"There are things that people say that hurt my feelings or whatever, especially with social media right now. It can be the most amazing thing, and it can also be the most negative and detrimental thing." – Zendaya
"In general, we're a social network. I prefer that because I think it is focused on the people part of it – as opposed to some people call it social media, which I think focuses more on the content." – Mark Zuckerberg

"Much of social media can be seen as the 'News of me.' It's not so much a platform for connecting and sharing as it is a platform for advertising the idea of yourself you want to portray to others: the image of yourself you want to project." – Hozier
Positive Quotes About Social Media
"Social media doesn't create negativity, it uncovers it." – Jay Baer

"Social media is just a buzzword until you come up with a plan." – Felicia Lin
"Technology and social media have brought power back to the people." – Mark McKinnon

"Make as much time to dream as you do to scroll. A dream, after all, comes before every goal." – Unknown
"When you're trying to bust through the noise on social media, you do have to be overt and loud." – Shaun King

"Social media is here. It's not going away; not a passing fad. Be where your customers are: in social media." – Lori Ruff
"I'm trying to embrace social media because it gives artists a little more power than we've had in the past." – Billy Porter

"I use social media as an idea generator, trend mapper and strategic compass for all of our online business ventures." – Paul Barron
"The future is in photos for social media. More and more people are not reading, so I try to attach a photo to most Tweets." – Tyra Banks

"People are always telling you you're done. Someone's always telling you that, especially now in the day of social media." – Billy Crystal
"I give big ups to people who are very big on social media, whether they're doing vlogs or whatever. It takes a lot of effort." – Shawn Mendes

"A lot of people use social media to share mundane things or for self-glorification. I try to use it to share interesting things with people." – Ashton Kutcher
"99.5 percent of the people that walk around and say they are a social media expert or guru are clowns. We are going to live through a devastating social media bubble." – Gary Vaynerchuk

"Social media has definitely revolutionized or transformed the world of pageantry, and not just pageantry, but any social cause that we like to lend our voice to, how we inform each other, how we connect." – Catriona Gray
"Examining your behavior on social media could give you insight into your own personality as well as how others perceive you." – Amy Morin
Negative Social Media Quotes
Social media has been linked to a rise in addiction and social isolation, as individuals spend more and more time on these platforms at the expense of real-life interactions and activities.
One of the most significant negative effects of social media is the potential for cyberbullying, where individuals can use social media platforms to harass, humiliate, and intimidate others.
"Social media is not a safe space." – Tarana Burke                                                                                                                                       
"There's so much negativity on social media, I don't want to add to that." – Shawn Mendes
"There are positive things that come of social media as well as negative." – Millie Bobby Brown
"We don't have a choice on whether we DO social media, the question is how well we do it." – Erik Qualman
"Social media is less about technology and more about anthropology. sociology, and ethnography." – Brian Solis
"I think there should be regulations on social media to the degree that it negatively affects the public good." – Elon Musk
"The more social media we have, the more we think we're connecting, yet we are really disconnecting from each other." – JR
"Using social media to hurt and destroy is callous, acted out by cowards hiding behind computers. My advice is to ignore negativity. Focus on the love around." – Martin Garrix
"I feel social media can be very distracting, unhealthy, and harmful to one's self-confidence. I don't even log on to it on my phone except when I post something on Instagram." – Rupi Kaur
"Everyone is comparing lives on social media and wants the perfect body, perfect image, perfect outfit, perfect life – we're striving for this perfection, and it's so unhealthy because there's no such thing as perfection." – Emily Atack
Famous Social Media Quotes
"No posting, no liking, just living." – Unknown
"Social media is not always a true reflection of real life and no place to judge your worth!" – Olivia Rodrigo
"Social media is not about the exploitation of technology but service to the community." – Simon Mainwaring
"Social media is an amazing tool, but it's really the face-to-face interaction that makes a long-term impact." – Felicia Day
"Social media is reducing social barriers. It connects people on the strength of human values, not identities." – Narendra Modi
"The social-media landscape changes incredibly fast, so you have to be open-minded and nimble to keep up with it." – Alexis Ohanian
"Social Media is about the people! Not about your business. Provide for the people and the people will provide for you." – Matt Goulart
"A large social-media presence is important because it's one of the last ways to conduct cost-effective marketing." – Guy Kawasaki
"The first rule of social media is that everything changes all the time. What won't change is the community's desire to network." – Kami Huyse
"It's a dialogue, not a monologue, and some people don't understand that. Social media is more like a telephone than a television." – Amy Jo Martin
"Build it, and they will come only works in the movies. Social Media is a "build it, nurture it, engage them, and they may come and stay." – Seth Godin
"When it comes to social media marketing, you don't have to post 3 times a day. It's never about how often you post but the quality of your content." – Janet Benson Amarhavwie
"Listening to teens talk about social media addiction reveals an interest not in features of their computers, smartphones, or even particular social media sites but in each other." – Danah Boyd
"Social media is changing the way we communicate and the way we are perceived, both positively and negatively. Every time you post a photo, or update your status, you are contributing to your own digital footprint and personal brand." – Amy Jo Martin
Social Media Quotes To Create Influence
"Don't use social media to impress people; use it to impact people." – Dave Willis                                                               
"Social media is about sociology and psychology more than technology." – Brian Solis                                                                       
"Pushing a company agenda on social media is like throwing water balloons at a porcupine." – Erik Qualman
"Social media is not just a spoke on the wheel of marketing. It's becoming the way entire bicycles are built." – Ryan Lilly
"When you give everyone a voice and give people power, the system usually ends up in a really good place." – Mark Zuckerberg
"Engage, Enlighten, Encourage, and especially…just be yourself! Social media is a community effort, everyone is an asset." – Susan Cooper                                                                                                                         
"Successful companies in social media function more like entertainment companies, publishers, or party planners than as traditional advertisers." – Erik Qualman
"We have technology, finally, that for the first time in human history allows people to really maintain rich connections with much larger numbers of people." – Pierre Omidyar
"When it comes to social media, there are just times I turn off the world, you know. There are just sometimes you have to give yourself space to be quiet, which means you've got to set those phones down." – Michelle Obama
"Social media is not just an activity; it is an investment of valuable time and resources. Surround yourself with people who not just support you and stay with you, but inform your thinking about ways to WOW your online presence" – Sean Gardner
Trending Quotes On Social Media
"You are what you share." – Charles W. Leadbeater                                                                                                               
"Our head of social media is the customer." – McDonald's
"Social media creates communities, not markets." – Don Schultz
"Social Media puts the "public" into PR and the "market" into marketing." – Chris Brogan                                                 
"When creating a social media campaign, make sure you know your audience well." – Liz Azyan
"Social media is not a media. The key is to listen, engage, and build relationships." – David Alston
"Social media is the ultimate equalizer. It gives a voice and a platform to anyone willing to engage." – Amy Jo Martin
"Social media changes the relationship between companies and customers from master and servant to peer to peer." – Jay Baer
"It becomes very difficult for us to adjust to a world without social media because we spend so much time involved with it." – Kim Stolz
"Social media is your platform to build a unique fan base while you express yourself exactly how you see yourself. Build wisely." – Germany Kent
Funny Social Media Quotes
Social media can also be a source of entertainment and humor!
Memes, jokes, and funny videos are all popular forms of content on social media that can help lighten the mood and bring a smile to people's faces.
In fact, some social media influencers have built their entire brand around humor and entertainment.
Platforms like TikTok are particularly popular for funny and creative short-form videos that showcase people's talents, wit, and comedic timing.
"Content is fire. Social media is gasoline." – Jay Baer                                                                                                             
"Social media allows big companies to act small again." – Jay Baer
"Social media policies will never be able to cure stupid." – Nichole Kelly
"Privacy is dead, and social media holds the smoking gun." – Pete Cashmore                                                                           

private life social media quotes

"The thought that so many people get their news from social media really is scary." – Rush Limbaugh
"How different would people act if they couldn't show off on social media? Would they still do it?" – Donna Lynn Hope
"It's amazing how much information we share in social media, then we wonder why people steal our identity." – Frank Abagnale
"If you make customers unhappy in the physical world, they might each tell 6 friends. If you make customers unhappy on the Internet, they can each tell 6,000 friends." – Jeff Bezos
Do You Need A Social Media Detox?
A social media detox involves taking a break from social media for a period of time in order to reduce stress, improve mental health, and promote mindfulness.
Social media can be a major distraction, taking up valuable time and energy. By disconnecting from social media, individuals may find that they are more productive and focused on their work.
Research has shown that excessive social media use can be linked to depression, anxiety, and low self-esteem. A social media detox can help to improve overall mental health and well-being.
Social media can lead to feelings of social comparison and FOMO (fear of missing out), which can strain relationships.
Taking a break from social media can help individuals to be more present in their relationships and focus on real-world interactions.
Social media addiction can have negative effects on an individual's mental health, relationships, and productivity.
It is important to be aware of their social media use and to take steps to limit their time on these platforms if they feel that it is negatively impacting their well-being.
Social media has become a breeding ground for fake news, misinformation, and propaganda. Thus disconnecting from social media platforms for a while will give you some time to be with your thoughts and be away from fakeness around.
Conclusion
Thus a social media detox can be a valuable tool for individuals to promote mindfulness, reduce stress, and improve their mental health.
It is important to approach social media use mindfully and to take breaks when necessary to prioritize self-care.
Feel free to share these uplifting quotes and images with friends and family on Facebook, Instagram, WhatsApp, Tumblr, Pinterest, and more to spread some wise words to inspire others.
About The Author