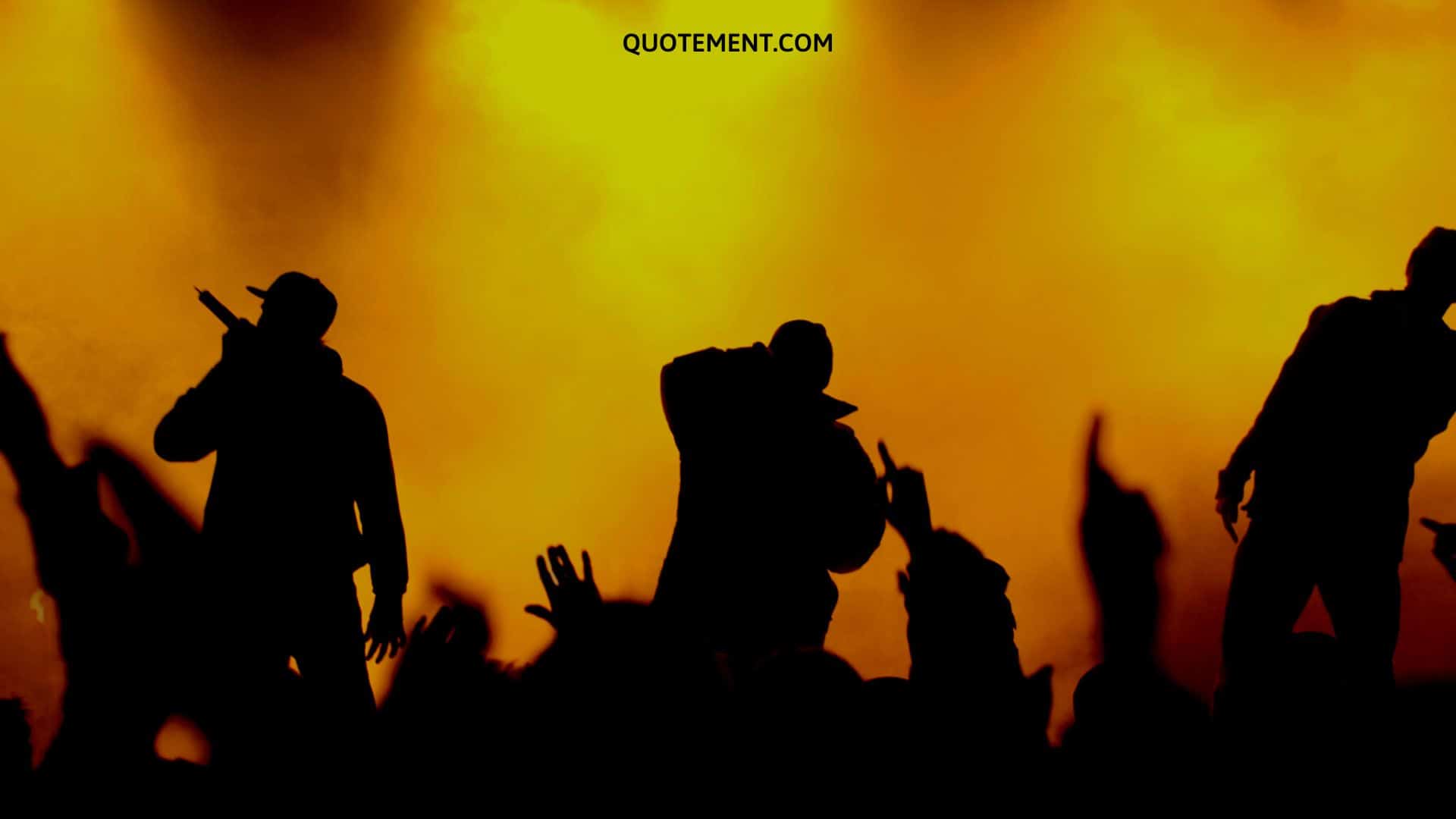 Are you passionate about rap music? Well, if you are, then you must have been looking for Insta caption ideas that'll show your love and appreciation for rap artists!
Of course, you may have also been searching for relatable rap lyrics that would perfectly fit your next Insta post.
It wasn't long time ago that I was looking for caption ideas inspired by my favorite rap artists, so I thought it'd be a great idea to compile legendary and iconic lyrics all in one place!
So, today I'll share with you my list of top 120 rap captions for Instagram inspired by different female and male rappers, such as Nicki Minaj, M.I.A., Cardi B, RUN DMC, Dr. Dre, Eminem, Will Smith, and many more! 
If this sounds good, read on! 
Best Rap Lyrics For Captions
1. Dressed in Locs and Khaki suits, and ride is what we do. – 2Pac Shakur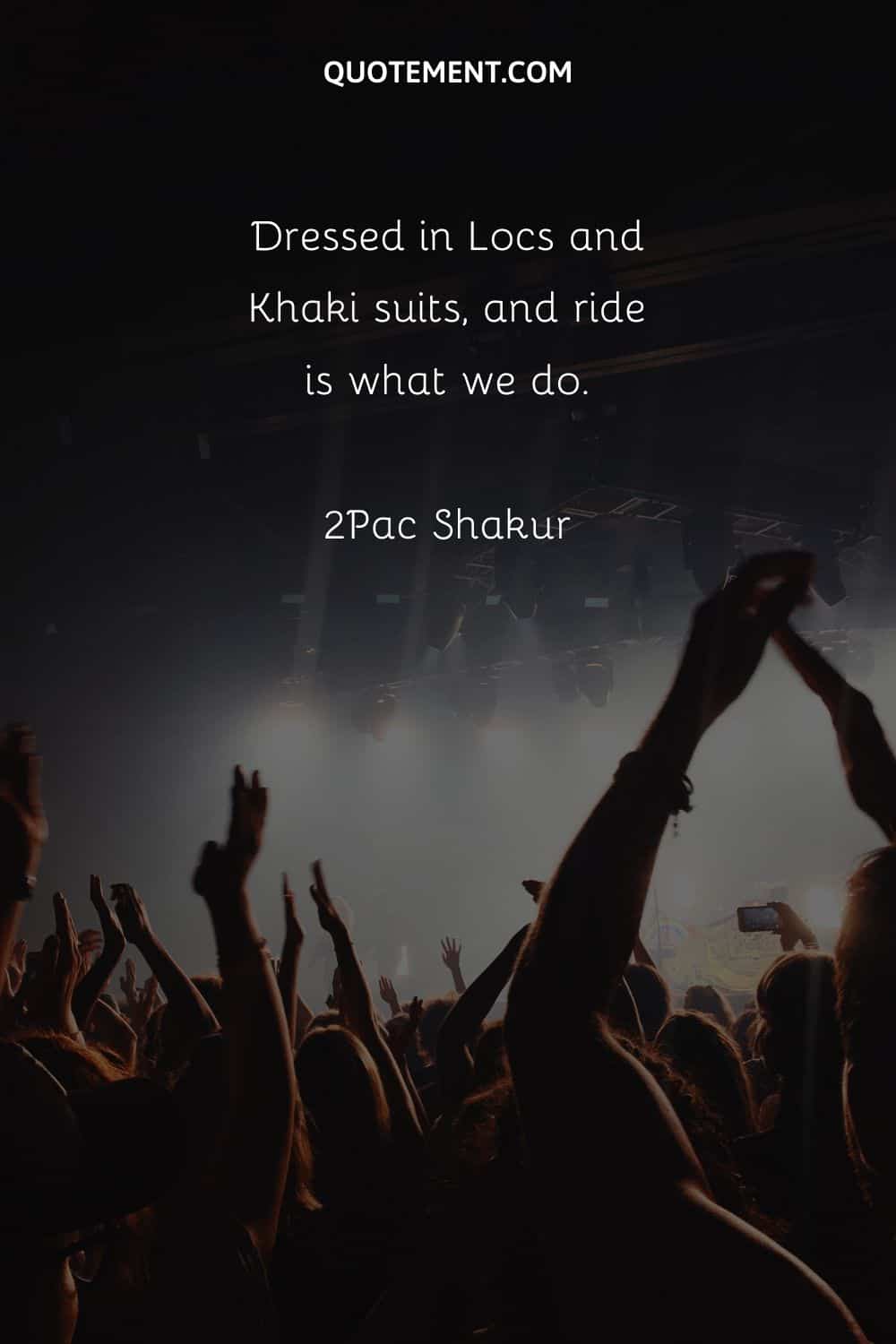 2. I've created a monster 'Cause nobody wants to see Marshall no more. – Eminem
3. Don't ask me, because I don't know why, but it's like that, and that's the way it is. – RUN DMC
4. And you will never know a God without a Goddess. – Doja Cat
5. Here come the Men In Black. It's the MIB's, uh, here come the MIB's. – Will Smith
6. This twisted cat and mouse game, always starts the same. – Iggy Azalea
7. You think you're the only girl doing grime, M to the B says, "Step in line". – Millie B
8. Love you like I'll never see you again. – Swae Lee
9. He's nervous, but on the surface he looks calm and ready. – Eminem
10. Live fast, die young, bad girls do it well. – M.I.A.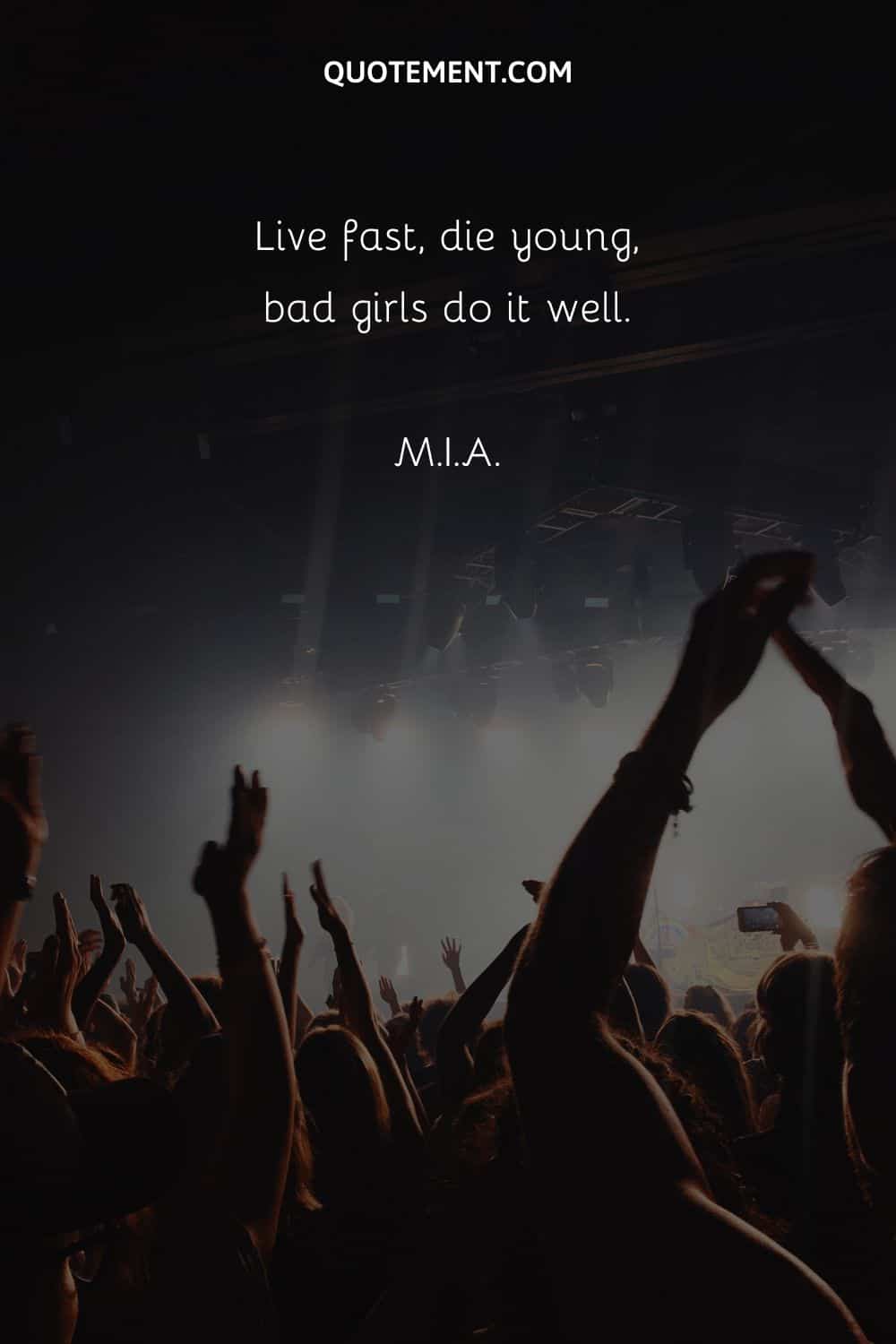 Legendary Rap Lyrics For Your Next Post
1. I just want my money, chips, guap, and queso. – Cardi B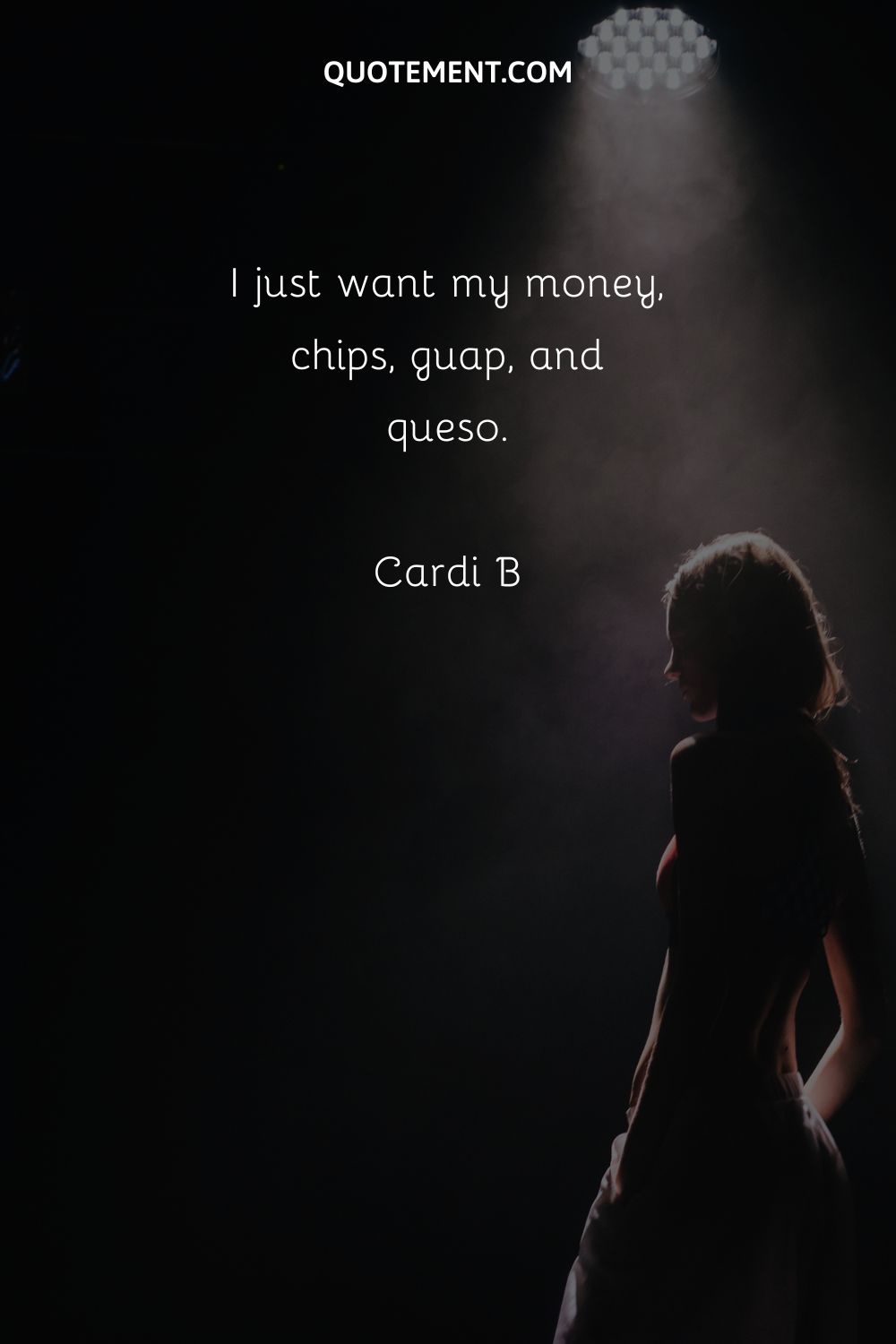 2. Still takin' my time to perfect the beat and I still got love for the streets, it's the D.R.E. – Dr. Dre
3. A man don't really love you if he hits ya. This is my notice to the door, I'm not takin' it no more. – Queen Latifah
4. I'm a b*tch, I'm a boss, I'm a b*tch and a boss, I'ma shine like gloss. – Doja Cat
5. I am not fly, I am levitation, I represent an entire generation. – Nicki Minaj
6. My chain hits my chest when I'm banging on the dashboard, my chain hits my chest when I'm banging on the radio. – M.I.A.
7. Said, bitch, I'm the after, you've been the before. I been the stallion, you been the seahorse. Don't need a report, don't need a press run, all of my bad pics been all my best ones. I wear the hat and I wear the pants, I am advanced so I get advance, and I do my dance and cancel the plans. – Doja Cat
8. Instinct leads me to another flow every time I hear a brother call a girl a bitch or a ho, tryna make a sister feel low. – Queen Latifah
9. The good guys dress in black, remember that, just in case we ever face to face and make contact, the title held by me, MIB. – Will Smith
10. Baby, it's your world, ain't it? – Nicki Minaj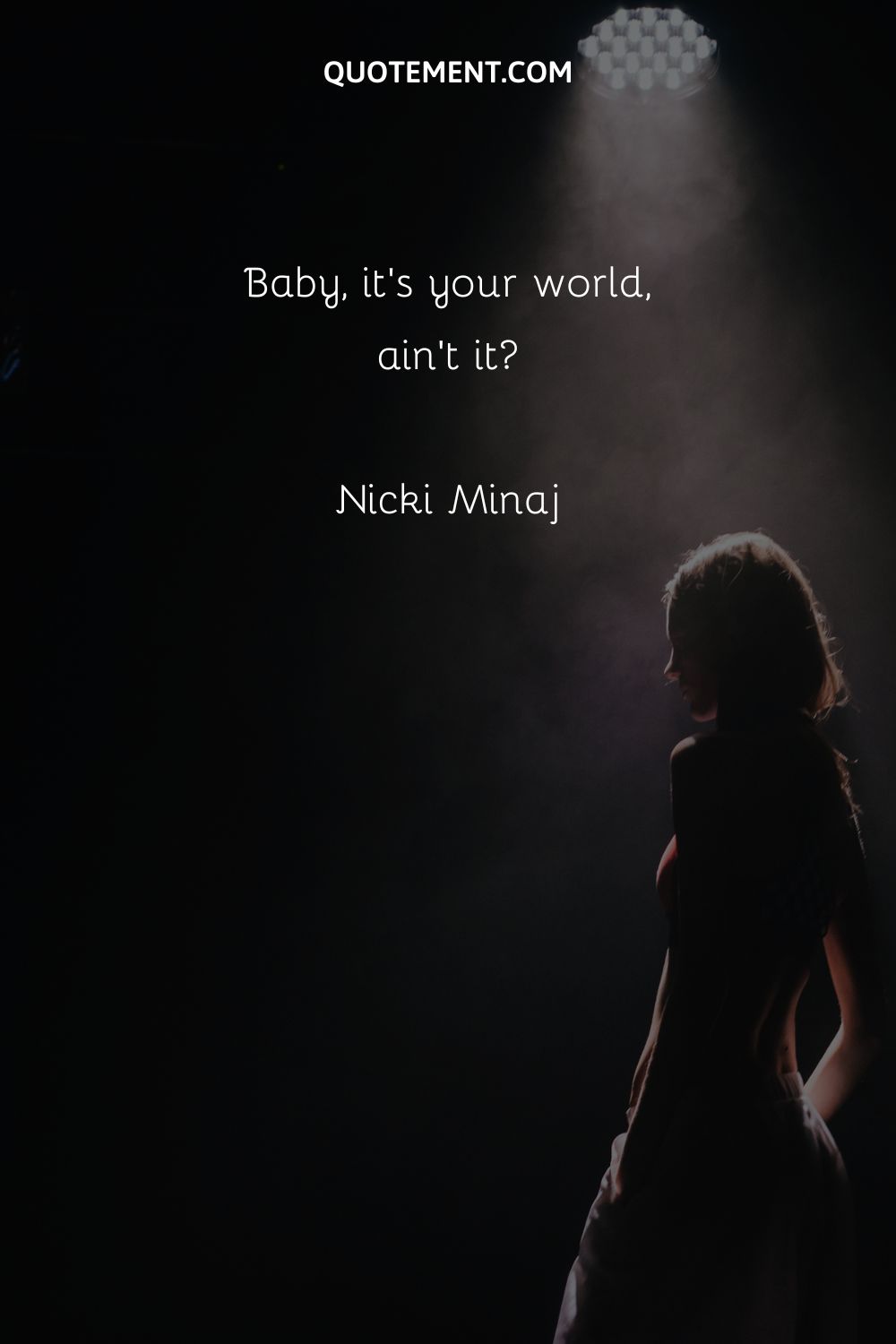 11. Still got love for the streets, reppin' 213 (For life), still the beats bang, still doin' my thang. Since I left ain't too much changed, still. – Dr. Dre
12. And I could be on everything, I mean I could be the leader, head of all the states. I could smile and jiggle it 'til his pockets empty. I could be the CEO, just look at Robyn Fenty. – Doja Cat
13. Dominicana, drippin' in designer, I got the juice, no Tropicana, I got the box that got the most flavor. Big fat cat like in the bodegas still making money moves. – Cardi B
14. Pero hice todo este llanto por nada, ahora soy una chica mala, and now you kickin' and screamin', a big toddler. Don't try to get your friends to come holla, holla. – Nicki Minaj
15. I'm a Dade County, self-paid, self-made millionaire, I used to play around the world, now I'm around the world, gettin' paid. Girl problems, no problems, don't hate the game, that won't solve it. – Pitbull
16. It was us against the world, and now we just fuc*in'? – Iggy Azalea
17. Black suits with the black Ray Bans on, walk in shadow, move in silence. – Will Smith
18. Yo, ayo tonight is the night that I'ma get twisted. Myx Moscato and vodka, I'ma mix it. Roll that spaceship, we about to get lifted. Live in the present, that gift is for the gifted. – Nicki Minaj
19. You were different from my last, but now, you've got 'em mirrored, and as it all plays ou,t I see it couldn't be clearer. – Iggy Azalea
20. I'm coming in the Cherokee gasoline, there's steam on the window screen. Take it, take it, wheels bouncing like a trampoline. When I get to where I'm going, gonna have you trembling. – M.I.A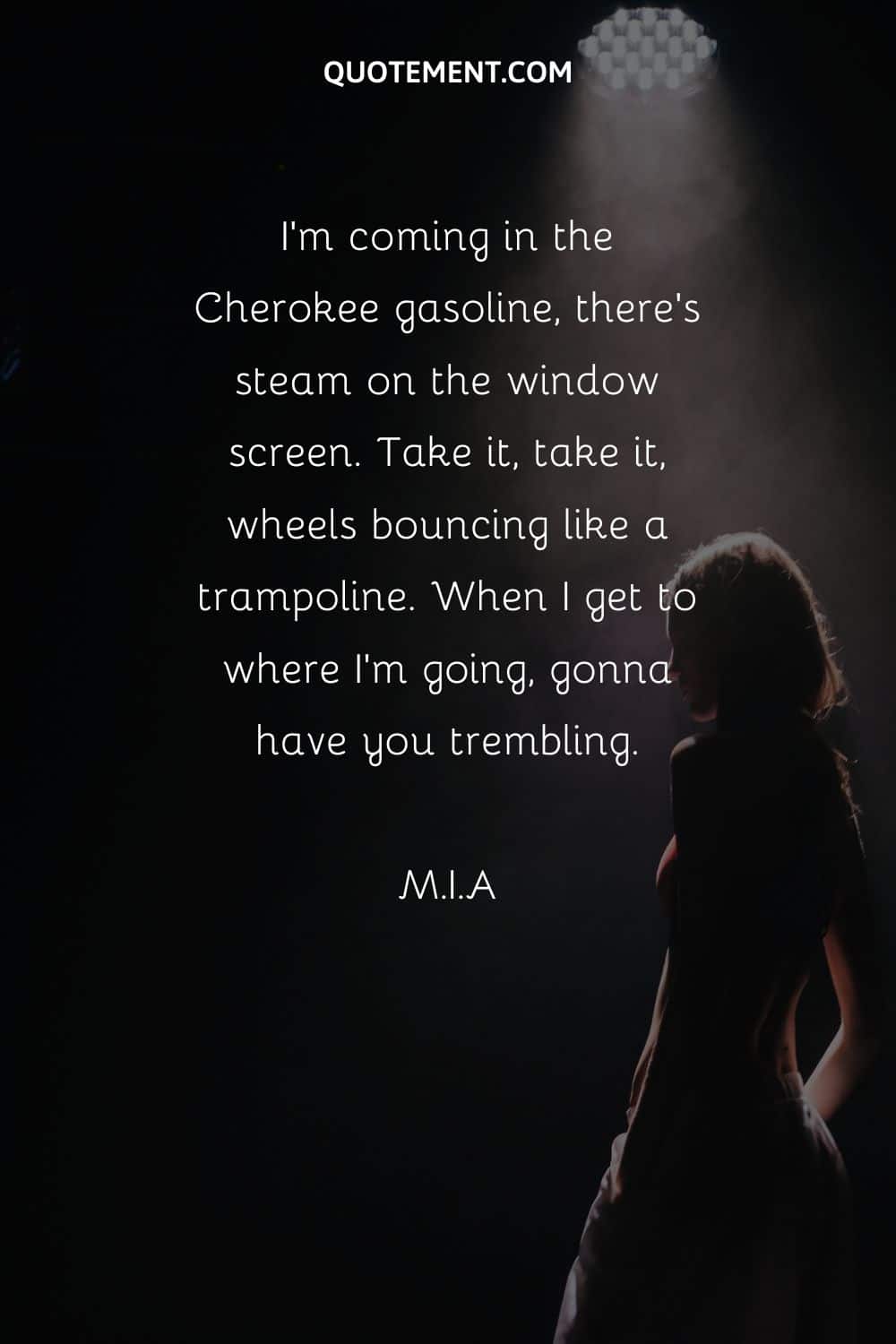 Brilliant Rap Lyrics For Instagram Captions
1. I just took a DNA test, turns out I'm 100% that b*tch. – Lizzo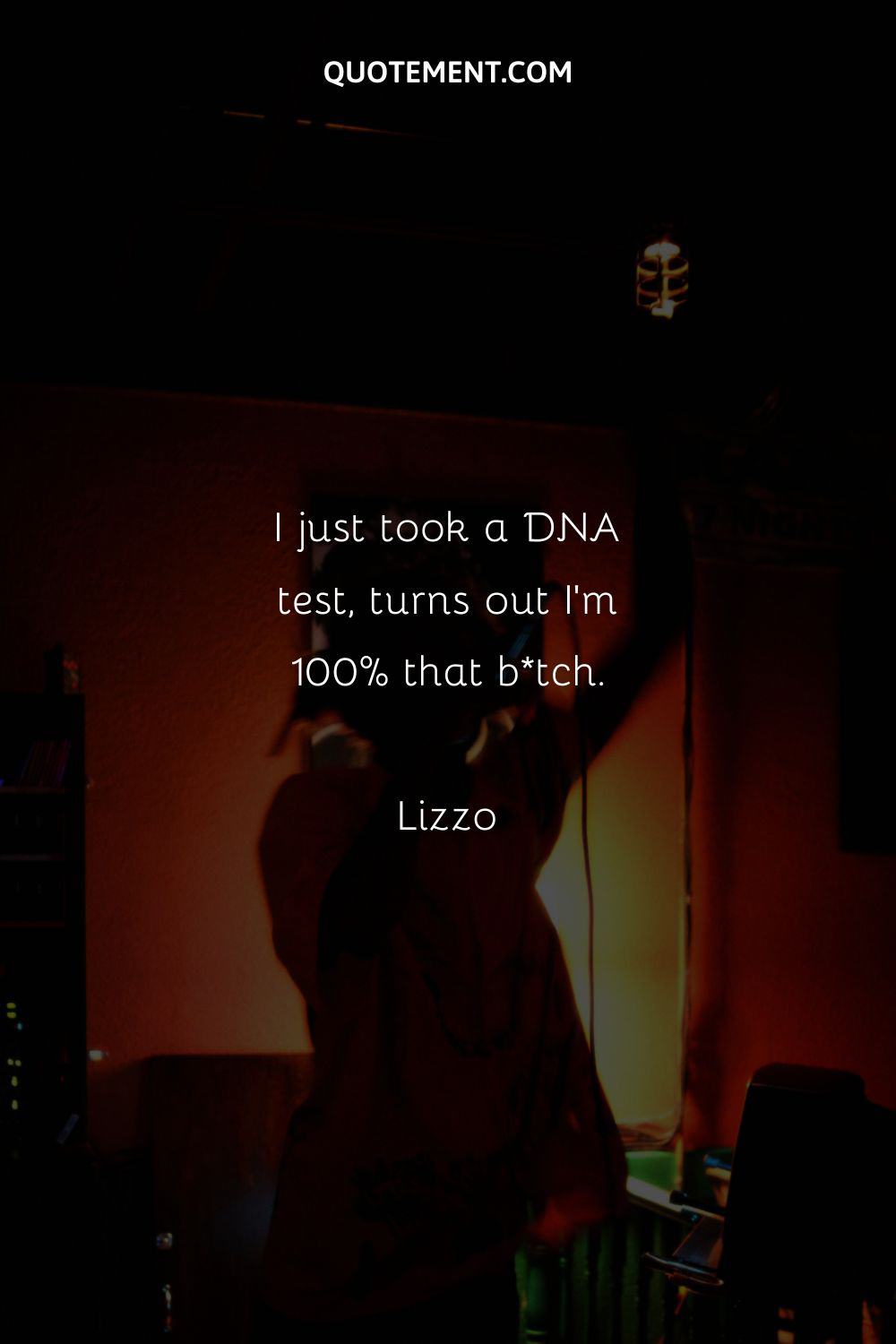 2. It's like I loved you so much that now I just hate you. Feelin' stupid for all the time that I gave you. I wanted all or nothin' for us, ain't no place in between. Might–might be me believing what you say that you'll never mean. – Iggy Azalea
3. I ain't tryna make new friends, got requests still pendin'. – DaniLeigh
4. Cremate my body, let the ocean have what's left of me, but for now forget about that. Blow the whistle baby, you the referee. – Pitbull
5. Walkin' with my back to the sun, keep my head to the sky. – Denzel Curry
6. Everyone's a winner, we're making our fame, bona fide hustler making my name. – M.I.A.
7. Watch your step with flex and get a hole in your side, swallow your pride, don't let your lip react. – Will Smith
8. Never wanted you to stay too long, just wanted you to show me off. – Summer Walker
9. You can't catch me boy, I'm overseas at about a 100g's for sho', don't test me boy. – Pitbull
10. I'm buying the building of every door that closed on me. – Drake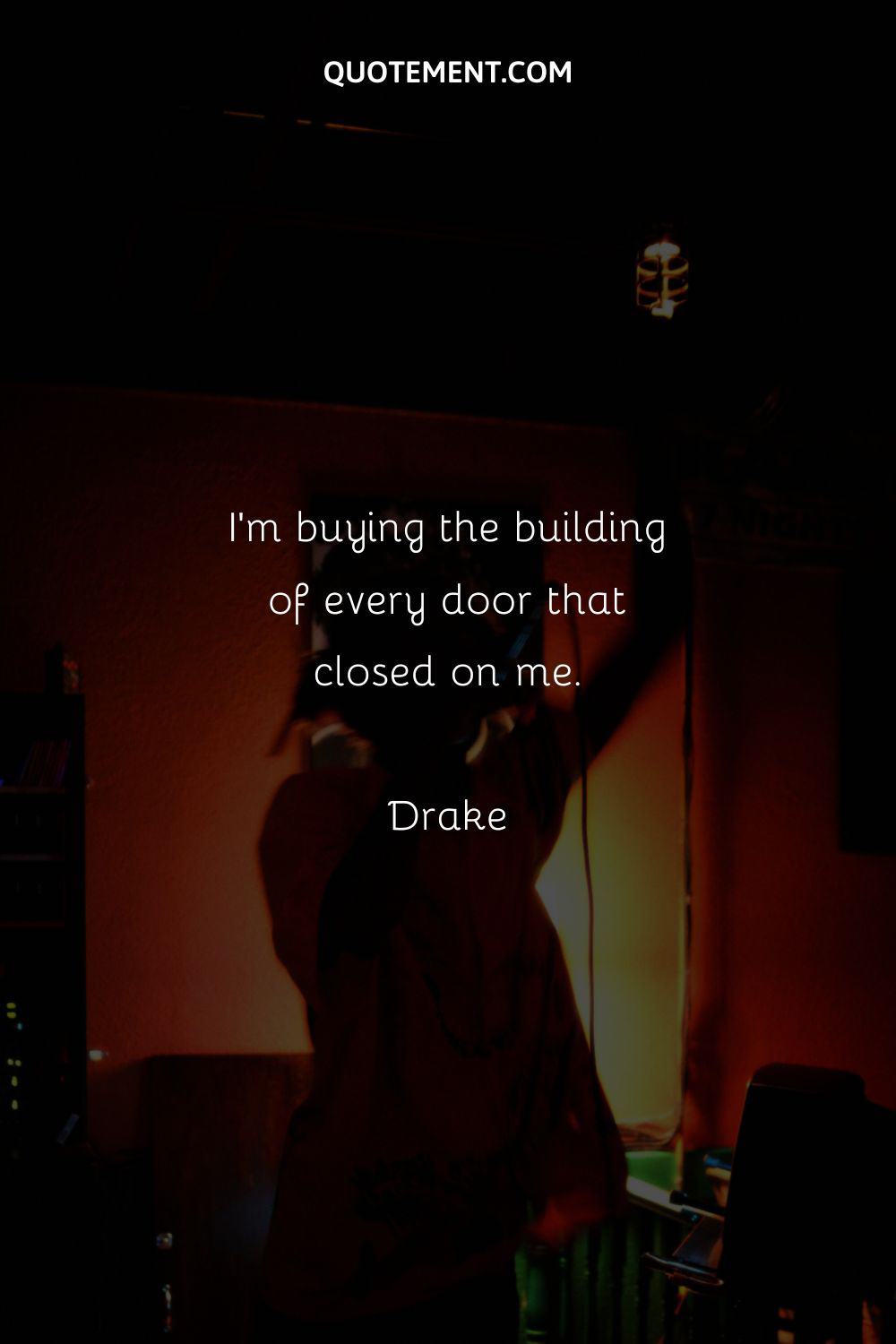 11. Swag on max, got no legs, bitch, I'm floating. – Schoolboy Q
12. Though I've grown a lot, can't keep it home a lot cause when I frequent the spots that I'm known to rock. You hear the bass from the truck when I'm on the block. – Dr. Dre
13. I'm the highest in the room. – Travis Scott
14. I cannot hide in hills of California because these hills have eyes and I got paranoia. – Machine Gun Kelly
15. I know you think that Brad Pitt is hot, but you know I'm hotter. – Foggieraw
16. My bi*ches hustle, make money together, your bi*ches birds and they flockin together. – Megan Thee Stallion
17. I paid five thousand for my fit, I'm not fitting in. – Teejayx6
18. I need to not measure my success in precious jewels. – Guapdad 4000
19. Now let me welcome everybody to the wild, wild west, a state that's untouchable like Eliot Ness, the track hits your eardrum like a slug to your chest. – Dr. Dre
20. Believe in your flyness, conquer your shyness. – Kanye West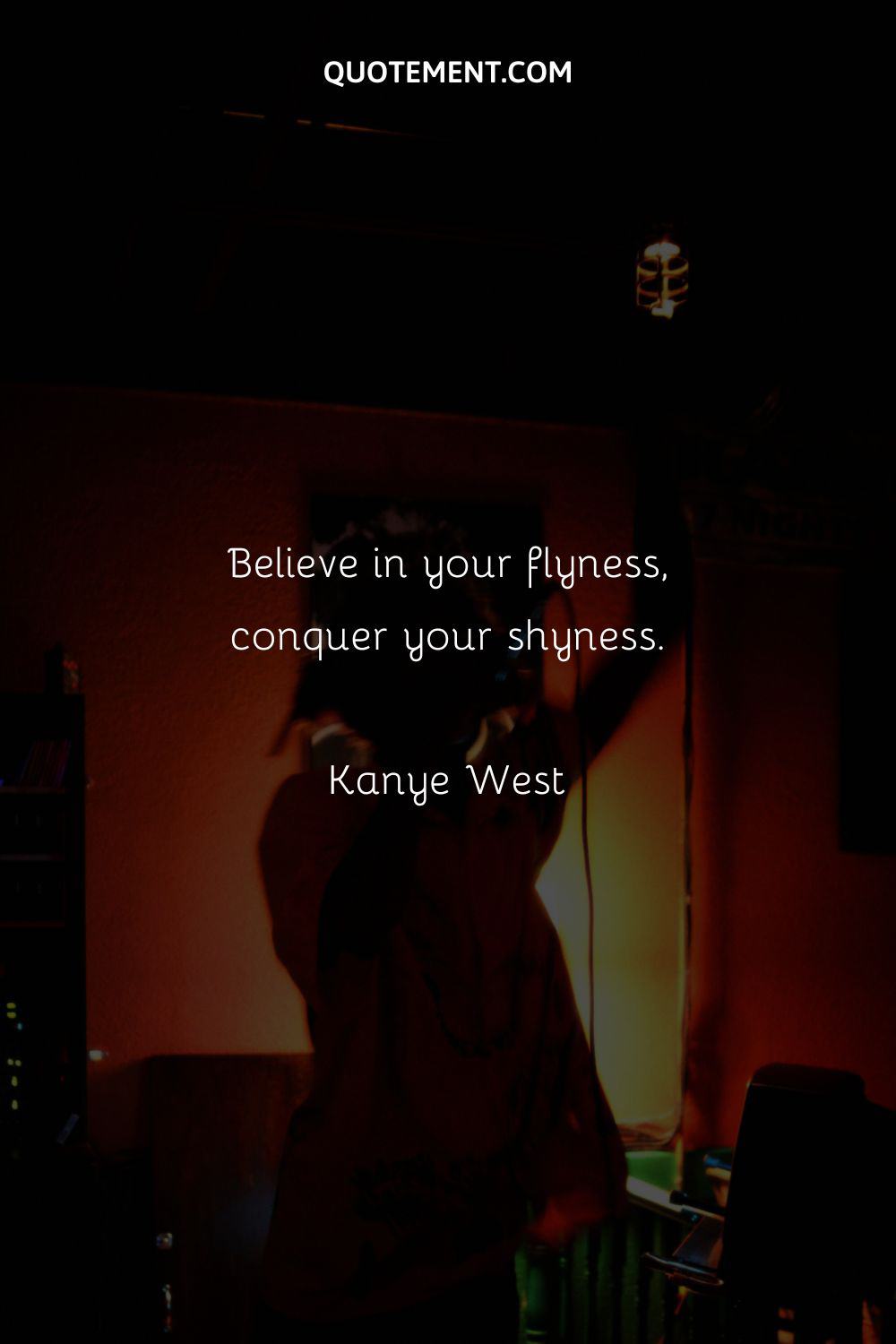 Iconic Rap Captions For Instagram
1. Out on bail, fresh out of jail, California dreaming. – 2Pac Shakur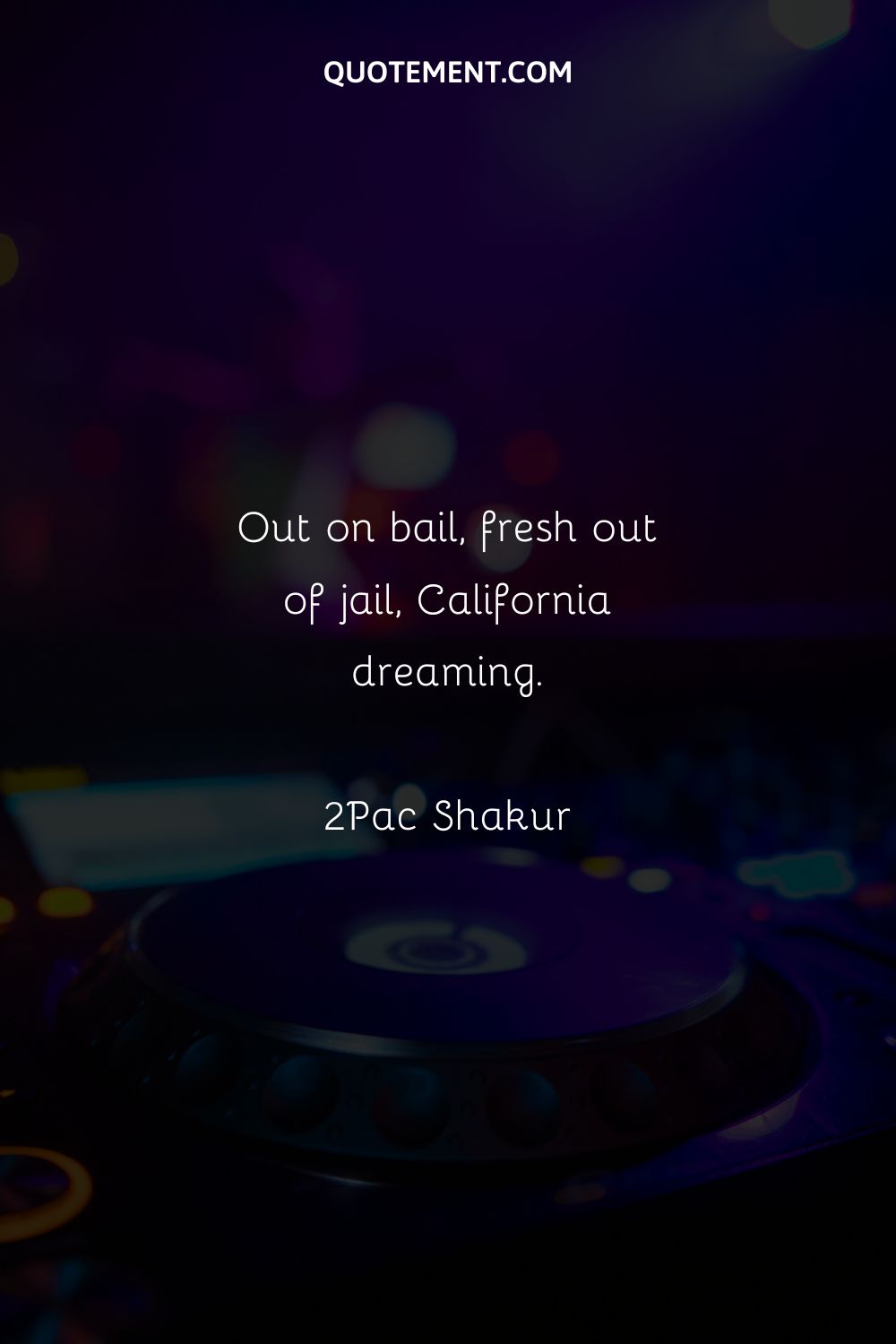 2. Had to set the record straight 'cause bit*hes love to assume. – Cardi B
3. Now this looks like a job for me, so everybody, just follow me, 'cause we need a little controversy 'cause it feels so empty, without me. – Eminem
4. It's tricky to rock a rhyme, to rock a rhyme that's right on time. – RUN DMC
5. Don't ask me sh*t, make me lie to you motherfu*ker. – T.I.
6. They say I act like I'm the man, cause motherfu*ka I am. – J. Cole
7. If you got money, and you know it, take it out your pocket and show it. – Lil' Wayne
8. Bi*ch I'm back out my coma. – Kanye West
9. When the pimp's in the crib ma, drop it like it's hot. – Snoop Dogg
10. First things first, I get all the money. – Tyga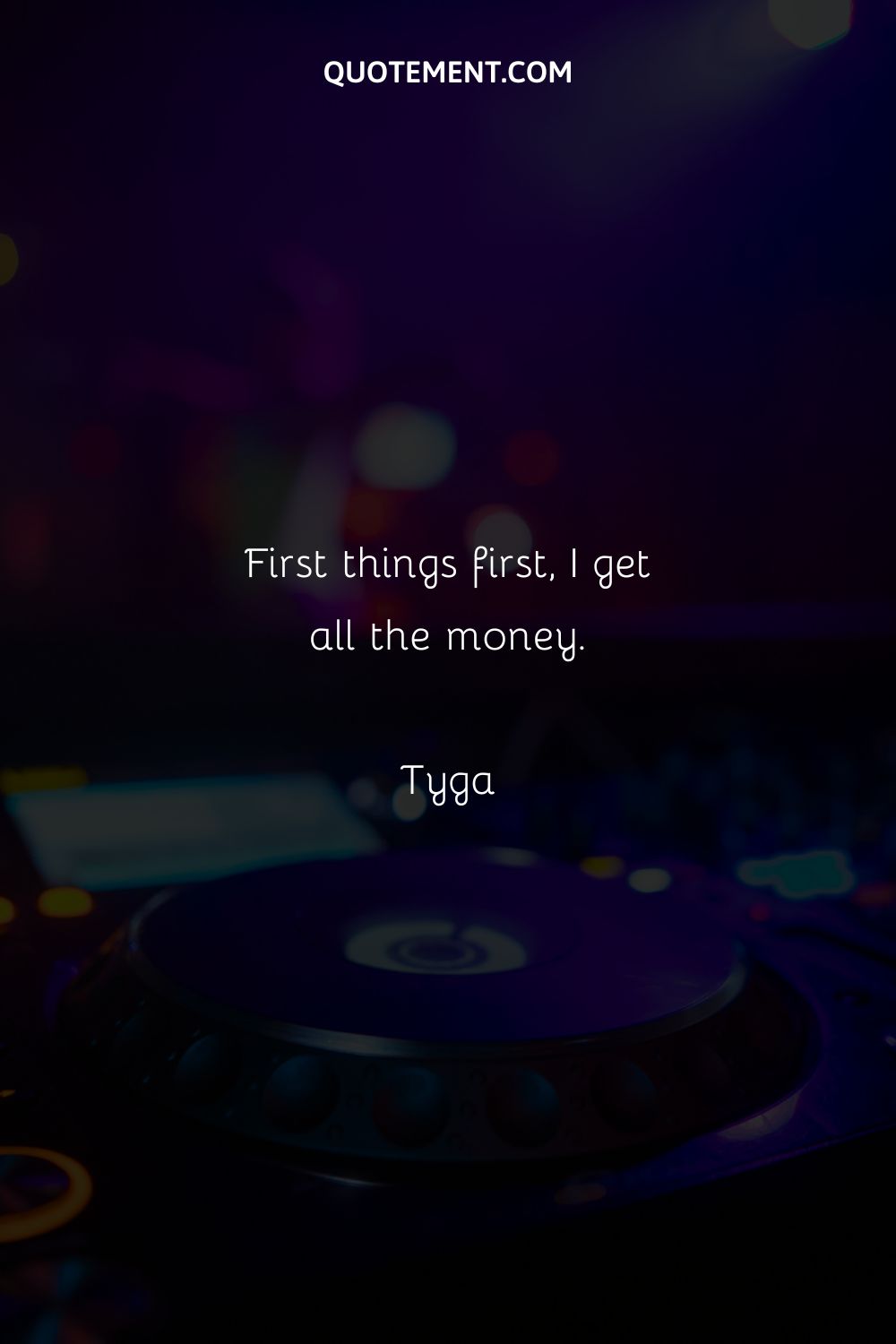 11. I can swallow a bottle of alcohol and I'll feel like Godzilla. – Eminem
12. Said, "I'm the sh*t, they can't fu*k with me if they wanted to". God damn. – Cardi B
13. Got so many chains they call me Chaining Tatum. – Drake
14. Go downtown and eat it like a vulture. – Missy Elliot
15. Lord only knows how I got in those shoes. I was covered in dollars, now I'm drippin' in jewels. A bi*ch play with my money? Might as well spit in my food. Bit*hes hated my guts, now they swear we was cool. Went from makin' tuna sandwiches to makin' the news. – Cardi B
16. I am not Jasmine, I am Aladdin. – Nicki Minaj
17. Money like a shower, that's my rain dance and we all in black, like it's gangland. – Tyga
18. Nothing can stop me, I'm all the way up. – Fat Joe
19. Arms around you, te amo, mami, let me hold you, got my arms right around you, girl, oi, good lovin', arms all around you to make sure no one could harm you. – XXXTentacion
20. I ain't tellin' y'all to do it, I'm just tellin' my story. – Cardi B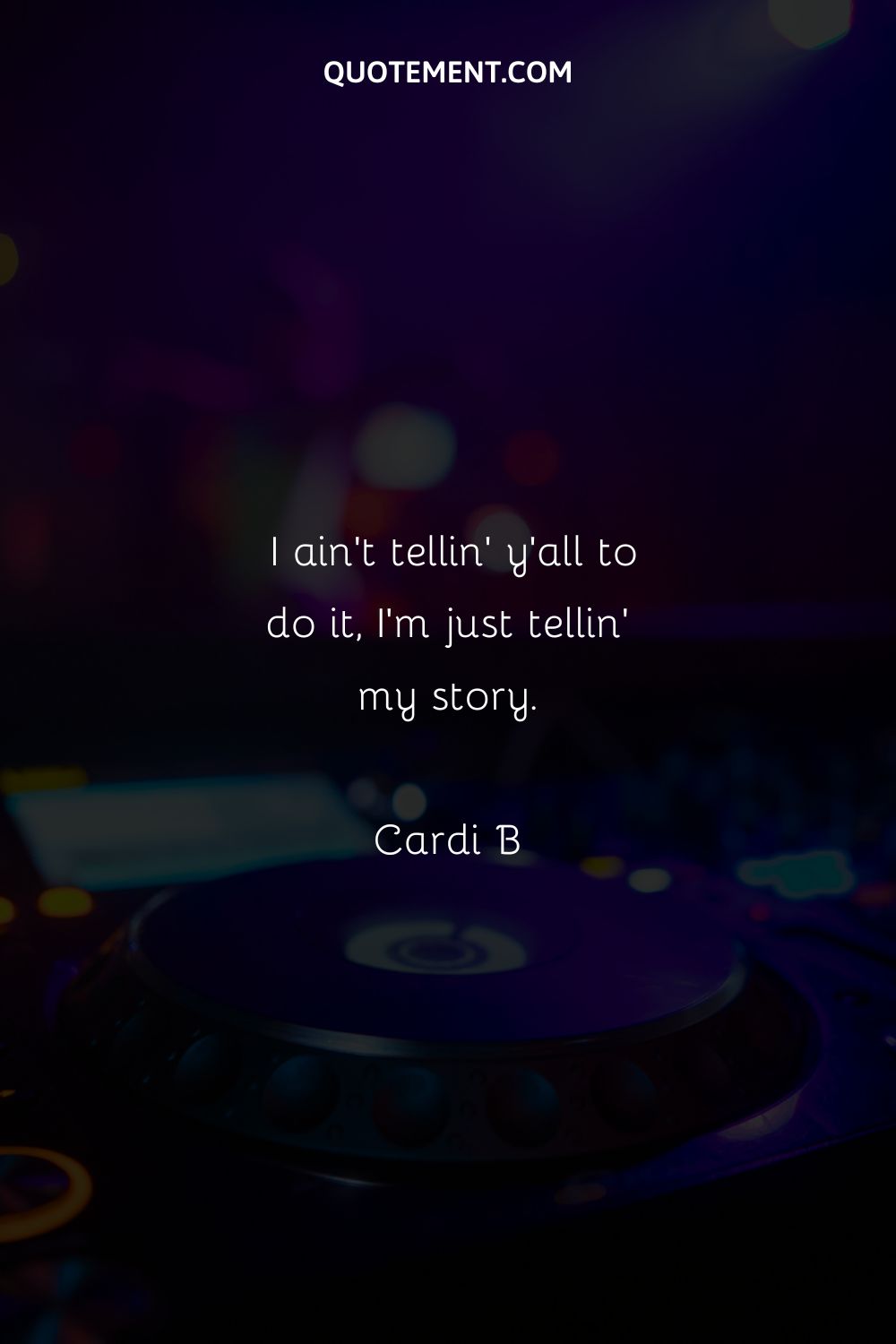 Intriguing Rap Captions 
1. Look, if you had one shot or one opportunity to seize everything you ever wanted in one moment, would you capture it? Or just let it slip? – Eminem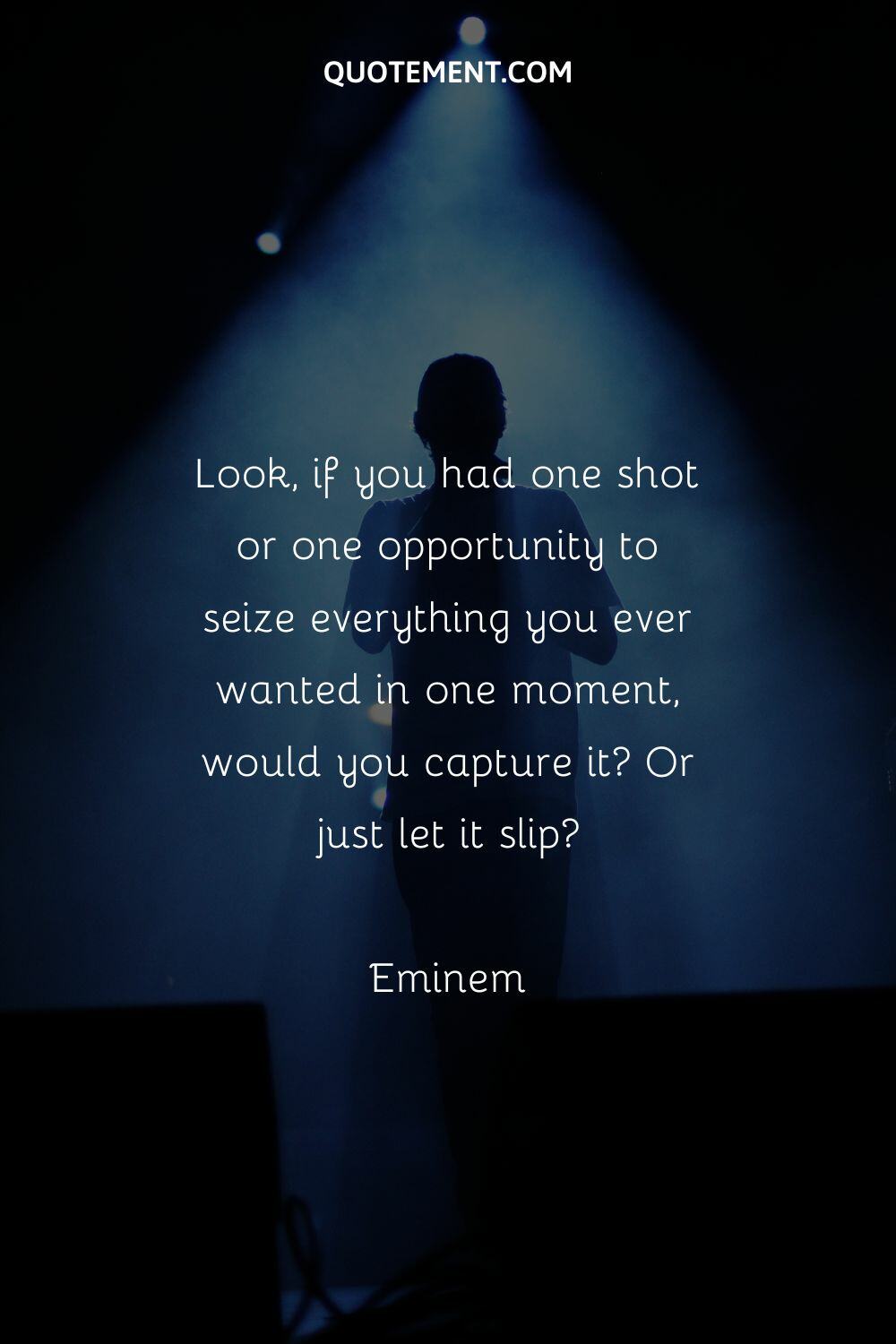 2. Won't you tell me last time that love bought you clothes? – RUN DMC
3. So the next time you feel like your world is about to end, I hope you studied because he's testing your faith. – Kendrick Lamar
4. You better lose yourself in the music, the moment, you own it. You better never let it go. You only get one shot, do not miss your chance to blow. This opportunity comes once in a lifetime. – Eminem
5. Look, they gave a bi*ch two options: strippin' or lose. – Cardi B
6. People in the world try to make ends meet, you try to ride car, train, bus, or feet. I said you got to work hard to want to compete. It's like that, and that's the way it is. – RUN DMC
7. And the red sun sinks at last into the hills of gold, and peace to this young warrior without the sounds of guns. – 2Pac Shakur
8. I don't wanna die for them to miss me. – Drake
9. Mom, I love you, but this trailer's got to go. – Eminem
10. I hit the bottom, there ain't nowhere else to go but up, bad days at work give you an attitude, and you erupt. – Queen Latifah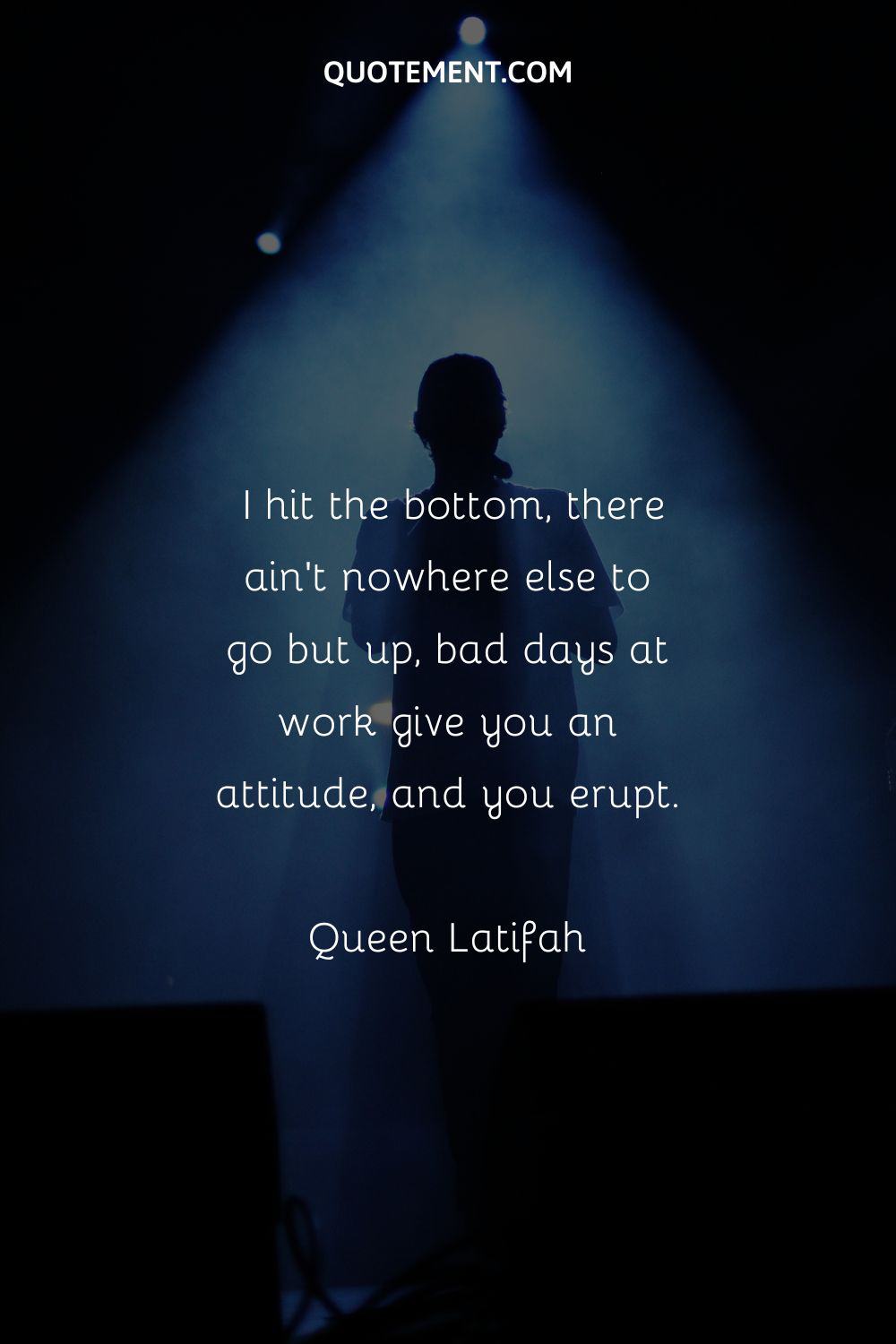 11. If I see you and I don't speak, that means I don't fu*k with you. I'm a boss, you a worker, bit*h, I make bloody moves. – Cardi B
12. Yeah, pull up to the bumper game, read the signal. Cover me, 'cause I'm changing lanes, had a handle on it. My life, but I broke it. – M.I.A.
13. My love is emergency and I can sense the urgency. – Swae Lee
14. I don't know what you heard about me, but a bi*ch can't get a dollar out of me. – 50 Cent
15. Would you have made me quit smokin' by finding one of my lighters? – Flypside
16. I'm not a businessman, I'm a business, man. – Jay Z
17. And nowadays things change, everyone's ashamed of the youth 'cause the truth look strange, and for me it's reversed. We left them a world that's cursed and it hurts. – 2pac Shakur
18. Bills rise higher every day, we receive much lower pay. I'd rather stay young, go out and play. It's like that, and that's the way it is. – RUN DMC
19. Money is the key to end all your woes. – RUN DMC
20. My vision of a family was artificial and fake. – Flypside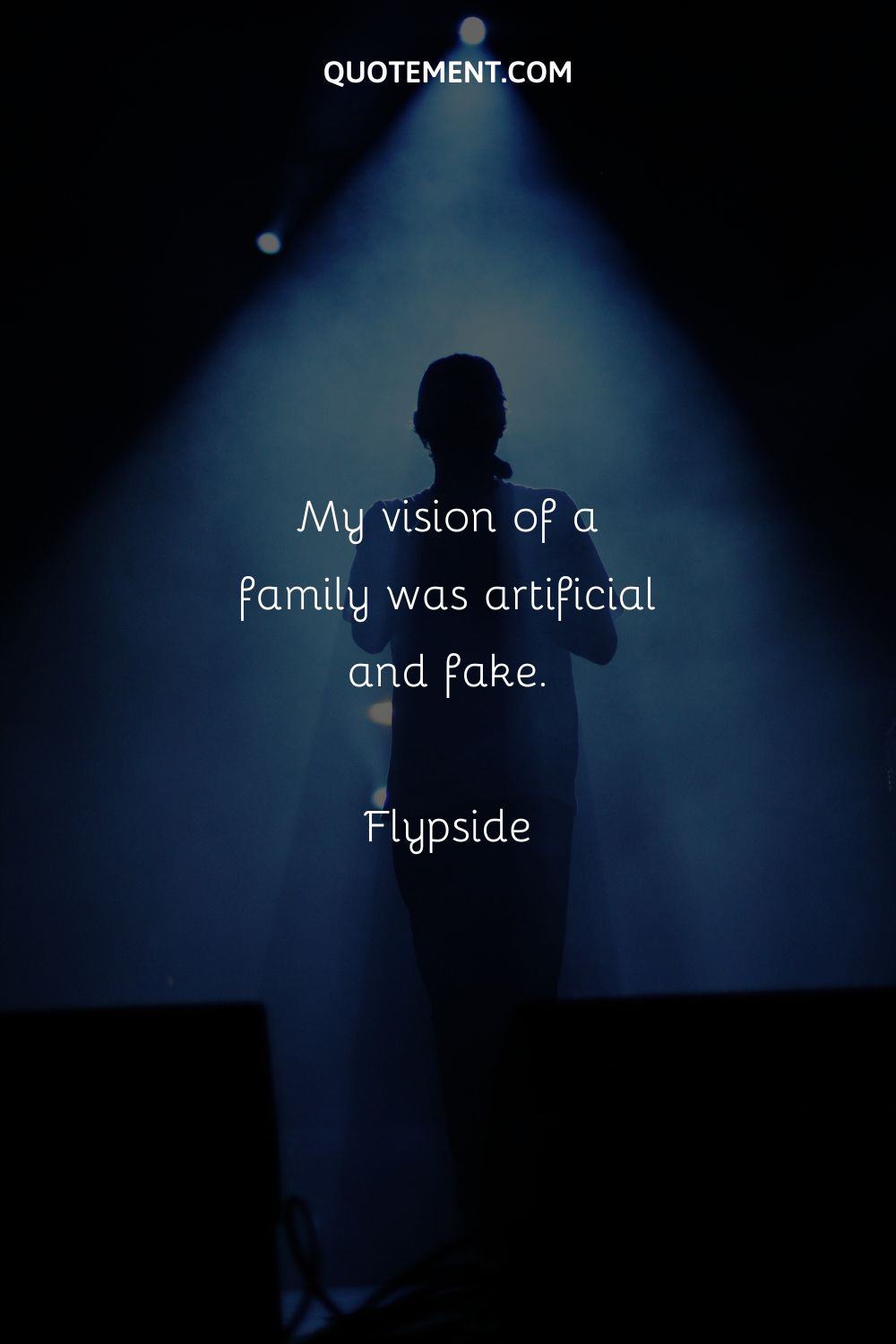 Cool Rap Captions For Instagram
1. Divine feminine, I'm feminine. – Doja Cat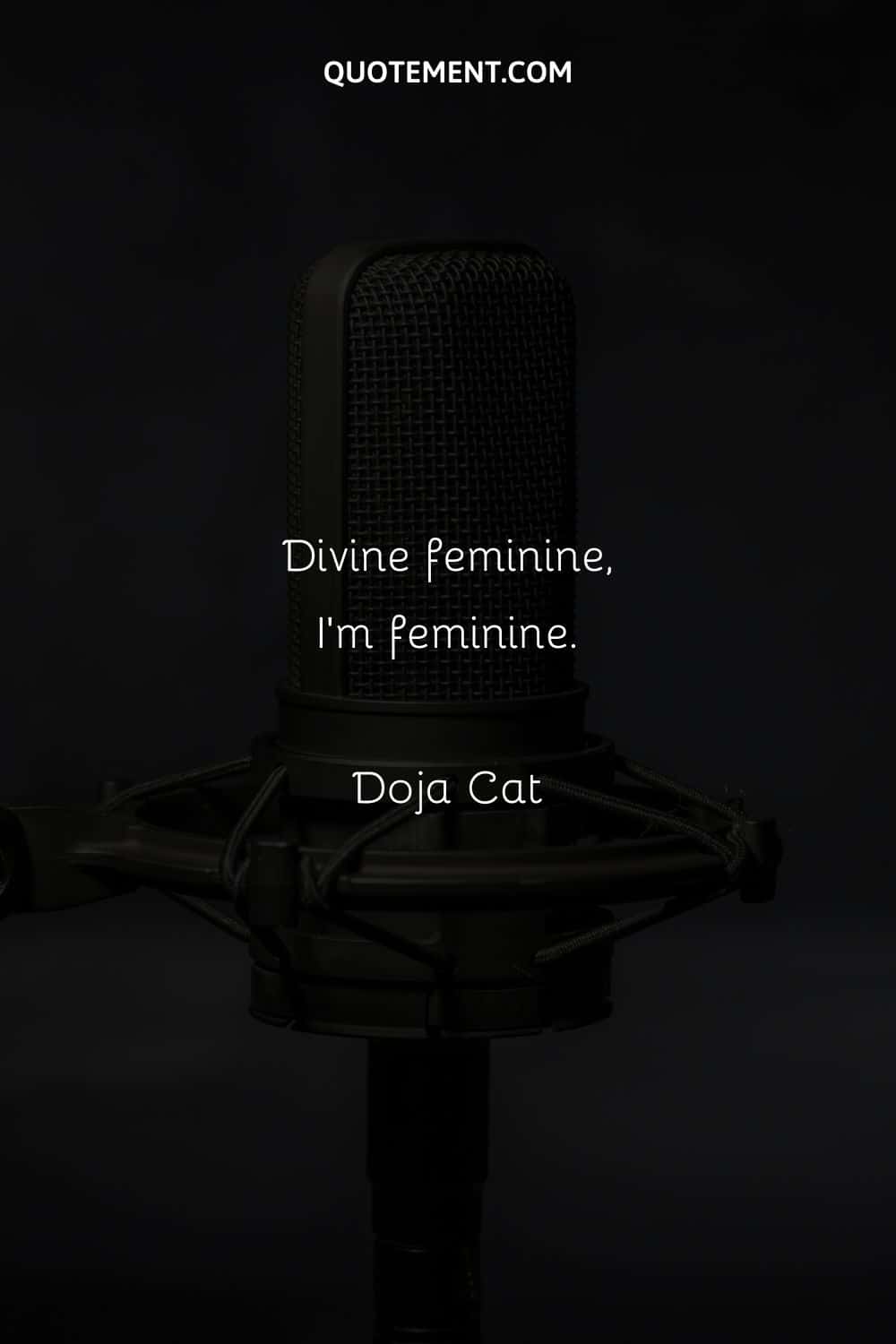 2. Whatever you say, Mrs. Majesty. – Nicki Minaj
3. I been movin' calm, don't start no trouble with me, tryna keep it peaceful is a struggle for me. – Drake
4. If it's up, then it's up, then it's up, then it's stuck. – Cardi B
5. I could make the party hot, I could make your body rock. – Cardi B
6. But my shooters'll make 'em dance like dubstep. Swish, swish, aww, my haters is obsessed cause I make M's, they get much less. – Nicki Minaj
7. To f**k with me you need a reservation. – Big Sean
8. Yeah bi*ch I'm paid, that's all I gotta say. – Lil Wayne
9. Hit the pedal once, make the floor shake. Suede inside, my engine roarin', it's the big boy, you know what I paid for it, and I got the pedal to the metal. – Wiz Khalifa
10. Microphone fiend, this the return of the god. – Jay Z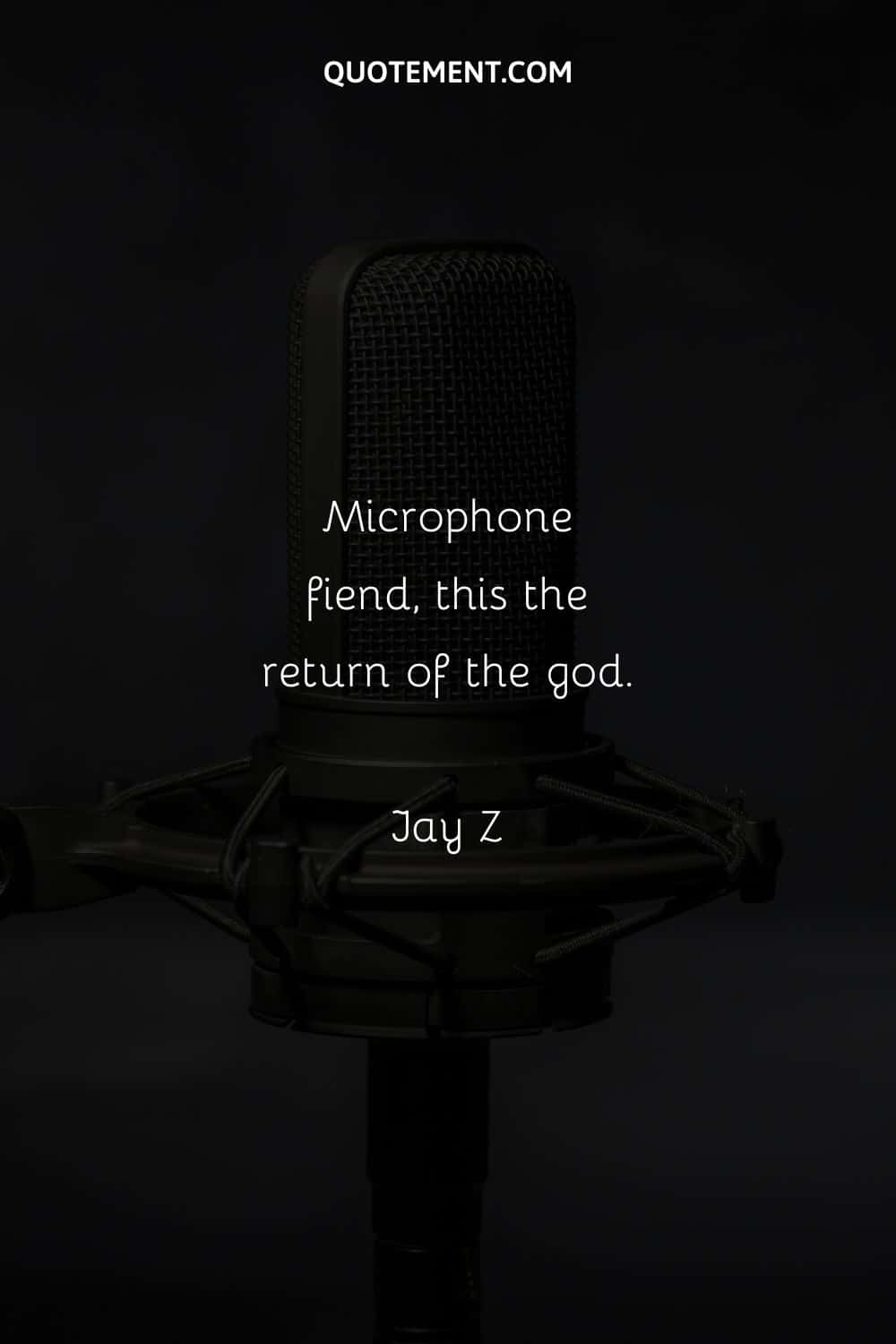 11. If you ain't on the team, you playin' for team D, 'cause we A–listers, we paid sisters. – Nicki Minaj
12. Yeah, she got my heart racing, racing. – Lil Pump
13. Yeah, my whole team got dough, so my banquette is lookin' like Millionaires' Row. – Jay Z
14. I put it down from the whip to my diamonds, I'm in black and yellow, black and yellow. – Wiz Khalifa
15. Any damsel that's in distress be out of that dress when she meet Jim West. – Will Smith
16. 'Cause I am not a word, I am not a line, I am not a girl that can ever be defined. – Nicki Minaj
17. I'm respected from Californ-I-A way down to Japan. – Timbaland
18. She don't believe in shootin' stars, but she believe in shoes and cars, wood floors in the new apartment, couture from the store's departments. – Kanye West
19. Spicy mami, hot tamale, hotter than a Somali, fur coat, Ferrari. – Cardi B
20. I fly like paper, get high like planes. – M.I.A.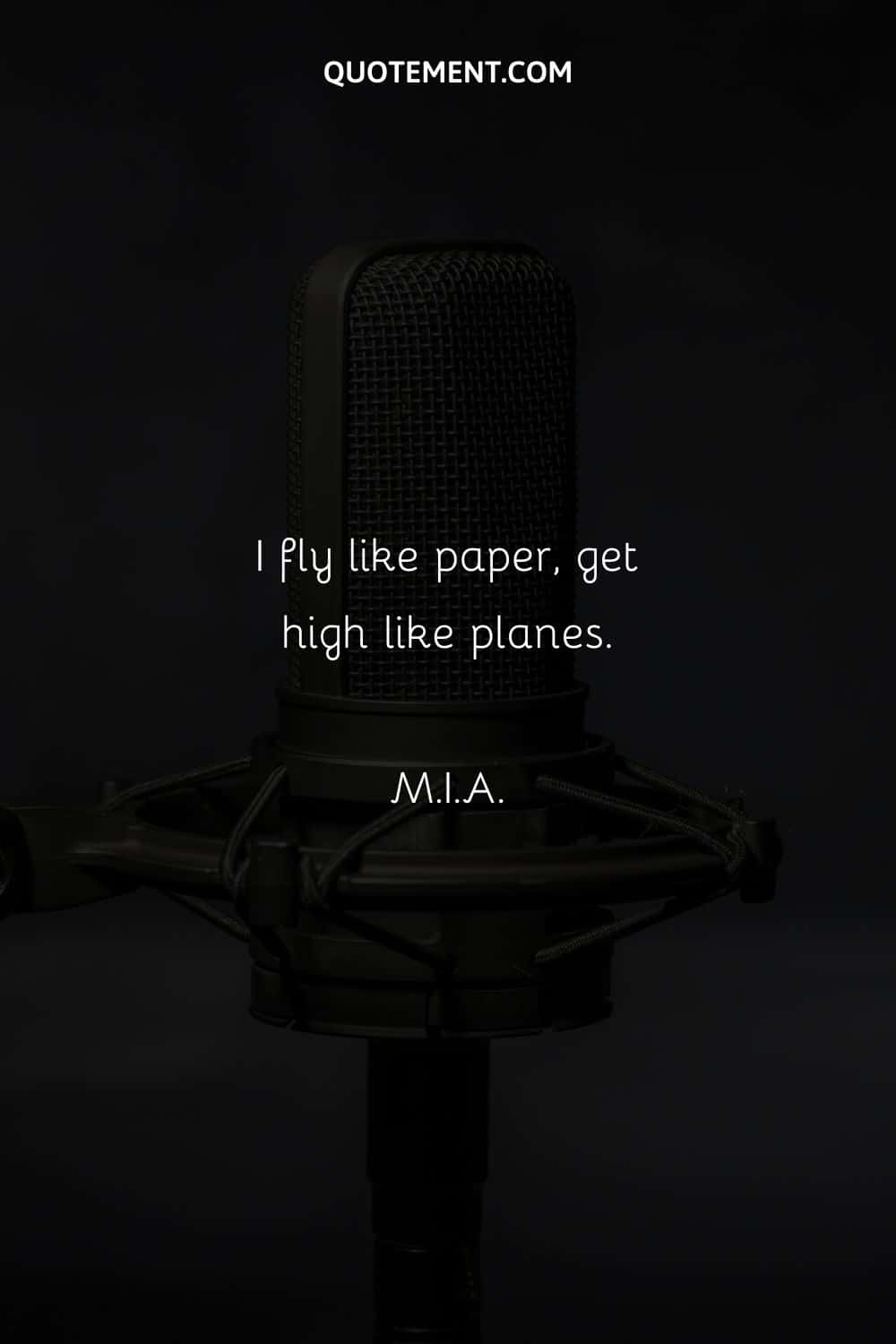 21. Get back, get down, pull me closer if you think you can hang. Hands up, hands tied, don't go screaming if I blow you with a bang. – M.I.A.
22. I'm the alpha, the omega, everything in between. – Nicki Minaj
23. Yeah my money's so tall that my barbies gotta climb it. – Kanye West
24. I'm the Belle of the ball, you could call me Patty. – Nicki Minaj
25. Motherf*cker, I'm ill, not sick, and I'm okay, but my watch sick. – Lil Wayne
26. I'm doing pretty good as far as geniuses go. – Kanye West
27. Give me respect, dammit, or get damaged. – Kendrick Lamar
28. She got a thing for that Gucci, that Fendi, that Prada, that BCBG, Burberry, Dolce and Gabbana. She feed them foolish fantasies, they pay her, 'cause they want her. – 50 Cent
29. Clip in the strap, dippin' through hoods (what hood?) Compton, Long Beach, Inglewood South Central out to the West Side, it's California Love – Dr. Dre
30. You can hate me, but why knock my hustle? I'ma be the queen, no matter how they shuffle. – Nicki Minaj
To Wrap It Up
That's all, folks!
I hope you liked my list of 120 rap captions for Instagram!
By the way, who are your all-time favorite rap artists? I know it's a tough question, but mine would be Nicki Minaj and Dr. Dre. Let me know in the comments section below – I'm excited to hear from you.
Cheers!
Read next: 220 Best Nicki Minaj Captions For Your Next Insta Post